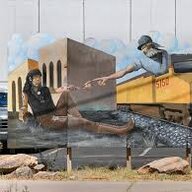 Make America Freight Again
Staff member
Moderator
Joined

Dec 12, 2014
Messages

2,335
Reaction score

7,391
Age

33
Homebase
Website
Hey all,
I've been trying to develop my career over the past few years so that I am able to have a work/travel balance. There is this work schedule in my field called 'career-seasonal' that you can work between 6-10 months a year and you essentially get laid off for months at a time, and have a job waiting for you when you come back.
Ive been trying to obtain this for YEARS now. I finally snagged a position up in the PNW last June....then the shit hit the fan.
During the last few years I've been ultra-pissed about what was going on in this country (US), but I was like 'hey man, hold it down, you will get your job and things will be ok'....and they arent.
I felt like when I obtained some sort if security that I would be happier. Chill out a bit. Be able to still fight for what I believe in, hold a job, travel, and work. While I do now have security, a job, can travel, and everything pretty much, that I was hoping for, I'm still severely unhappy.
While i am incredibly thankful to have income and shit during the pandemic where I know many people dont, it just makes me want to NOT have any of those things. I know, privilage, right? Wrong timing. I know life can be incredibly hard without paper and a box, but that is what makes it worthwhile, IMO.
I feel that I live two lives. On one hand, I'm the person you see on here. I ride, hitch, travel, try to fight for what I believe in, voice my opinions to the max, and try to make the world a better place for everyone, especially travelers.
On the other hand, I work for a government job. Which is awesome because of the nature of my work (not this one particularly, but for the most part) and it silences me in the utmost possible way. I have strict rules on what I can say and do to voice my opinion. I have 2 months before I can travel, and then I only get 3 months. I only have 2 days off a week, and I live in such a remote location, that does not allow me to go to any cities, do anything, or have any social interaction what so ever. I haven't been out traveling since almost a year ago. Its killing me.
When I was a 'seasonal' (6 months + off a year, no benefits at all) my life was so much more interesting. I was rappelling off of cliffs, riding in helicopters, fighting wildfires, proving emergency medical care, the works. Now I'm stuck in a box, working a cash register....all for medical insurance and retirement. Definitely considering going back to seasonal work. Mainly because I have a 'live today, die tomorrow' attitude.
I want to be in Portland participating in the protests, I want to be riding, I want to volunteer for FNB, I want to live out of a fucking
backpack
again. I want to fly a sign, I want to play my mandolin, I want to busk, I want to have time to develop myself in a personal manner with skills I can use to better myself.
Instead, in stuck in an a remote area, selling passes to people who ARE doing all of that on vacation. I've ran into so many travelers at our 'entrance gate' that have to turn around because they dont have the money to pay to get in. And I've seen WAY more rich ass Seattle buisness people who have no problem in doing so....
My question is, how do you deal? How do you deal with the negative press, all of the shit happenings in the country that are blasted all over the media? Especially if you are stuck like me, without being able to do the things you love most? ( I know I'm preaching to the choir during COVID)
I just feel like I'm dying inside. I'm getting so angry. My health is deteriorating (just had an ER visit due to Hypertension and 'obesity'), I'm drinking WAY too much to deal with it. I'm considering risking my whole career I've built over the past 10 years, and quitting my job to travel for a couple of years, clear my head.
....anyway. Rant over. Just wondering if anyone else is feeling the same, and any ideas on bettering mental health during these situations.
Last edited: