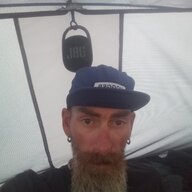 Joined

Feb 29, 2016
Messages

274
Location
I been dealing with PTSD , extreme anxiety , depression and intermittent explosive disorder most my life wich results in some pretty extreme anti social behavior , awkward situations and loss of jobs and relationships .
For quite a few years I was like a " murder magnet " and everywhere I went I just happened to be in the right place at the wrong time .
For instance I was in vegas for the mass shooting , then at three different gas stations on north vegas Blvd i witnessed two shootings and a man beat to death with a claw hammer within a two week period , hopped out to salt lake city and was with a friend at a tire shop in Murray Utah stepped out back just in time to see a guy get shot twice in the head in his car slump over his stearing wheel and hit the accelerator plowing through on coming traffic causing a 6 car pile up with fatalities.
....so yeah I get pretty lost in my head with music.
I recently moved in with a girl had a kid and been having a hard time keeping a job because I "snap" , but have a Jackson guitar and a coworker relized I didnt have an amp and sold me a Marshall halfstack for $150 wich 2 weeks later I traded for a smaller 30 watt marshall practice amp and a 1993 gibson les paul studio .
Ive basically been occupying my mind by plating this les paul and trting to figure out guitar , otherwise my mind is a constant racing mess and stress overwhelmingly destroys my life.
I feel like the key for me was to keep moving and now that I'm not doing that I need something to completely focus on.
Oddly enough playing guitar and video games are help me focus my mind and keep my hands doing something.
Wich i never thought at 40 I would become a gamer but hey I'm not a constant angry troll under a bridge trting to drowned out rage with a vodka or wild turkey bottle anymore and I can actually walk through a walmart without watching everyone and being hyper vigilant and or paranoid everyone in the world is watching me.
Still sit facing the door back to the wall EVERYWHERE I go , and normally know all the exits when I'm inside , but not having reacurring nighmares and trouble sleep anymore .
I'm still extremely awkward in social situations , but can actually hold a conversation , its taken me 3 years to get where I actually dont mind talking to ppl I dont know and dont try to avoid human contact.