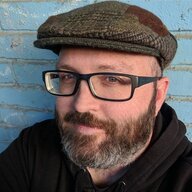 Permanent Wanderer
Staff member
Admin
Joined

Aug 4, 2006
Messages

10,051
Reaction score

23,713
Homebase
Website
​
If you've been curious about unplugging from normal society and seeing what it's like to travel the open road, you probably did some searching and somehow or another ended up here on the Squat the Planet (StP) website. This website has a ton of useful information; if you're willing to dig long and hard and deep enough, you can learn just about anything you'd need to know that doesn't require first hand experience.
I've tried pretty hard to make sure we've covered all the bases; we've got countless topics on
hitchhiking
,
train hopping
, sailing, living and traveling in your vehicle, how to survive both in terms of money and staying fed, along with ways to plug in and meet current and future nomads like yourself.
Still, all the information is a little buried and strewn about, and I still get a lot of questions about how to live a DIY nomadic lifestyle. So in 2016, I decided to dedicate myself to compiling all the knowledge I've gained in the past 15+ years of traveling along with contributions from the StP community. I feel like this guide should answer most of the questions one might have about living in the nomadic underground. It is my sincere hope that this book will both educate folks in not just
how
to wander, but also be the kind of traveler that gives back as much as they take.
So, if you're interested in learning more, check out the screen shots and chapter listing below. If you don't feel like digging through a ton of forum threads (although you still should, there's good info there) this book is a good place to start your dive into the world of underground travel, whether you're curious about living as a nomad yourself, or just explaining to your friends and family how it works (in the USA at least). Even if you're a seasoned veteran of the road, there's a bound to be a few tricks you haven't heard of, so you should definitely check it out!
The book can be purchased in print or Kindle format on Amazon here:
http://bit.ly/anarchistguide
Or via our Etsy page here:
http://etsy.me/2ob4qq7
Of course, if you have any questions about the book or suggestions for the next edition, please post here or contact me via email at
[email protected]
.
Safe Travels!
@Matt Derrick
***​
Inside the book
Almost all the illustrations (including the cover) were done by our own
@awkwardshelby
! They're an amazing artist and you can see more of their work at
www.shelbycriswell.com
! Here are a few photos of the inside: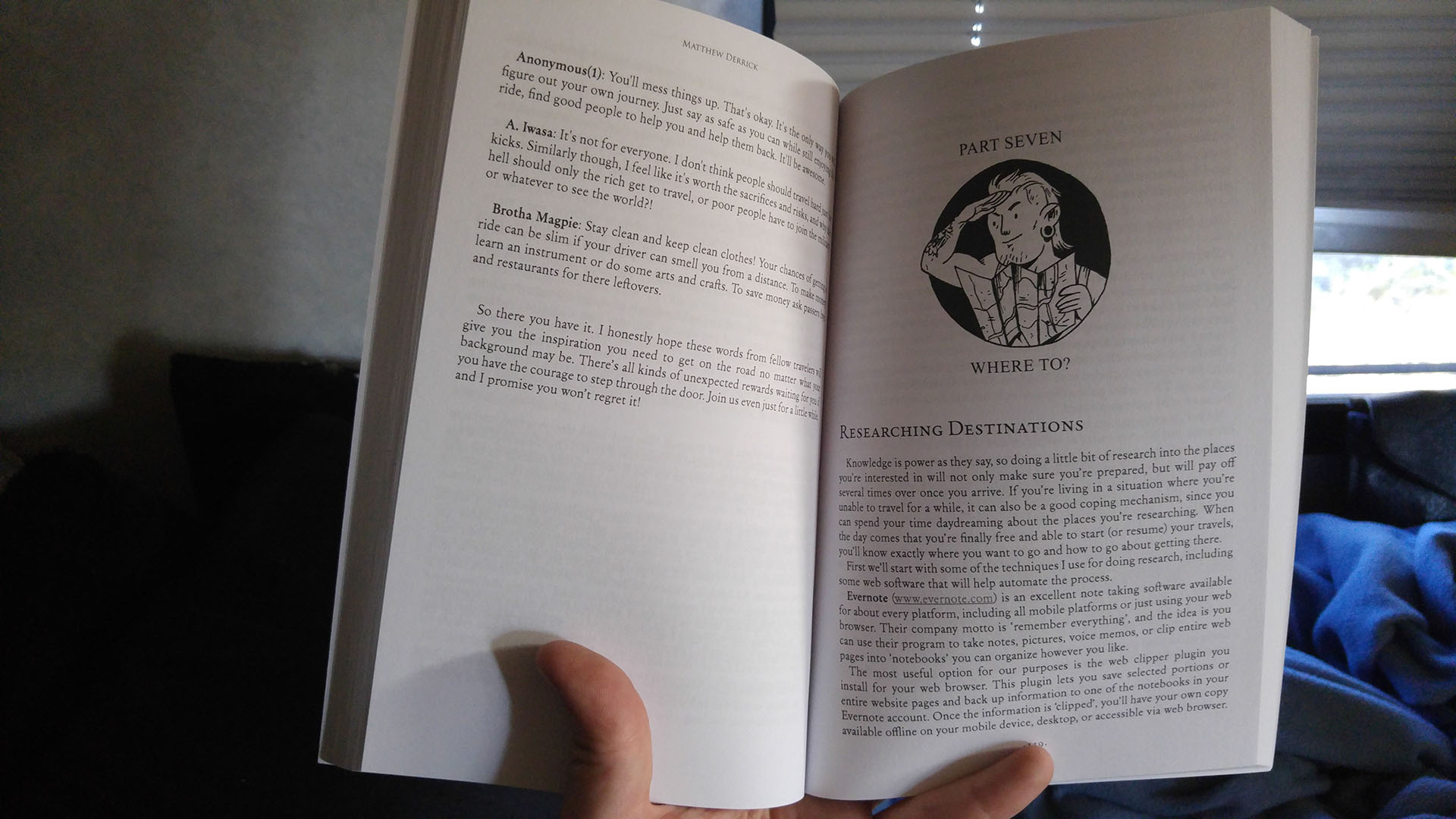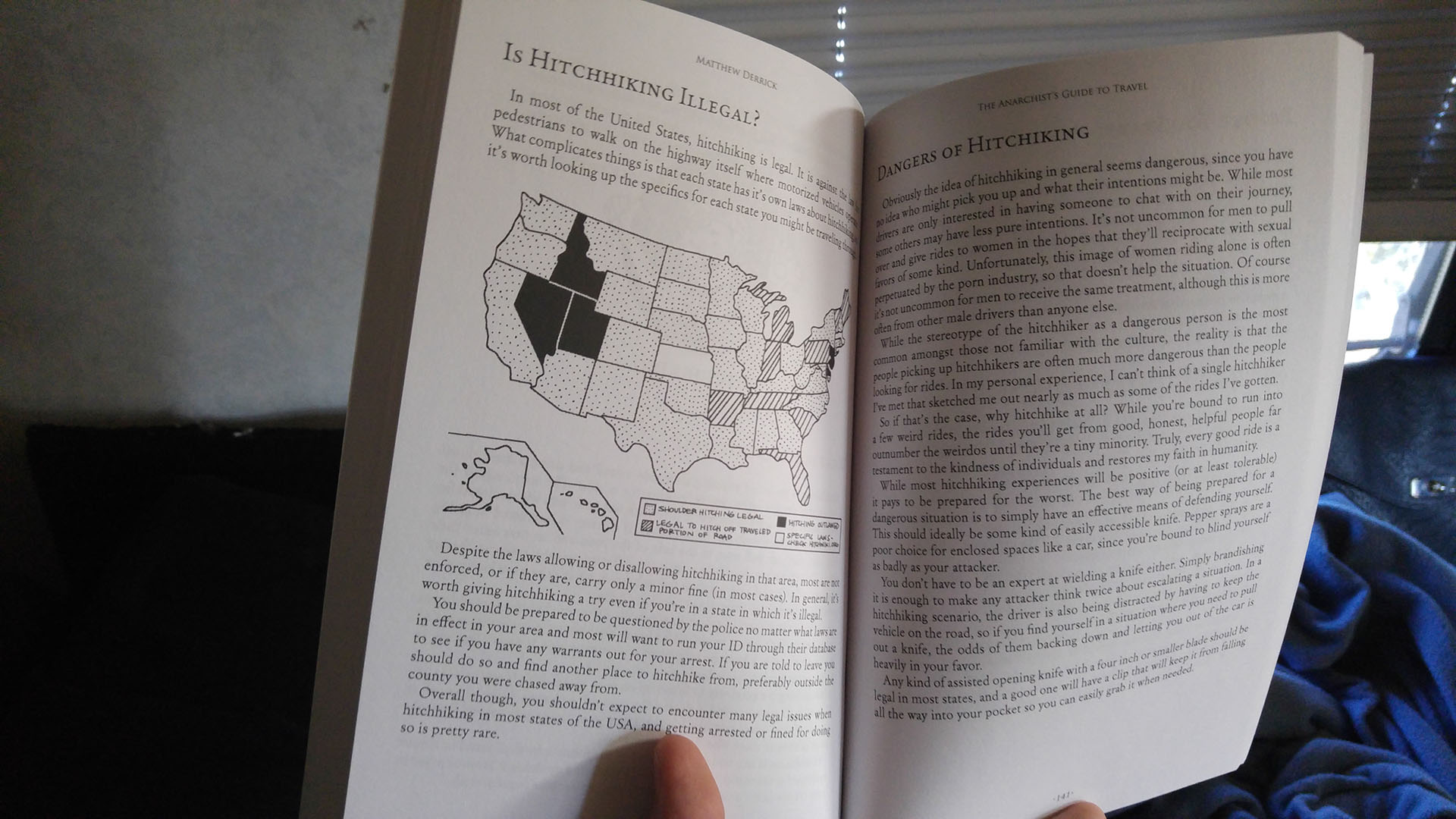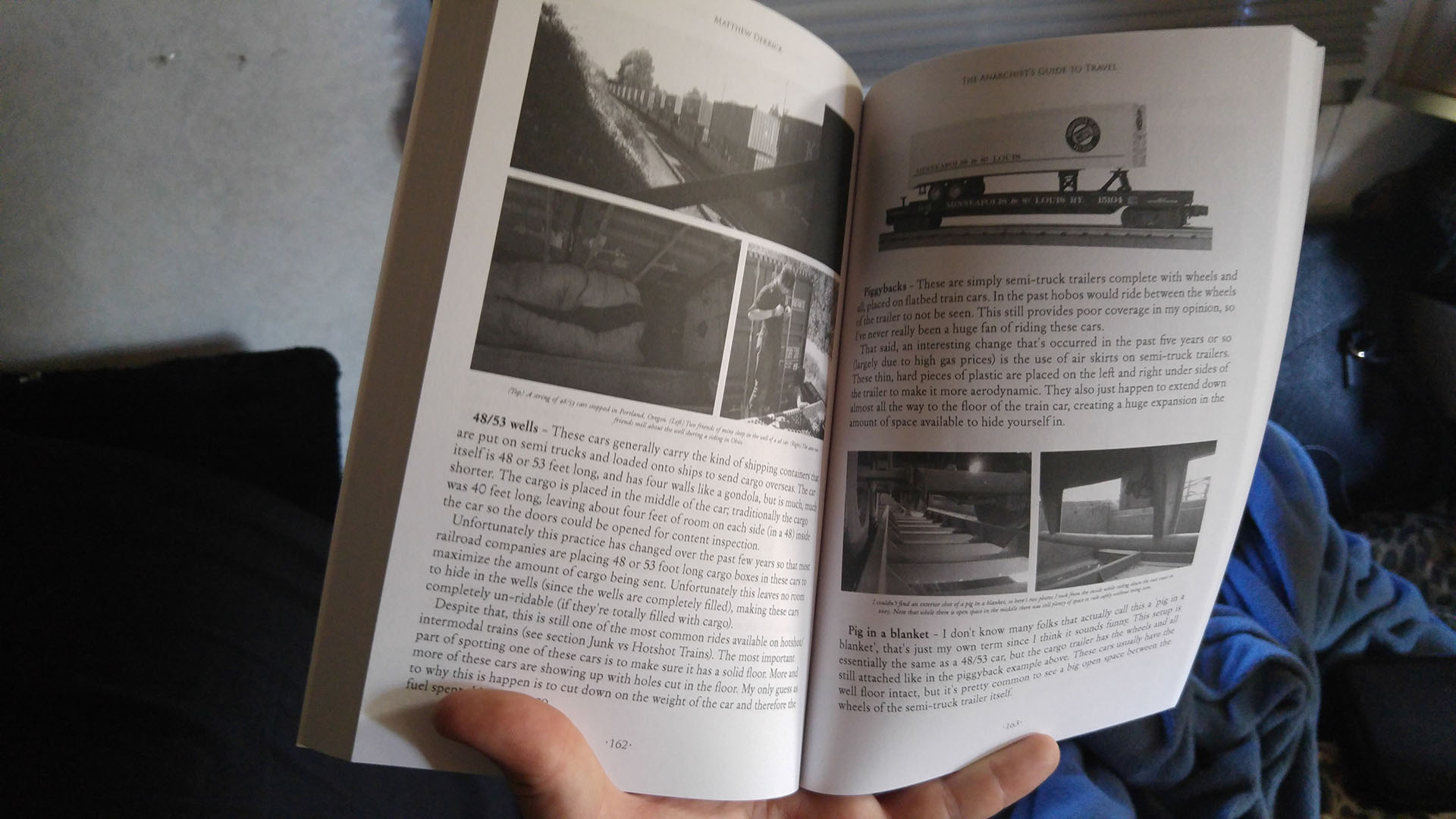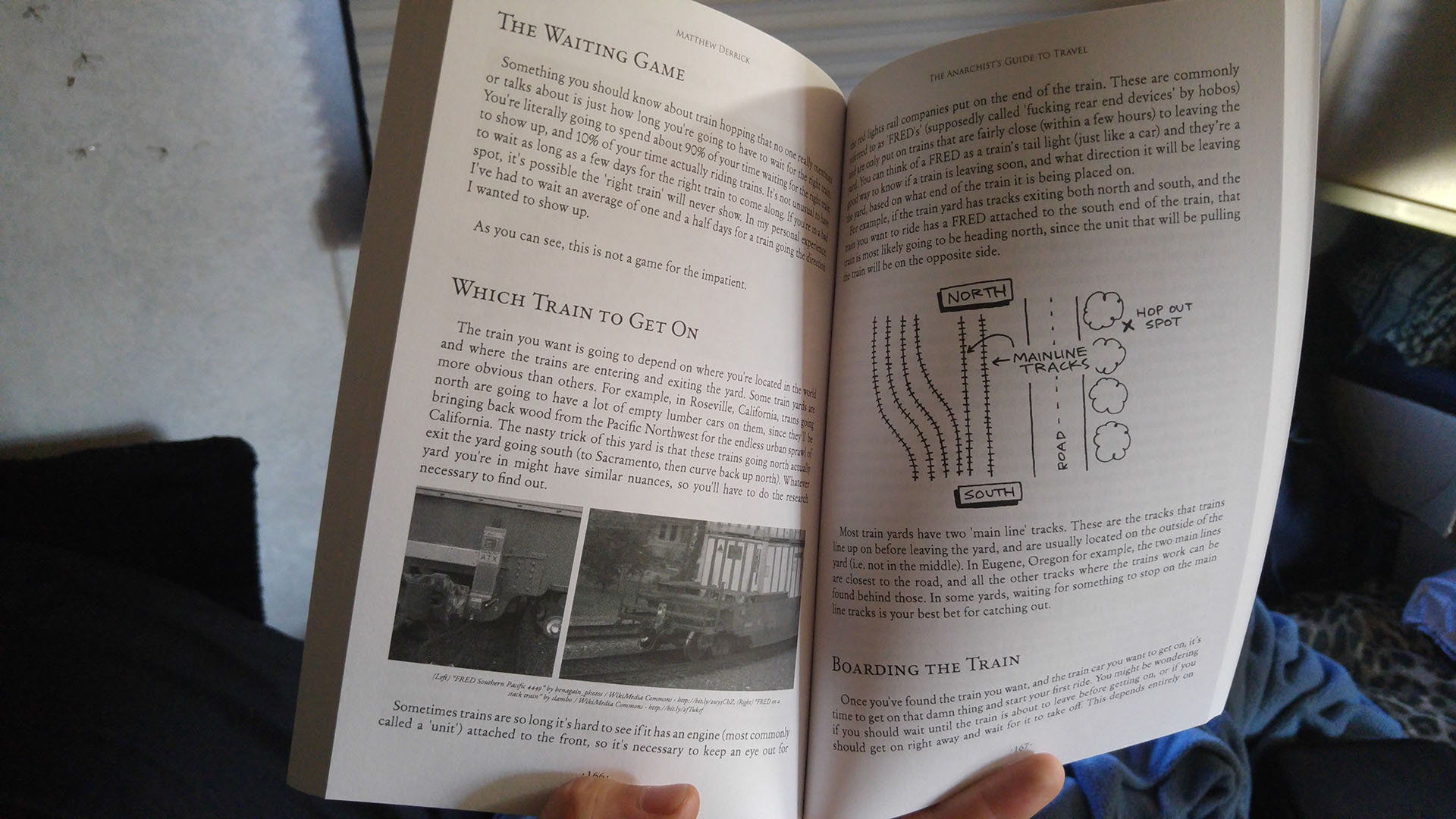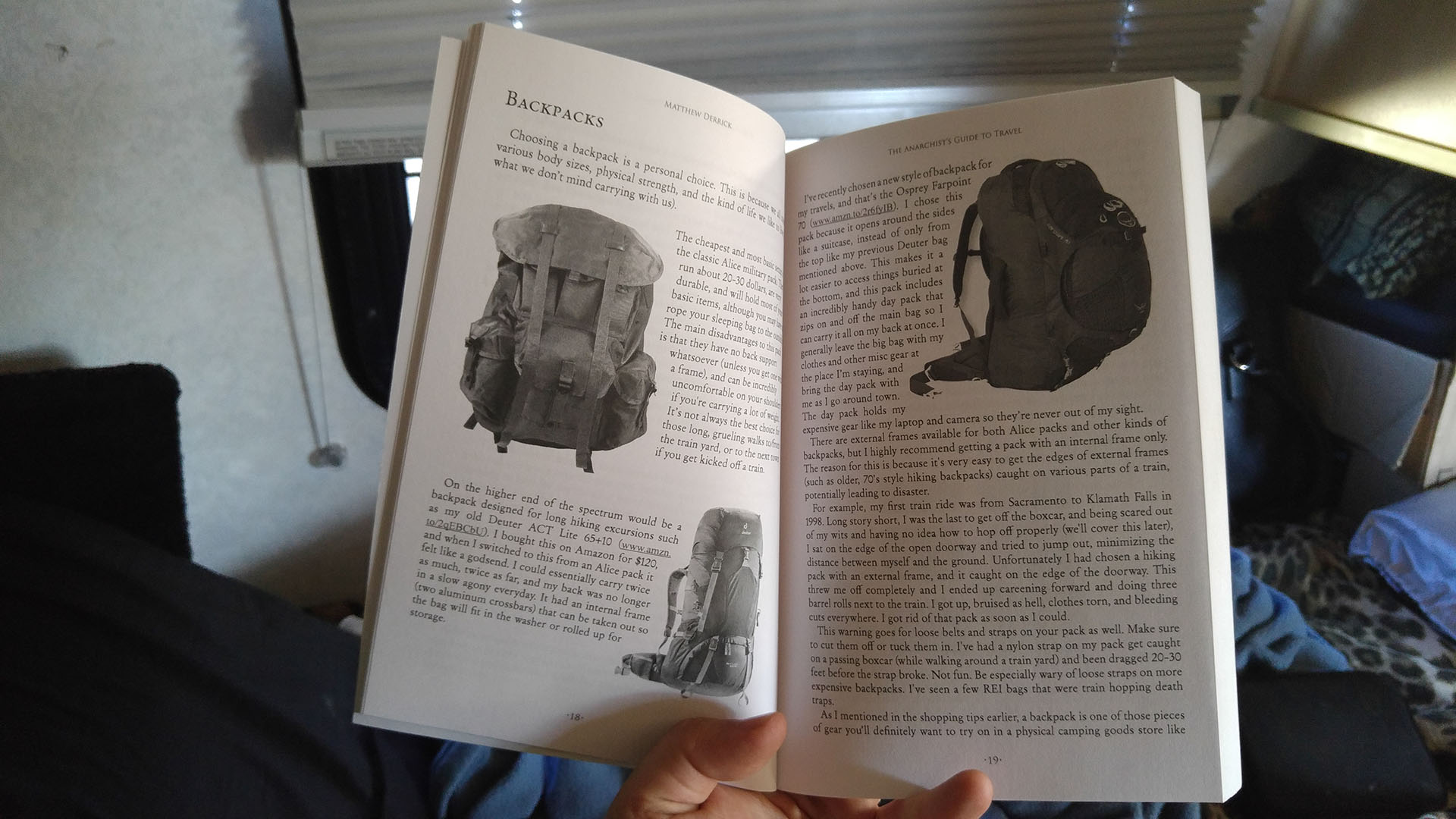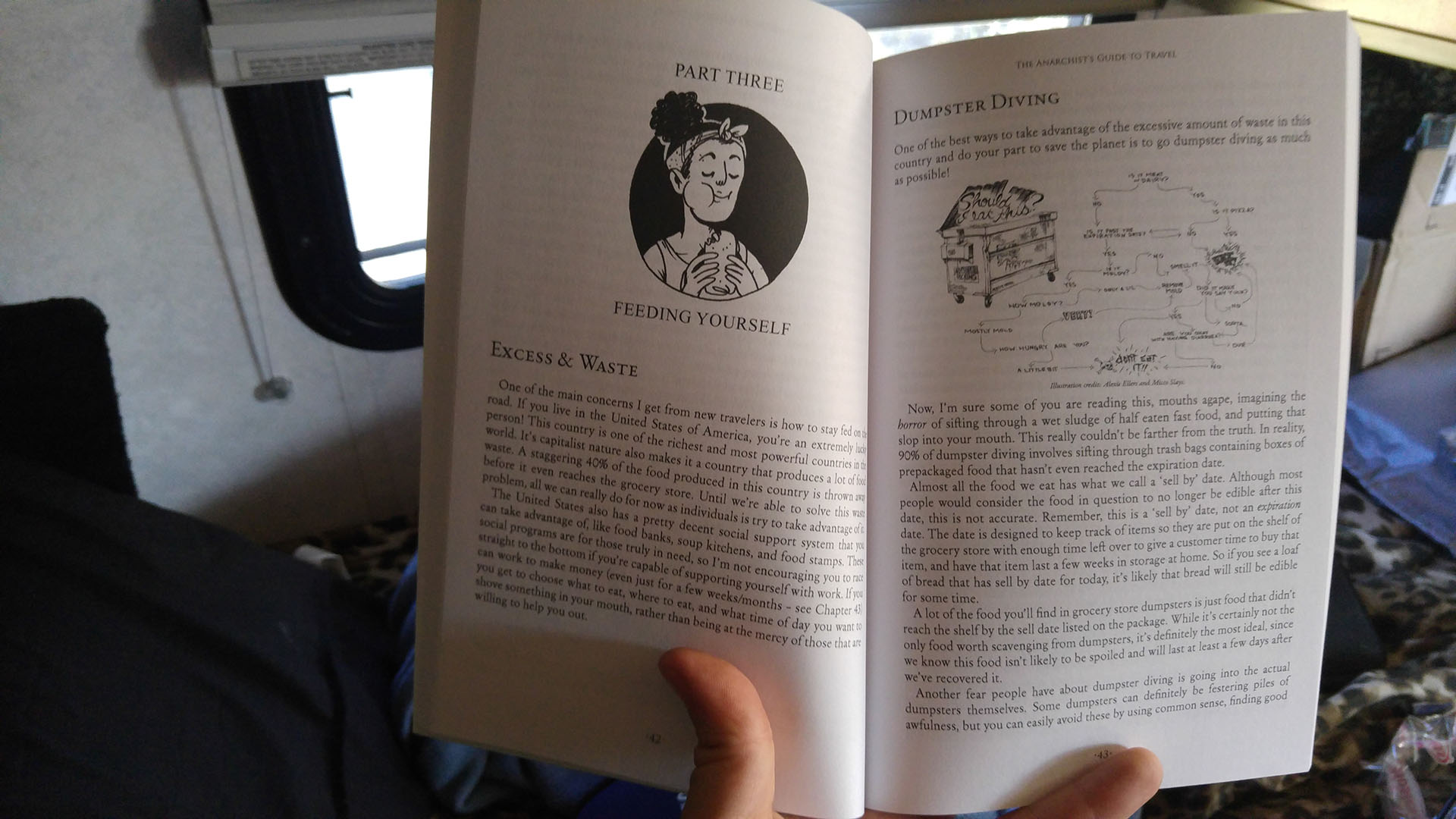 ​
Chapter List
The guide spans 243 pages and includes the following sections:
1 - Starting Out
1.1 - How I Started Traveling
1.2 - Why I Wrote This Book
1.3 - Who This Book Is For
1.4 - Why Should You Travel?
1.5 - Telling Your Friends & Family
1.6 - What is Travel Punk?
1.7 - Disclaimer
2 - What Should I pack?
2.1 - Gearing Up
2.2 - Weather
2.3 - Shopping Tips
2.4 -
Clothing
2.5 -
Backpack
s
2.6 - Sleeping Gear
2.7 - Portable Shelters
2.8 - Knives
2.9 -
Tools
2.10 -
Stove
s & Cookware
2.11 - Food
2.12 -
Technology
2.13 - Entertainment
2.14 -
Musical Instruments
2.15 - Showers & Hygiene
2.16 - Documents
2.17 - Shipping Stuff
3 - Feeding Yourself
3.1 - Excess & Waste
3.2 - Dumpster Diving
3.3 - Food Stamps
3.4 - Food Banks & Soup Kitchens
3.5 - Food Not Bombs
3.6 - When All Else Fails
3.7 - Shopping for Food
3.8 - Additional Resources
4 - Sleep for Free
4.1 - Avoiding Rent
4.2 - Couch Surfing
4.3 - Stealth
Camping
4.4 -
Squatting
4.5 - Wilderness
Squatting
4.6 - Hostels & Hotels
4.7 - Between Travels
4.8 - Other Options
4.9 - Additional Resources
5 - Making Money
5.1 - Saving Money
5.2 - Working in Shifts
5.3 - Seasonal Jobs
5.4 - Migrant Farm Work
5.5 - Panhandling
5.6 -
Busking
5.7 - Self Employment
5.8 - Strange Jobs
5.9 - Banks & Credit Cards
5.10 - Some Notes on Debt
5.11 - Additional Resources
6 - Travel Culture
6.1 - The Traveler Code of Ethics
6.2 - Oogles, Gutter Punks, Drainbows & Hipsters
6.3 - Do the Goddamn Dishes
6.4 - Finding People to Travel With
6.5 - Sex &
Relationship
s
6.6 -
Furry Nomads
6.7 - Traveling as a Minority
7 - Where to?
7.1 - Researching Destinations
7.2 - Useful Travel Websites
7.3 -
Urban Exploration
7.4 - A Brief Guide to the USA
7.5 - Guide to Annual Events
8 - Hitchhiking
8.1 - What is Hitchhiking?
8.2 - Is Hitchhiking Illegal?
8.3 - Dangers of Hitchhiking
8.4 - Before You Start
8.5 - Good & Bad Hitchhiking Spots
8.6 - Hitchhiking in Groups
8.7 - Your Appearance
8.8 - Signs & other Props
8.9 - Staying Motivated
8.10 - Getting Your First Ride
8.11 - Making Conversation
8.12 - Getting Dropped Off
8.13 - Getting Stuck
8.14 - Ridesharing
8.15 - Additional Resources
9 - Train Hopping
9.1 -
Introduction
to Train Hopping
9.2 - Find Someone Experienced
9.3 - Dangers of Train Hopping
9.4 - Respect
9.5 - Special Gear
9.6 - Research & Planning
9.6.a - The Crew Change Guide
9.6.b - Main Routes
9.6.c - Google Maps
9.6.d - Railroad Atlas
9.7 - Getting Into the Train Yard
9.8 - Which Cars to Ride
9.9 - Riding Suicide
9.10 - Loaded Train Cars
9.11 - Junk vs Hotshot Trains
9.12 - The Waiting Game
9.13 - Which Train to Get On
9.14 - Stopped vs On the Fly
9.15 - Boarding the Train
9.16 - Catching on the Fly
9.17 - Ride Baby, Ride!
9.18 - What to do When Seen
9.19 - Tracking Your Location
9.20 - What are Sidings?
9.21 - Taking a Dump
9.22 - Transferring Cars & Luggage
9.23 - Dispelling a few Myths
9.24 - How to Get Off the Train
9.25 - Additional Resources
10 - Rubber Tramping
10.1 - What is Rubber Tramping?
10.2 - What Kind of Vehicle?
10.3 - Finding a Vehicle
10.4 - Buying a Vehicle
10.5 - Vehicle Insurance
10.6 - Moving In
10.7 - Stealth Parking
10.8 - Boondocking
10.9 - Gas Jugging
10.10 - Breaking Down
10.11 - Additional Resources
11 - Bike Touring
11.1 - What is Bike Touring?
11.2 - Buying a Bike
11.3 - Types of Bikes
11.4 - Sizing a Bike
11.5 - Special Gear
11.6 - Planning Your Route
11.7 - Food
11.8 - Additional Resources
12 - Boat Punk
12.1 - What is Boat Punk?
12.2 - Finding Cheap Boats
12.3 - My First Sailboat
12.4 - Dinghy Woes
12.5 - Life on a Boat
12.6 - Mishaps & Dangers
12.7 - Try it Out First
12.8 - Special Equipment
12.9 - Non-ocean Travel
12.10 - Additional Resources
13 - Other Forms of Travel
13.1 - Charter Buses
13.2 - Ridesharing
13.3 - Flying for Cheap
From the Amazon description / back cover:
"Ever dream of dropping everything to adopt a minimalist lifestyle and explore the world -- but didn't know where to start? This how-to book will show you how to join the traveler underground; a world of hitchhikers, hobos, migrant punks, and other misfit travelers that don't fit into the standard mold. In these pages, you'll find out how to survive on next to nothing by getting rid of rent and other expenses, resources for finding seasonal work, and advice on saving enough money to last through your next leg of travel. It continues with a basic guide to almost every style of underground travel including hitchhiking, train hopping, van-dwelling, bike touring, and sailing. You'll even find a few tips for surviving mainstream forms of travel like charter buses and airplanes. Each chapter includes a list of books, websites, and other resources to expand your knowledge beyond the basics. If you've ever wanted to join a world of wanderlusters like yourself, this guide is the perfect way to drop out, work less, and experience the world around you from a completely different perspective."

My favorite Review thus far:

"Whether you're a seasoned train-hopper, an urban explorer, or a homebody who likes to occasionally pick up hitchhikers, this book will make you smile and nod your head. It has the feel of sitting at a campfire and slowly sipping a forty with Squat the Planet founder Matthew Derrick, while he spills all his tips, knowledge, stories, and personal philosophies from over 15 years of being a migrant.

It gets a little preachy at times (spoiler alert: the Golden Rule is do your own damn dishes), but Derrick's earned it. Like the dude has seriously figured out how to live a pretty decent life while traveling the country and living in tents and cars and squats and shit, and he wants you to know that you can too.

I especially appreciate that he included a bunch of interview questions with other travelers, so you get to hear stories from folks of other backgrounds and orientations in regards to what their experience has been like. Also, seriously, don't hop a train until you've really thoroughly read the section on train hopping like ten times at least. Whether you just want to do your first off-the-grid road trip, or actually plan go all in and start rubber-tramping, bike touring, or become a boat punk, grab a copy of this book, hit the road, and unplug your ass from the capitalist machine. (Review a. Cat)"

-- Slingshot Magazine
Amazon Reviews!
​
If you decide to purchase the book from Amazon, I'd be extremely grateful if you'd take five minutes to
write an honest review
; Every review helps the book rank higher in search results and will make it easier for others to find out about it!
Thank you!!!
To all those who purchase a copy of this book, thank you in advance, it means the world to me! It two years of planning and writing to put this book together, and I couldn't have done it without the wonderful support of people like yourself and the StP community as whole. I'm very excited to finally have this project finished, and I'm looking forward to receiving your input, opinions and reviews! If you can tell your friends, family, or anyone you think might find this book useful, please do! I need all of your help in promoting this book to those who could use the information.
Last edited: