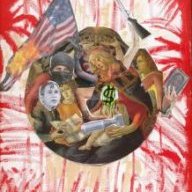 Joined

Oct 10, 2008
Messages

127
Age

33
Website
This isn't about a human being, but this was as close a friend as anybody.
He was there with me through good times and bad, never judged me, or criticized me, or made me feel like shit. He gave me support when my life was at it's worst peaks, and made me laugh when I didn't feel so happy.

I hitched out back to my hometown yesterday to bring him back to oakland with me, only to find he was missing for 2 days. Checked the pound:nothing, animal rescue:nothing. Later one of my old neighbors had informed me another neighbor had been trapping neighborhood cats. I go this worthless fucks house and he had the nerve to tell me he deliberately trapped my cat and left him in a cage out in the middle of nowhere. After a few shouting of various curse words, I spit on the guys screen door and head out to said nowhere to find my cat, looked for hours, found nothing.
An hour or two later the pound calls. They had found my cat dead....
I miss you friend.
I will never forget how you would run through my old hallway like a maniac at 3am in the morning, tear toilet paper into shreds, curl up next to the computer when I had loud music playing, and would try to drink my beer and box animals/people bigger then you. I hope wherever you are you are raising hell somewhere......I will drink a beer and play some pantera (his favorite band) for you.
And for any of you who own pets, and love them to death please remember:
Watch over them and care for them, like they are a close friend that you have taken an oath with, because there are cruel, wretched, pitiful excuses of human beings that will take them away from you and kill them. Unfortunately, I had to learn this, and I wish I would've been there to stop this from happening, but life is full of lessons, good and bad. This was my bad lesson I suppose......