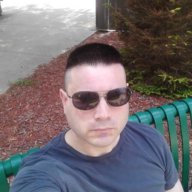 Joined

Jan 27, 2016
Messages

11
Reaction score

15
Hi everyone,
I'm currently in NW Ohio and leaving within the next two weeks. Don't know where I'm going yet so I'm up for ideas for a warmer area and prefer being able to work. My ultimate goal would be to get back to rubber tramping. I don't have a vehicle since I haven't needed one in the last several years. If you do have a vehicle and a sense of adventure and also want to work and have room for one more, let me know. I have been tired of the societal norm for over 25 years now. I live a nomadic lifestyle which makes it difficult for most people to relate to me (which I'm sure everyone here understands).

I want to experience more of the joys in life (who doesn't). I don't like working but it is a means to an end. I want to explore more of nature, good times, good vibes, good people. I enjoy the open road, nature, cities, solitude and conversation.

I have learned that

there is no such thing as security and we only have the promise of our current moment in time. I live outside the norm whenever I can. I can't live by societies version of what is right for me when they can't decide what is right for themselves.


Rules are meant to be broken. No one lives a life of not breaking any rules so I am not one to judge. I simply won't put myself in a bad situation intentionally.


I live by the rule that when the Universe opens the door, you walk through without hesitation. Friends in society are hard to come by because they have not lived our existence and can not relate. It's not their fault. I am not going to change how I live for anyone. Eventually I will find some land and homestead and have a tiny house or earth/dirt based home.


I appreciate connections and assistance in the form of information as I am always willing to help others. As I start the next chapter of my life, I find it comforting to know I can go where I want and at the same time it can be overwhelming. This time I would like not to have to travel alone and actually be able to share the experience.