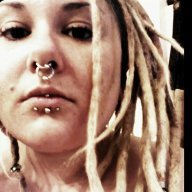 Joined

Nov 29, 2006
Messages

272
Age

37
Location
(this is something I found in my journal, figured I could maybe post it here. My writings tend to be a little on the dirty side -most of the time- so if its not appropriate for this site just take it down, no worries.... but it is a tale of my travels, even if it is an incident that spanned just one night with someone I cared deeply for...at one time.)


... Anal Sex ...
[the first time]




He pressed his cock, firm and slick with my moisture, against my asshole needfully; He rubbed little circles around the opening. Next thing I knew He was back inside my cunt, I rocked against Him and he slid a curious finger into my anus, then two.

He let out a moan as His penis finally conquered that previously undiscovered entrance into my depths. I forgot where I was, and any need to be hushed (people were camping within earshot -- OOPS!). A few more sloppy drunken thrusts and He pulled out to spill Himself onto my rump.

I tried to imagine what I looked like; collapsed and content, wasted, glistening in the warm candle light bouncing off of cement walls, slumped in a sweaty mess of sleeping bags on a bed of cardboard covering stones and dust. He wiped His cum off with some earlier discarded sock and stumbled off into the consuming darkness to urinate off the rocks... I gathered myself, my clothes, and the space bag. Holding the plastic bag of wine above my head I suckled a couple long sips from the hard plastic nozzle before dressing and then searching for a smoke.

We slept that night wrapped around each other, and I awoke a few comfortable hours later to find our fingers still intertwined. I closed my eyes against the dim light, inhaled the dusty aromas of the man-made cave under a well traveled road, and listened to those cars passing overhead; then i listened closer, to the cheerful birds and the faint sounds of the river down the bank rushing always to the sea as I drifted back to my dreams.

These are tiny filthy scraps of my love...

memories of bliss I hope to never forget.