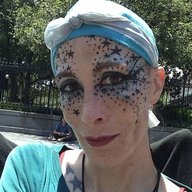 Joined

Aug 15, 2018
Messages

198
Current Location
A lovely cut n paste from a Nola-dot-com article, why New Orleans and Safe shouldn't be put in the same sentence....
quote:::
Last year, 585 people were shot in New Orleans, and
153 of them died
- staggering levels of gun violence for a city our size. Gangs account for at least 40 percent, and as much as 60 percent, of those shootings, criminologists and law enforcement officials estimate
::: end quote.
Most people actually bullet victims in the lovely city are innocent bystander, who happened to be in proximity of a gang member when bullets fly....
This years murder total sits at 156 so far.
On a slightly humorous side note - Nola will not be taking a medal in the zombie apocalypse... "Shot in the head/face" & "transported to hospital, listed in stable condition" - go hand in hand here... Got a better chance dying shot in the leg than you do in the head here - so definitely not in the running for zombie capital usa.