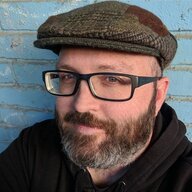 Semi-retired traveler
Staff member
Admin
Joined

Aug 4, 2006
Messages

10,140
Location
Website
Hey folks, sorry this took me so long. I had to whittle down about 400+ pictures to the 100 you'll see below. I had a great time at the jamboree, and I would like to thank all the folks that showed up and especially those that helped out with the food and booze (liz and creature deserve most of the credit for that!).
For a get together that involved very little planning, things turned out really well and I think everyone had a pretty damn good time. We also had a few folks from the general slab city area (not members of stp) and it was nice of have a few people around whose first introduction to StP was this event. I haven't checked with Cornileus yet, but I'm pretty sure a fair amount of books were brought for the library by the attendees, so that was pretty cool.
We rocked it pretty hard for the first three days, especially once the booze and food showed up. The Lizard Tree Library had it's own kind of bar already set up, so I mostly took it upon myself to start bartending for folks. I've always liked bartending anyways, and we had plenty of mixers and ice, which is one of the reasons I think I barely had any kind of hangover the next morning...
Anyways, I believe it was the second day that John showed up and offered to take people out shooting which was totally unexpected, but very nice of him. He had quite a collection of weapons, including a musket and a civil war era pistol that were both loud as hell. We spent several hours shooting all kinds of pistols, rifles, and shotguns. I also sunburned my bald ass head pretty good
​
By the third day we'd pretty much started a routine of eating breakfast, going for a swim in the canal, doing some kind of activity (exploring the slabs, shooting guns, etc) and then returning to the canal for another swim before once again getting loaded on the copious amounts of booze we'd built up. Although the third night we did take a break from the bar to run over to the slab city movie theater so Kai could show us the short film he'd made called
Riding the Highline
. The film was about 16 minutes long and a combination of poetry and freight riding that everyone really seemed to enjoy quite a bit.
On the fourth day I was pretty boozed out (I don't drink that often anymore so three days was a record for me) so the group as a whole kind of went into chill out mode, and we ended up watching a lot of movies and episodes of rick and morty. All the while
@creature
kept feeding folks and people just came up with random things to do, like fencing:
Things slowed down at this point, although we did try to make one quick trip to the Glamis Sand Dunes. We left in a three car caravan that was racing against what little daylight remained so we could get some decent pictures, and we arrived with about a half hour of light left, and two cars short (short version = they got lost along the way).
We also went to The Range afterwards, but to be honest, it was a pretty slow night and there weren't a lot of folks around, so I didn't end up staying too long. This was basically the end of the event, although we did get a few late comers like
@Wawa
and a decent portion of folks stuck around for the next few days afterwards until I myself left to go back up to washington state.
Overall I'm completely thrilled with how everything turned out, and I can say that based on this event there were
definitely
be another one next year. I do have to admit that I'm just a little bored of the slabs though (been going there for years), so I'm going to try and push for a new location for next year's event.
I'm also going to replace this line with a link to the discussion thread for next year's event (as soon as i create it).
Finally, like I said before, my photographs from this event number exactly 100, so there's a lot to see that I didn't have room for in the write up above. Check out the pictures below and I'd love to hear your opinions on the photos or the event itself
p.s. i'm attaching a zip file of all the pics without the StP watermark for anyone that wants them... they're still 1280x1024 pixels though, so if you want a high quality version of a particular picture, let me know, since the original (RAW) file sizes are pretty huge (20mb+ a piece). also, i forgot to tag all the attendees: @Kal @NatashaVelvet @Wawa @Cornelius Vango @EphemeralStick @Mongo @FlyingTomato @stukovthetuna @Desert
Last edited: