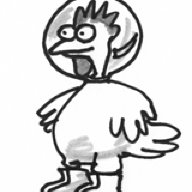 Joined

Apr 17, 2011
Messages

51
Location
Well, thats the funny thing about "real" freedom. It allows you to name yourself AND have an opinion about someone elses name. You got a point but if someone chooses a name that doesn't suit them it isn't going to play out for them.
Of course you can have an opinion about someone else's name.. it's pretty much impossible not to.
I was talking about the generalisation "it's stupid to give yourself a nickname", which they are also entitled to. Kinda wanted to put it out there so people reading the thread realized that not everyone thought it was dumb. Even among those who claim to be accepting and open, there can be a lot of social pressure. Like if you.. -gasp- mention that you went to Starbucks the other day, you have to somehow justify it, by explaining that your coffee grounds got stolen with the rest of your gear the day before, or something? Can't you just say you had a couple bucks you were willing to drop on overpriced coffee? Can't you pick your own name without people calling you a dumbass for nicknaming yourself?
Now, I prefer nicknames given to people, because they are usually more accurate, at least in describing the person's exterior self and actions. People see themselves differently than they see others. So a name they pick might be meaningful to them and no one else. Or it could be completely wrong for them, in which case, someone should give them a real moniker.