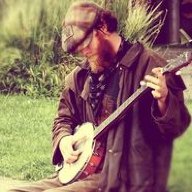 Global Moderator
Staff member
Moderator
Joined

May 3, 2008
Messages

916
Location
There's lots of stuff out there about dealing with the police, but it all seems to be from the "knowing your rights" standpoint. That's well and good for most people, but frankly, I haven't found it very useful. For those of us that live in the real world, here's some important stuff to know about dealing with cops while on the road:

1) Know Your Rights
Know that you have none. That cop can violate every right you have and either find a legal loophole, or just rely on the fact that you can't afford a lawyer while he will be provided one by his union if it comes to a court confrontation. It's all well and good knowing that you don't have to show your ID unless you're breaking the law. The reality is that the cop can take you to jail for absolutely nothing, and while you're there you can acquire some mysterious injuries and your gear can vanish.

2) Know the Law
Know that the law doesn't matter. If that cop is inclined to, he can and will write you a ticket for anything. What's it cost him? He gets paid to go to court and testify that you did something you didn't do, and who is the judge going to believe? You don't have to be doing anything to get a ticket for something, and police WILL write you a ticket for something you didn't do. I've had it happen many times. I've had copies of the laws that cops say I'm breaking, and had police refuse to read them or flat out tell me they don't care. The law does not protect you, it protects rich people.

3) Know the Police Mentality
Most police are bullies. Decent cops generally see how corrupt their fellow officers are and quit being police (I've run into several ex-cops who told me that was why they quit). You are not dealing with a rational person most of the time you're dealing with a cop, you're dealing with a bully who sees somebody that can't legally defend himself and wants to flex their giant ego. The more you fight, the more they're going to enjoy it, because they know they will win, and in their mind fighting them justifies more extreme measures on their side. I've rarely been able to rationally discuss a situation with a cop, because they rarely are interested in thinking rationally.

4) You Are Dangerous
Police see every person they deal with as a dangerous individual that might go psychotic and attack them at any moment. Keep your hands away from your pockets if you don't want to get beat, tazed, or shot. If a cop asks if you have a knife, for god's sake, do NOT reach for it to show it to him even though that's the natural response. Say yes, and tell them where it is. Ask before putting your hands in your pocket for anything, and tell them what you're getting out of your pocket. "My ID's in my wallet in my back pocket. Want me to get it?" Remember, some cops are just looking for an excuse to be able to say in court that they shot you because they thought you were reaching for a weapon.

5) Give Them Your ID
Because they're just going to come up with some bullshit law you're breaking anyway, and haul you off to jail if you don't just show your ID and get it over with. It's worth it to put up a bit of resistance if you've got warrants or something, but most of the time, it's just not worth it. It'll make them feel better to find out you're not a wanted criminal (actually, it'd probably make them feel better if you were a wanted criminal). Really, they just mostly want an excuse to run your ID anyway, and if you put up a fight over it, it just pisses them off.

6) Watch Your Mouth
Seriously, you're just pissing them off and making them more likely to write you a ticket. Your ego might feel better for telling a cop off, but I'd rather let my ego take a hit than go to jail. Talking shit to cops is fun, but is most likely to wind up in jail time, and possibly some "accidental" or "preexisting" injuries.


This may seem like a defeatist attitude, but frankly, when you're dealing with cops, you're almost never going to win. Rights and laws are for people who can afford lawyers. If a cop wrongfully arrests you, it does not hurt them in any way. If a cop beats the shit out of you, they might get suspended for a day or two (a cop caught on video in Denver beating the shit out of a guy for no reason got a whole 3 day suspension). If they shoot you, they might get a medal.