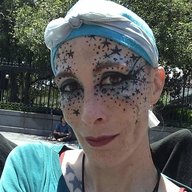 Joined

Aug 15, 2018
Messages

190
Location
Don't get me wrong here. I'm not advocating walking barefoot on all terrains and under all circumstances!

When it comes to me, I'm housed at the moment, so I walk in the house, on grass and on normal, not really dirty streets and pavement. And on the streets also I almost always were in cities, not hiking in the woods or alike. And most of the time I had shoes or flip flops with me, even when sometimes they were pretty much fucked.

Obviously there are places you don't want to go shoeless. For example really nasty public toilets (or somewhere else where people pissed), darkly lit squats (you never know what's on the ground), areas where there's a lot of broken glass. And so on.

And there are circumstances when you really need sturdy shoes or boots. Hopping freight, urban exploring, hiking in the wilderness. Then even Keds or Chucks would probably not good enough.

So it depends what you are planning to do. Also a point: how easy would it be to get replacements?

I was never worried about my shoes falling apart. Cause I knew I could get some replacements easily. People donating shoes, food runs, hell ... sometimes I even made a few quid and actually bought some cheap shoes just around the corner.

But on the other hand: imagine you are on a dirt track covered with sharp pebbles miles and miles away from the next town. You have to walk for ages to get to the next main road. In the burning sun. Or in winter, snow on the ground. Then, having inappropriate footwear (or none at all) would be life threatening.

It all depends ...

Given a "I don't know where I will end up" scenario I would choose a pair of lightweight canvas shoes an/or flip flops / sandals for normal wear and some cheap but robust skate shoes. The latter would be in my backpack most of the time, but I would have them just in case. And they are not as heavy and bulky as boots.
I must admit, I'm amused.... I barefoot every location you listed and more -
But I do admit, it's definitely not for everyone. Personal humor - i can always tell the new Door Guys on Bourbon St. - they comment about my bare feet - haha. Anyone who's been on Bourbon awhile is used to seeing me do it...
I bring my lil "keds" with me, incase i want to go inside somewhere - but other than that, I'm pretty much barefoot. Unless I've got a job, I wear shoes to work.