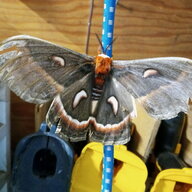 Joined

Jan 7, 2017
Messages

512
Reaction score

1,702
Homebase
Website
Alright folks.. it's taken me awhile. But, this kid- who is also a user on this forum needs to be known about. I travelled with this feller for 9 months straight. We went our separate ways almost a year ago..
I post this as a warning to all of those in this community, for he is predatory, and not to be trusted. ESPECIALLY if you are a new female bodied traveller on the road. During the beginning of my travels, I found this person to be extremely unstable, sexist, and mentally/physically abusive not only to me, but to animals as well.
I initially met this kid, while housing him, and a few other kids and their dogs up. The next day- I left with them, and my whole life changed.. and I fell in love; eventually. I stayed for the long run, mostly because of his dog, which is now in my posession- and doing better than ever. Other users on this forum Will be able to vouch for the manipulative factors they encountered due to my ignorance, and intense feelings...
He's in favor of hazing people due to being "green", and also tried to tell me about MY sexuality. Claiming im a girl, and that people will ONLY like me because of my genitalia, and without him, and his experience I WOULD be raped. Scare tactics are his favorite. (Surprising, since he has so many feminist posts on this website.) I have seen this person try to persuade 17 year old girls into motel rooms over, and over again- after them explaining that they did not want too.
This person is now 23 years old at least, has "Dope Sick" on their knuckles, as well as HFPF (which we are working on changing) , and squidbillies fore-arm tattoos.
This person locked me in a motel room in North Dakota, after consistently trying to convince me to tell my parents lies in order for them to fund him sleeping comfortably. While we were here, he proceeded to tell me to "try" and leave after punching me in the mouth for the second night in a row. This time, due to him not liking how I was wearing my "skank" around my neck.. as I began to pack my things, and leave him in the room via my own vehicle, he got on top of me, and punched me in the face multiple times, making me see stars. I fought back, getting one up on him, punching him in the head, and back of lower neck where he always claimed to have sculiosis. This was when he claimed mercy, and We continued travelling together for another month. I had a mighty shiner for two and a half weeks, as well as other bruising along my face.
We fled to a national rainbow gathering in OR, as I tried to find another way for him to become sober from alcohol, and try to maintain his schizophrenic, and bi-polar tendencies. He left me in portland, to try and teach another person from abroad how to travel in the US better, supposedly.. He never said goodbye to his dog, and it was a deal between the two of us that I would not be solo without her; claiming to meet back up with each other after a month. (This was all to try to coerce another "green traveller from out of the country to fund his addiction, and abuse.")
Later, I was posted on the "
untrustworthy
and shady people" forum by a lady I had nothing to do with, but supposedly had sold the dog (meeka) to Sirius and wanted her back. Sirius had given this lady my information here on squat the planet, where she harassed me, and tried to slander me by saying I stole her dog. He also has spread fucked lies by telling at least one person that has contacted me that I raped him during the entire
relationship
we had. All of these accusations are false. And this person, due to many days, hours, and miles spent is a compulsive, lying, sociopath. Please, do not believe the shit he says.
He has openly claimed lying about his experience to other travellers in order to mooch off of their company, and is EXTREMELY unstable. If there are any further questions, feel free to message me respectavley. Beware of this guy, and know, he is extremely active within this community. And also has ties to black bear ranch.
Thanks for reading.. People can seem massively different online. Just be careful out there, and don't ignore red flags, as I did in the past. Predators are not welcome in this community.
Safe travels
His user name on StP is
@Shwillam
Last edited by a moderator: