"Ugh if I didn't get tickets to PUP in February I could've stayed in Vegas goddamit."
I had just gotten back to Denver after touring California with my band Rotten Reputation, and was faced with the task of heading back almost immediately to LA for a music festival I had said yes to playing a few months prior. "I've gotta stop planning this far ahead, I'm bouncing back and forth and at this point it's getting exhausting," I thought as I got my pack together with some fresh clothes and extra cans of soup. I left my friend's place in Lakewood, CO a lot later than I had planned and took the bus to the only really accessible truck stop west of Denver. I posted up on the closest on ramp which thankfully was right across the street from the bus stop, and immediately knew that my day was going to be long and arduous.
Today was going to be a lesson. Every hitching trip I've taken thus far has been luckily filled with fast, easy rides that got me exactly where I was trying to go, with the good grace of getting housed every night, which I took for granted as a solo traveling trans girl. Today was going to be different. Today I was trying to get through the Rockies headed west, and what I thought was going to be an easy ride to at least Grand Junction turned into a whole fuckin thing.
There was hardly any space for prospective rides to pull over, but I didn't see many other options. I posted up in the hot summer sun, wearing pants and an extremely breathable white long sleeve shirt that honestly saved my skin for the entirety of this journey. I was hot, but I wasn't burning, and I had plenty of water to keep me hydrated in the 90+ weather. After a decent amount of time, a truck pulled over, and I hurriedly ran up to the passenger side window.
"I'm only headed to Golden, but I figure it's further west than this, and you can take the 58 to the 6 to I-70, if you're sick of waiting out here?"
"I'm inclined to take this ride just for your air conditioning honestly."
"Yeah that's fair. Hop on in."
It was a short ride, but ultimately worth it. The driver dropped me at the shamrock across from another on ramp, and assessing my surroundings, I decided to walk down the on ramp and try to catch a ride on the shoulder of 58. Much to my relief, I found some shade, and plenty of room for someone to pull over. What followed was more and more waiting, until another truck pulled over and said he was headed to Frisco. That would get me west and on I-70 so I eagerly accepted, figuring it would be the best ride I was going to get from this spot. I threw my pack in the bed, and we started making our way west.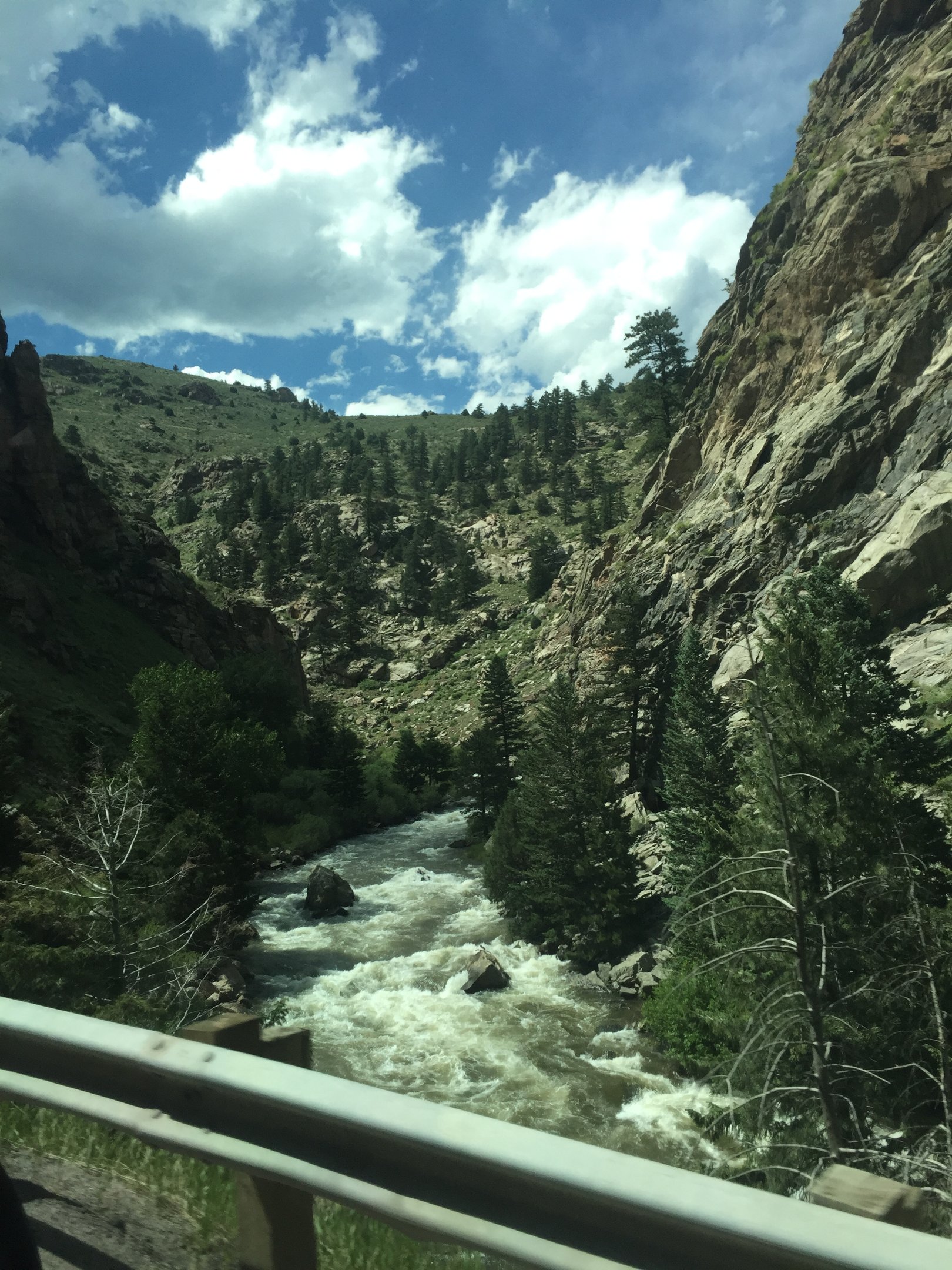 If you've ever driven on I-70, you know that it's a beautiful drive. You may also know that it's got traffic almost as bad as Denver proper, which is infuriating if you'e trying to get somewhere, but if you're just soaking in scenery like this, it could be a lot worse. Stop and go traffic also gave the driver and I some time to talk. I appreciate a good conversation, but if I have to play another 20 questions about me being trans, I'm just gonna bullshit my way through. He seemed generally like an accepting fellow, but he threw on a movie in his center console and every other line of dialogue included the word faggot, so, ya know, I don't know. He did offer to buy me lunch, and having not eaten anything that morning, I was willing to endure another hour of Alpha Dog.
It was late afternoon when we pulled into Frisco, CO, and I was sure to thank the man when he dropped me at the Walmart not too far from the exit. I walked the length of the strip mall adjacent to the warehouse, and sat down outside of a Safeway figuring out what my next plan was. The sun was starting to set, and I figured I'd better start looking for a spot to sleep. As I was sitting there, another traveler with a dog walked up and asked if he could sit with me. I of course said yes, and he introduced himself as Melanin Mike (he was tired of going by Black Mike). We sat there and talked for a bit, I gave his pup Jemma some water, and Mike had Jemma show me the tricks she knew. I was surprised at how smart of a dog she was for how young she is. Mike said he picked her up in Austin while hopping, like what a fuckin groundscore.
Before long, a homebum rides up on his bike and offers us the beer that he's drinking "cuz he doesn't like it," and I take it cuz while I hate IPAs, I don't say no to a free beer. He offers us cigarettes, which Mike graciously accepts, and I politely decline as I don't smoke. Homebum apparently took offense to that, and got mad at me for not taking his cig.
I didn't know what to say, so I just said nothing. I felt like the only people who get mad when you don't take something they offer, either has ulterior motives, or is just looking for something to be mad at. He moved past it quickly though, and said that he knew of a spot where we could camp for the night. The sun was sitting lower in the sky, and Mike and I looked at each other and shrugged. Fuck it, why not?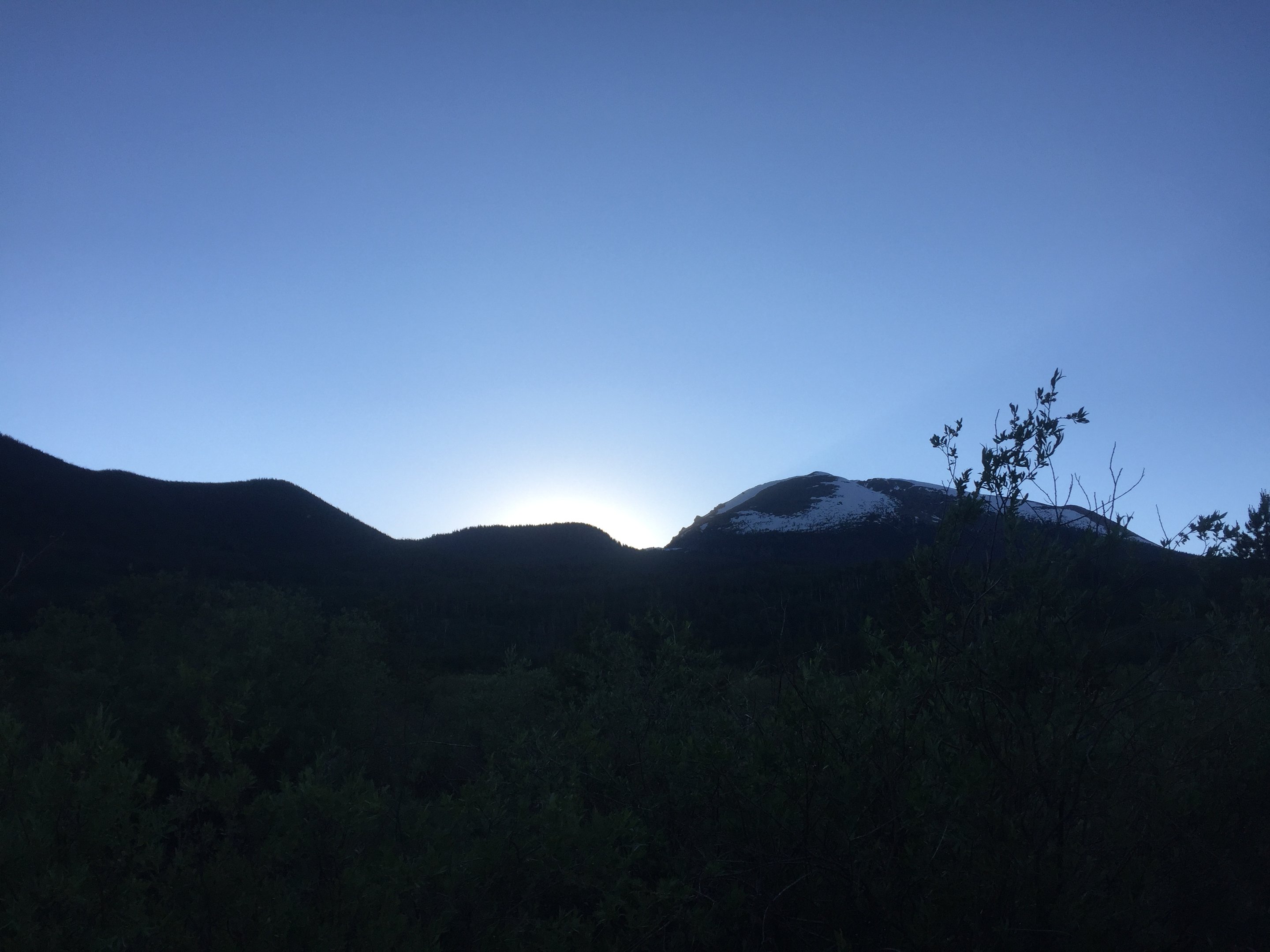 Homebum took us to a clearing in some high bushes outside of the whole foods parking lot, and it honestly seemed cozy enough for all three of us. At this point though, things took a turn for the aggro. As the sun set over the mountains, homebum started peppering "fag" into his speech, as well as the n word. Hard R. Mike and I looked at each other and both were just like
"Well, fuck. This is happening. Time to go."
Mike started shouldering his pack and homebum starts getting real aggro with us, yelling about how we took his beer and cigarettes and he doesn't get anything in return, and trying to make us stay while also telling us to get the fuck out of his spot, and finally saying "I'm not a fag but about you give me a kiss on the lips?" to me. Mike was fucking ready to go, and not wanting things to escalate further I picked up my shit and we dipped out as fast as we could. On the way out we spotted a giant fire ant hill, and I thought that maybe it's a good thing we didn't end up there that night. Fucker would get what he deserved.
Mike seemed to trust me, and I trusted Mike, so we decided to stick together for the rest of the night. We made our way back to the strip mall, and I decided I needed a drink after hearing faggot more times than I cared to all day, so we stopped by a liquor store and I grabbed a small bottle of whiskey for us to split later. While I was in there, Mike asked another homebum about good spanging spots, and he told us to hit up some of the bars on mainstreet. We thanked him for the direction, and started walking the two miles to Old Town Frisco.
I figured it'd be dead, cuz ya know, ski town in the summer on a Wednesday, but as we walked the main drag I didn't expect everything to be
closed.
The only thing that seemed open was this bar called Moose Jaw, and so we sat down in front of the fence bordering the front patio and struck up some conversations with a few passers by. I broke out my guitar and gave some light acoustic ambiance to the chilly mountain summer night, and drew the attention of a man who we'll call Tim. Tim had just quit his job, and was celebrating his last day at work. He offered us a burger and some beer, but only if we came inside. We eagerly agreed, but once we stepped inside the small somewhat crowded bar with our packs and a dog, we instantly felt extremely out of place.
I spotted a corner table next to some outlets and we set our packs down, not having the money to buy anything ourselves, we waited at the table trying to spot Tim, but couldn't find him anywhere. The KM came out of the kitchen and started giving Mike shit about having Jemma in the bar, to which Mike replied that she was his service dog (she actually was.) When the KM asked to see his papers, I pointed out that he can't legally ask that, and he stormed off side eyeing us. I spotted Tim, and he had forgotten that he offered to get us food. He ordered us a burger, which Mike scarfed down immediately while my veggie ass munched on the fries. Then Tim came over with a couple beers for us, and sat down and we talked story for a bit. He introduced us to his friends that he was celebrating with, and they all were interested in our tales of travel, and they seemed really cool with us once they got to know us. Jemma appreciated the pets and extra attention, and the more folks we talked to, the more drinks we were offered. I did some tipsy divination card readings (similar to Tarot) for a gentleman who was going through a hell of a lot of changes, and he really appreciated the advice I was able to give him. The night turned into a rambunctious event filled with laughter and good company, and was a welcome reprieve from the bullshit earlier in the evening. The KM even came out and apologized to Mike for how he treated him, and offered some extra food. It turned out to be one of the best nights I've ever had on the road. It was getting late though, and Mike and I still needed to find a spot to sleep, so we bid our adieus and started walking to the base of a mountain right outside of town where Mike said he had camped out a year earlier.
We found a nice little depression in the trees near a walking trail, that while small and visible in the day time, you couldn't see us while we were laying down, and was well hidden at night, which was honestly all we needed. We laid out a tarp, set up our sleeping gear, and passed the whiskey between the two of us while telling stories of elation and woe. I looked up past the trees into the night sky, saw the milky way, and thought "Oh yeah. This is why I do this."
I fell asleep next to a new friend, and felt happy to be back on the road. I couldn't wait for
whatever was coming next.