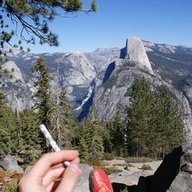 Joined

Apr 13, 2017
Messages

43
Current Location
Hello!

What should I bring to Slab City? My primary concern is pooping, and I can't find any info on this. How do most people (who don't have permanent infrastructure or an RV) poop in slab city?

I'm currently in Prescott, AZ, and I'll be going to Slab City shortly for about a week. I've been living out of a Prius for about a year, and I've done a lot of backpacking, so I'm not looking for super basic info, but I imagine things at the Slabs are a bit different than in a forest..

** First of all: pooping.

Is it reasonable for me to bring my backpacking spade & dig a cathole to poop in? Or is that not reasonable for some cultural reason? Are there any bushes/trees where I can get privacy? Or am I basically going to be doing my business in the open?

I really, really, really don't want to have to dumpster a 5 gallon bucket & poop in my prius if at all possible.

** Secondly: water.

I have a 10L and 4L dromedary bags (for storing water), but that certainly won't be enough for a week. I heard that there were springs at the Slabs. I have a water filter.

Otherwise, I imagine I'll try to dumpster 14x gallon-water-jugs from recycling bins (so 2 gallons per day). But that's a lot of work I'd like to avoid if I can just filter water from a spring (or, at least, use the spring water for bathing & washing--which is about half my water use).

Is it reasonable to filter water from the spring(s?) at Slab City? Or at least use it for bathing?

** Food isn't really a question.

Veggies won't fucking last more than a day in my car in the sun, so I'll be brining a ton of nuts/seeds/rasins, couscous, bread, pb, etc -- typical backpacking stuff that lasts forever and doesn't require a stove to rehydrate.

** Misc?

Are there any other things that I should bring? Perhaps items that are hot gift/barter items in the Slabs? For example, all the lighters are shit in India, and a BIC makes a great gift for your new friends if you ever go to India. Is there anything like this at Slab City?

Or maybe baking soda or vinegar or something else that one wouldn't expect?

TIA!