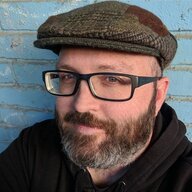 Permanent Wanderer
Staff member
Admin
Joined

Aug 4, 2006
Messages

9,959
Reaction score

23,354
Homebase
Website
glad to see every one taking sides and judging someone with out knowing the details, great thing is i still have lots of people who know me and one, dont judge me on the things that happened when i was 15, and two, know my story. penny and i are still married, but we are not getting back together, she is my friend and will always be. i am out of jail right now, i was in jail for failure to register as a sex offender, i am not saying that i have not made mistakes, but i am working on becoming a better person. the crimes of my past are in my past and now that the past has come to light, i am truly lucky for this, because i get to see who is real and who is a piece of shit. i know not every one will get to see this because the people in power here will block it, but don't believe everything you hear about me or about anyone else. everything i have done wrong is public knowledge and found easily on the net. believe the official shit not the hear say.
oh, "boo hoo, poor me". you're a child molester, and on top of that you still betrayed a shit ton of people to further your own selfish desires, including invading penny's internet accounts and posting false information about what a terrible person i supposedly am.
throughout all of this drama, you've continually played yourself as the vicitim, when in fact you have been the purpetrator from the beginning. the fact that you do not realize that you are inflicting violence in one form or another on others is one of the many reasons you are a dangerous individual, and the reason that this thread will remain here as a warning to others that are unfortunate enough to come across you.
my advice would be to go find some quiet place away from anyone you might victimize, and just die. the world will forget your name soon enough.