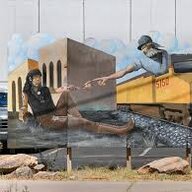 Make America Freight Again
Staff member
Moderator
Joined

Dec 12, 2014
Messages

2,329
Reaction score

7,360
Age

33
Homebase
Website
What
@iamwhatiam
said
Plus, you are not taking into account the political power of the outdoor industry. A majority of it comes from hunting, fishing, boating, ATV, ECT. A very small percentage of actual political power comes from people who like to strap on a
backpack
and hit a wilderness area....with the exception of the Sierra club and the NC.
These people need to be allies, not made out to be some redneck yahoos with not respect for the land.
Some of the best land managers I've met have been hunters and fisherman.
You seem to be all ideals and not really have alot of real world experience in this endeavor.
John Muir, Teddy Roosevelt, Gifford Pinchot.....these are just a few famous wildrness advocates who happened to also be sportsman.
What we need to do is get this group to call out the dumbasses that claim to be a part of it. Because public land and wilderness is just as important to them as wilderness advocates and environmentalists like me.
Also, pleas don't confuse ANYWHERE/ANYONE in the east, with public lands in the West. It's a whole different ballgame. It's not even the same sport.
All you need for proof of that is comparing Thoreau to Muir.