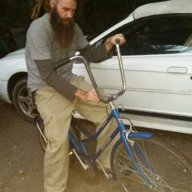 Joined

Dec 2, 2015
Messages

26
So, I'm Chillawhile aka "Chill" fka Gypsy/Grizzley. I gotta say StP is pretty dope sauce! There are some great resources here. Thank you to everyone who adds input and value to this community.

I've been travelling about 7 years. Here, there and in between mostly thumbing it or rubber tramping. Tho I will (and have) travel(d) by just about any means of transport I can find. (once hitched a helicopter ride for about 150 miles) Im currently in Georgia seeing family and friends. Making moves west after the holidays. (if I can sit still that long)

Just wanted to say hello, introductions and all that good stuff. Much Love to all the wandering souls out there!

"keep your head up! and your eyes open"