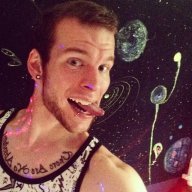 Joined

Nov 20, 2011
Messages

70
Age

33
Location
Website
Freedom...currently I have the freedom to lay in bed all day and feel like shit. No motivation to help myself or others. What is freedom to you? Anarchy? disorder? freedom of the mind? Or maybe just the freedom to move about the country at whim?

Freedom can be thought of in all types of forms, however in this system that most of us so oppose are we winning or losing the fight when we have to depend on those who are a part of it? Are the outsiders winning the battle against the monetary system? Will living off the grid be easier than dealing with the bullshit that is society today with the materialism and stuff that we don't really need? What do you need? as an individual? What makes you feel like waking up in the morning? Yes our government system is currently in the shit hole, and it doesn't feel like we can do anything about it; well maybe we can't do anything on a large scale but maybe if we look at a smaller picture of our environment and what we can do for not only ourselves, but others. it would give us more pride in our lives, rather than feeling like we can't make a dent in this world.

Looking at the world through a different lens may be needed. I think being able to not only take care of myself but also others around me would be the ideal. Feeding myself and bathing myself would probably fall under the category of taking care of myself. If I can't take care of myself, how are we supposed to take care of each other? I'm not against living off the land and doing your own thing, but there comes a point in life where you realize that this system has branched from the original homesteaders, but the greed of man is what corrupted it. We cannot erase greed from the hearts of man, but we can learn to be content with our own lives as they are and help as many effected by it.

I'm on a goal to be happy. Inside or outside the system, but being outside gives us limited options on what we do and how we take care of ourselves and others. We are very intelligent people on this forum, if we wanted to all contribute in our own way we could figure out a way to change the world. Throw some ideas down, there are strengths in numbers, if we all only need a place to crash every night and have food on the table and be bathed why not start a huge collective where we buy a house legally and manage to pitch in all of our talents for our goals. We have lost a sense of community in this society, and we can make one that is in the system and still have our freedoms and safety.

Throw me some thoughts.