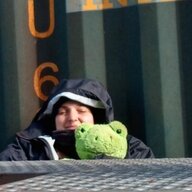 Joined

Oct 12, 2019
Messages

29
Location
Heyyo,
I'm Chris. If you couldn't tell by my username, I like snails. I actually don't really care about sailor moon, though.
I'm 22 and living in central Cali.
I've found myself in an interesting transitional period in my life, caught between a desire to explore the world and a fear of the unknown (and the fear that my life will never change and I'll be stagnant forever!)
At the moment I'm looking for an opportunity to travel and experience new places, people, etc. If you're musically inclined, love animals, and generally not a dickwad, then we'll probably get along just fine.
If you're the busking type, I can possibly accompany you vocally or ukulele-ly.
I'm no experienced traveler. Maybe I'll find that it's entirely not for me, or maybe I'll have my fill of adventure and decide to return to the daily grind. Maybe I'll go to college or some shit. Who flippin knows.
I'm not entirely sure of what's in store for me yet, but one thing I'm sure of is that there's bound to be someone out there who feels the same- that is, utterly confused about life but seeking to find their place in the world, if there is one. Wow that just got fuckin deep dude.
Nice to meet ya'll.

tl:dr Hi I'm Chris, I'm a noob , what's up.