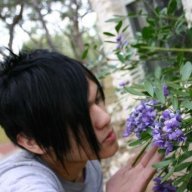 Joined

Jun 22, 2012
Messages

1
Age

31
Hometown
I rap. I sing. I produce beats and ever since hearing norah jones as a child and ben folds as an adult I new i needed to play piano. Im unemployed, I got into...an altercation with my fastfood manager.​
​
cat power(chan marshal) inspires me so much. addicted to drugs/drunk, uneducated, country folk, moving from a backwater place to new york and doing what she loves.​
​
I'm sick of rural life and these bullshit 9-5s. but My unique needs as a transgendered person leave me confused as to how to begin to hit the road.​
I will soon be taking estrogen hormones and anti-androgens and don't know how to sustain this specialized medical attention while traveling.​
I came to this site to continue my learning.​
​
I want to move to austin, at least for now. and see think that the ability to live without residence would get me to a similar situation without the hassle of moving out the conventional way. perhaps if wanderlust continues to permeate my brain I'd kick the austin idea to the curb and continue the adventure stopping by seattle. the only experience i have panhandling was when i was tripping mescaline in a house full of heroin addicts. i used up all my gas money buying them food (they were so hungry)​
ended up getting 50 dollars from 3 different gas stations.​
​
Ive never traveled before. and Ive always been told by my parents without an education or job id fail. ironically it was my mother who recently suggested to me that I become a nomad.​
​
Ive always toyed with the idea. all the times I walked away from home (its 20 miles to the nearest gas station) it felt exhilarating. on that particular occasion i had found 5 bucks with no ride, I sauntered back being the proud owner of 2 24oz hurricane cans. best drunk of my life. I was on probation at the time.​
​
I came to this site to continue my learning. Of course this is also a shout out! if any transgendered nomads are on hear Id love to hear your stories!