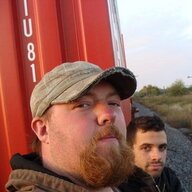 Bad Order Hoghead
Staff member
Moderator
Joined

Dec 26, 2010
Messages

1,859
Solutions

1
Reaction score

7,542
Age

46
Homebase
Website
Just wanted to throw a short story in here.

1983 was the year I first met a transperson. I was 8 years old, he was probably 7(or 8 and a little bit smaller than me). His name was Johnny, he lived in the same apartment complex as me and we became fast friends. We both shared an interest in bikes and we'd ride all over that complex until it was time to go in at sundown. I made other friends there but Johnny and I were tighter, we liked the same shit.

Johnny and I both had older sisters by a couple years and our older sisters ended up becoming acquaintances or friends, I'm not really sure how close they were but they talked. One day I was telling my mom something or other about what Johnny and I had been doing or wanted to do.. it could have been a story who knows but my sister overheard the conversation and chimed in;

"You know he's a girl, right? Johnny, your friend. He's a girl. His sister told me so. She said he's just more comfortable as a boy so he dresses like one and chose that name" This was extremely confusing to me as a child. I felt betrayed, because girls were still gross at that age right. I didn't know how to process it, so I just didn't.

I completely wrote him off. I no longer would go to his door and ask if he could come out to play, I just stayed inside my apartment for a while, it kind of felt like I went through a stint of depression. I remember his family moving away maybe a couple months after that and I regretted my actions. I missed my friend and I wished I had reacted differently to what my sister told me.

Once he was gone I realized I didn't care at all about whether or not he was a boy or a girl, he was my friend and I was the one who betrayed him. I felt like shit and though I don't think about it every day of my life.. when I do remember Johnny still to this day I feel like a piece of shit and I kinda wish he'd see something I've written(either on Reddit or here now) about it one day and reach out to me, maybe we could go ride bikes or something. Maybe he'd forgive me.

That boy taught me about transphobia at an extremely young age and in an era it wasn't very common. I am forever grateful for that lesson, it's definitely had some type of impact on my being able to process my eldest son coming out as a transboy. In fact I remember observing my eldest at a young age and noticing he had a lot of Johnny-like characteristics. Never the princess, when he'd play video games he'd always choose male characters and also create male characters to represent himself in online communities.

Oh this reminds me of another time I felt like a huge piece of shit. I remember my youngest son coming and telling on "Noelle" at that time. He said "Noelle is lying to girls on little big planet and telling them she's a boy irl". They were like 12 and 11 years old. I sat down with Noelle(who's Elliot now) and explained "Listen, you can't lie to people like that. If that person starts liking you or whatever, you're basically catfishing them. You gotta be real with people, don't mislead them"

It never dawned on me that this was his first attempt at coming out as a transboy, not until he came out years later. My ex wife and I went together(long after divorcing) to a couple therapy sessions with Elliot when this was all new stuff and in the process of talking about how we felt I was recalling back to when he was young and explaining to the therapist that he's always seemed more like a boy, and about the male video game characters. And then it just hit me like a ton of bricks, I was like oh my god what a terrible piece of shit I am. You were trying to address this then and I didn't get it, I'm so fucking sorry.

Ok this wasn't as short as I intended but I just wanted to address these topics because I believe the whole "mental illness theory" is horseshit. Both Johnny and my son Elliot knew from an extremely young age how they felt about who they were. My son isn't mentally ill and he's not confused. I think if anyone's confused it would be all the people in this thread who've mistakenly identified as psychologists. That might be a mental illness, idk.