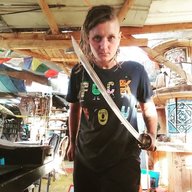 Joined

Sep 25, 2015
Messages

325
Reaction score

1,032
Location
So I'm having a situation right now, this guy who's in a lot of pictures from last years jambo and attended is no longer welcome at the library or anywhere near it.

And yet, the Jambo flyer is his facebook profile picture and he has been sharing the flyer on every fucking page ever on facebook. He's totally blowing it up.

Last year during the party, we had to physically drag him out of the library multiple times because he was TRYING TO TEAR SHIT APART. Also attack people. After the gathering, he attacked people again and we had to drag him out and even hog tie him to keep him from coming back because he wouldn't fucking stop trying to come back and be aggro.

I have made it very clear many times that he is not welcome, but he won't respond.

What the fuck do I do about this?