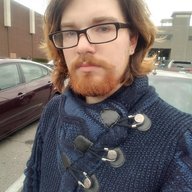 I'm a d-bag and got banned.
Banned
Joined

May 12, 2018
Messages

9
Age

24
Location
Where to begin?

I'm an immature, but kind person. I have difficulty owning up to my mistakes, and I don't deal with stress as well as others. I've never been able to hold a job for more than 3 months, and my anxiety attacks make me feel like I just got done running 3 miles.

I'm hoping that I don't end up homeless, but if it comes down to it and I have no other option in two weeks, and find a job, I have an idea of where I want to go. But, it probably won't be permanent. I need a chance to find myself, and see to it that I'm finally at peace with my demons, or at least learn how to fight them. I'm planning on being a nomad until I can find the answers I'm looking for, and if my friend doesn't invite me to stay with them when I make my way there I may just wander the states, looking for people to share my experiences with.

I'm heading to Wisconsin, heavily unprepared in terms of supplies and food. I might not even be able to replace my broken tent, which will leave me unprotected from the elements on my journey.
I'm hoping for some assistance, but not asking for it. I've rebelled and begged my way through life, and I don't want to resort to that anymore. But, for right now I don't have any other option.

I have minimal experience camping, and I've picked up enough info to keep me alive online via tutorials and forums. So, if I don't have a lot of experience under my belt, but I'm staying optimistic.

Please, feel free to PM me, I could use the help and advice.