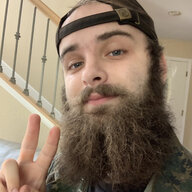 Joined

Aug 10, 2018
Messages

31
Reaction score

27
Homebase
Hey, y'all! It's Bats, again.
I'm hoping to hit the road for the first time soon. I hope to hitchhike and
maybe
freight hop, but not necessarily freight hop. I'm still trying to find a good
backpack
that isn't too huge, and to figure out what to bring/leave behind.
Below is the packing list I've come up with. For those of you who are more experienced, is there anything you think I should add? Anything you recommend leaving behind?
Any help is greatly appreciated!
Thanks!
Packing List​
Clothing:
3 Shirts (1 normal-looking)
1 Pair long pants
1 Pair shorts
2 pairs of Socks
4 pairs of Underwear
Hat
Hoodie
Thin Sweater (can be worn underneath hoodie for extra warmth)
Warm Gloves
Rain Jacket
Camping:
Backpack
Trash bag (for keeping the pack dry)
Sleeping pad
Camping Pillow
Small Tarp
Tent(?)
1 Liter Water Bottles (x4)
First Aid Kit
Bug Spray
Sunscreen
Spray
Stick
Tools:
Camping utensils
Camping bowl
Lighter
Head Lamp
Extra Batteries
Large Marker
Solid Paint Stick
Pepper Spray


Technology:
iPhone
iPhone Charger
iPhone External Battery-Charger
Earphones
Entertainment:
Small Notebook
Pens/pencils
The Anarchist Guide to Travel (Book)
Art Supplies:

Blank Stickers
Fabric
Paint Markers
Small Sketchbook
Dental Floss
Sewing Needles
Music:
Baritone Ukulele
Case
Extra Guitar Picks
Song Book/Chord Sheet
Extra Pencils
Stick and Poke supplies:
Sterilized Tattoo Needles
Tattoo Ink
Ink Caps
Latex Gloves
Green soap
Squirt bottle
A&D Ointment (for aftercare)
Dr. Bronner Soap (for aftercare)
Toiletries:
Toothbrush
Toothpaste
Wet Wipes
Deodorant spray
Dreadlock Spray
Essential Oils for making more when it runs out
Hair Brush (For Beard)
Hand towel
Bandana
Meds
Pill containers
Misc.:
Wallet
Cash
ID
Debit Card
Kaiser Card/Number
Earplugs
Condoms/Sex Lube (just in case )