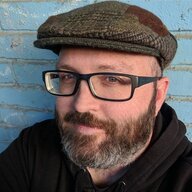 Permanent Wanderer
Staff member
Admin
Joined

Aug 4, 2006
Messages

10,047
Reaction score

23,707
Homebase
Website
Austin Texas is another one of those cities I never thought I would have spent as much time in as I have, but overall I'm glad I did. It's a great town overall that's easy to find work in, making it a great place to save up money between travels. Unfortunately there's not a lot of punks or other travelers coming through, mostly because of the stigma that Texas carries with it for being a super-conservative state.
Otherwise, it's an extremely friendly city with bike paths just about everywhere and you're usually not more than a 15 minute bike ride from some kind of nature. Swimming areas are abound in this city and river tubing is a popular activity especially during the warmer months (March through November). Speaking of the weather, there's about 2-3 months of brisk cold weather in the winter, but otherwise it's 9-10 months of summer, ranging from pleasantly warm to painfully hot (around 110 or so) in the pit of August. Humidity is an issue here more so than most cities, but not nearly as bad as a New Orleans summer.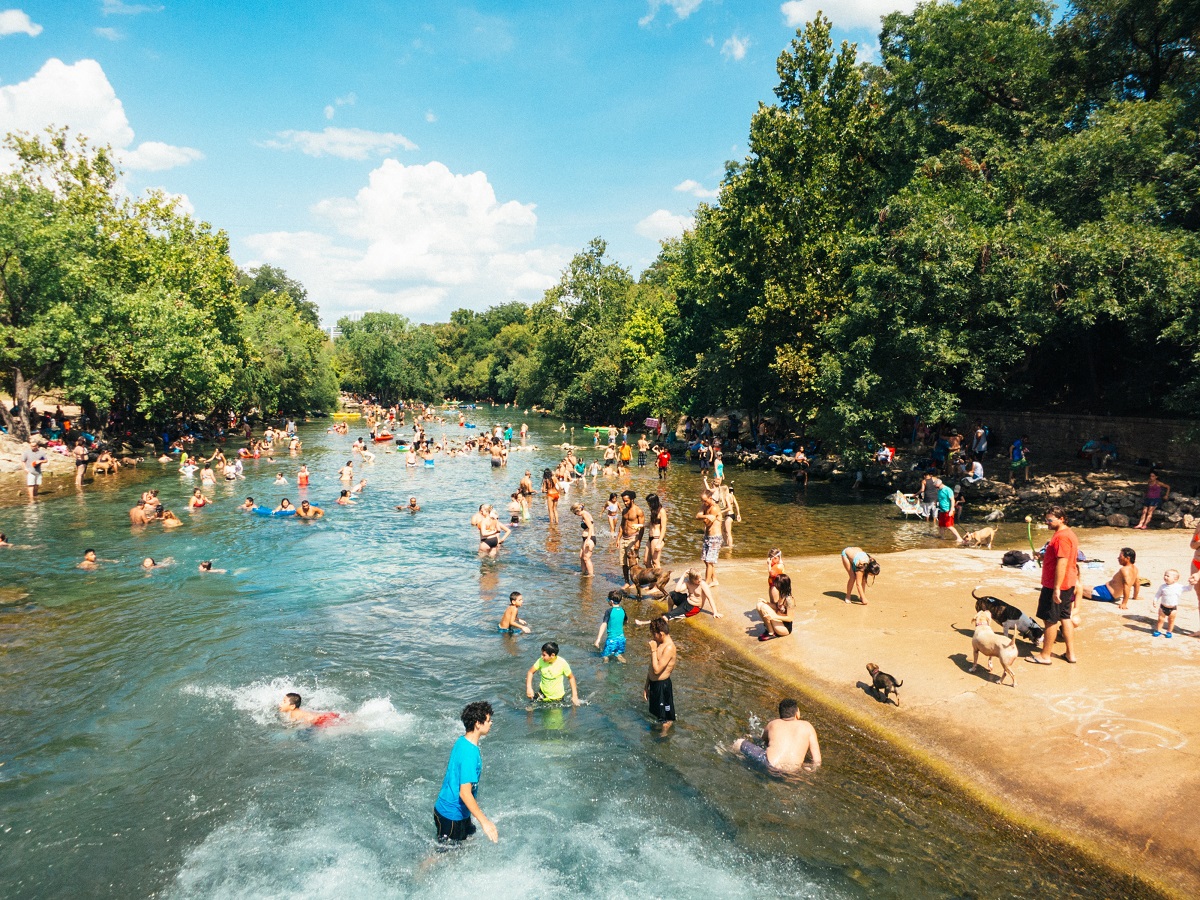 Barton Springs (pictured above) is a really nice free swimming area (there is a paid area too, behind where this photo was taken) and as you can see it gets pretty crowded. There are plenty of other swimming areas like the ironically named
secret beach
(which you can now find on google maps).
Food & Shelter
Rent:
Unfortunately, Austin has become a bit of a victim of it's own success. In the past five years the population of the city has exploded, which in turn has made rent prices skyrocket. Just to give you an idea, I (
@Matt Derrick
) rented a bedroom in a 6 bedroom house in 2020 for $500 a month and that's the cheapest I could find. Everywhere else is going to run around 800+, and studio apartments are going to be around $1000/mo if you're able to actually find one.
Squatting:
So, if you find yourself coming through, I would personally suggest
squatting
the forest areas of the city, which is incredibly easy to do due to the abundance of nature areas. It's easy to find a spot that you can pitch a tent and bike into town each day. Combined with plenty of jobs (see below) you shouldn't have too hard of a time stacking some bills.
Squatting buildings here is possible, although choices have become limited due to increased demand for real estate and the growing population. I haven't met anyone yet that's been arrested for squatting, only forced to leave by local sheriffs.
Food Resources:
Someone else will have to fill in food banks and other related info, as I've always worked and didn't need these resources here. I'll do some research and edit this later with what I find.
Making Money
Despite the population explosion, there's still plenty of jobs in Austin, and searching Craigslist along with just walking around the city should provide you with enough leads to find work. I've found the ETC/Gigs section of Craigslist especially helpful for finding one-off paid gigs like putting flyers up around the city, or giving Dell computers my opinion on one of their keyboards for $150. There's also plenty of blood donation centers and if you're willing to donate sperm, there's even a place for that too (i'll list specifics soon).
Spanging
and flying signs on medians and on ramps is allowed here, but good luck finding a spot that isn't occupied. Along with it's population, the amount of homeless people living in Austin has risen dramatically, to the point where tent cities and shanty towns are not an uncommon sight.
Busking
is generally good on 6th street while all the tourists are out at night, and near Guadalupe & 21st street, near the college.
Events & Things to do:
Austin is host to a lot of events and festivals throughout the year, including
South by Southwest
(SXSW), Austin City Limits, Austin Earth Day,
Eeyore's Birthday
, a
Kite Festival
and many, many more.
The majority of bars seem to be centered on the 6th street drag, either on the west side of I-35 where the loud dance clubs and fancy restaurants are or the east side of the highway where the more divey bars are at (preferred) although even that area is suffering a lot from gentrification as a shitload of condos are being built on the east side that weren't there even 2-3 years before.
The Lost Well
on the east side of Austin is highly recommended; it's a biker bar with a punk rock/doom metal vibe. The drinks are reasonable and they have amazing bands play there (I've seen weedeater and bongzilla there amongst others).
There's also a bike/walking path that goes around the majority of the river that divides north and south Austin that is worth checking out, it's probably about 10 miles to walk the whole thing, but it's very pretty. Along that route under the southern portion of the congress street bridge is where millions of bats have made their seasonal home. At dusk every night you can go there to see millions of bats fly out into the night to hunt for food, although the best time of season for seeing them is in September/October.
Monkeywrench books
is the local anarchist infoshop and has been around at it's current location (on the north side of Austin) for quite a while. Nice folks and a good place to meet some like minded individuals.
Treasure City Thrift
is the local anarchist-run thrift store on the east side of town on 7th street. Rock bottom prices and cool stuff can be found there so definitely check it out.
Places to Avoid:
'Crime' in Austin is a joke. There's no real crime here, and when people tell you to watch out in certain neighborhoods, it's because that's where most of the black people live, which is obviously pretty racist. Having moved to Austin from New Orleans, even the most 'dangerous' neighborhood in Austin is laughable by New Orleans standards, I mean, really, in terms of crime, this place is the fucking
Shire
from Lord of the Rings.
That said, you might want to avoid downtown during the day hours just because it's boring.
Police presence:
I haven't had many run-ins with the police here, but I haven't heard that many bad stories either, so I'm assuming you'd have to go pretty far out of your way to piss them off. Overall, they seem more concerned about real crime than harassing homeless people or travelers.
Transportation
Getting around the city:
This city is also extremely bike friendly, and most folks tend to be more aware of cyclists than your average city. If you're broke and need a bike, check out the
Yellow Bike Project
, where you can volunteer time to build a bike of your own for free, or just buy a bike you build outright (for a very fair price).
Public transit is quite good, and an all day pass is only $2.50. The 'all day' pass is actually good for 24 hours, so if you buy one at 15 to midnight you're still good until that time tomorrow.
Coming & Going:
Austin is home to the dirty dog (
Greyhound
),
Megabus
(recommended), and
FlixBus
(generally the cheapest option - just heads up, some of their services got to North Austin and DT Austin and some only go to N Austin). I've also seen one or two mexican bus lines, but I haven't had time to look into them.
Best place to hitchhike depends on your direction, but you're probably best off taking the city public transit as far as you can get outside the city and picking an on ramp that's appropriate to your destination.
Trains come through going north and south, and the most popular place to watch them has usually been the bridge near Slaughter and Manchaca, although a large homeless camp has cropped up there in recent years. I didn't have any problems when talking to them with a few friends though, seemed nice enough.