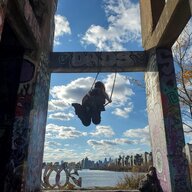 Joined

Aug 24, 2017
Messages

385
Location
Jay/Rhubarb Dwyer/Snorting Nitrons is a predator.

Jay made his own discord with some ppl from squat the planet and a few others who are interested in travel. He's taken on a mentor role for them, most of which are teenagers and early 20 somethings.

The youngest person I've known him to be involved with is/was 19 while Jay was 45 and I'd tried to talk to him multiple times about how it's not okay for him to be fucking w anyone w a "teen" in their age. Every time he blew it off with just "okay" or acted like I was being judgemental.

He takes on this mentor role and encourages young ppl to go travel, which would be rad if he wasn't also trynna get w ppl who are like fuckin 19-22 and haven't left home.

Before he and I had ever hooked up I had expressed I didn't want him to go down on me. Clear, coherent conversation. Then when we hooked up he just went for it anyway. I didn't consider this fucked up at the time bc I didn't say "no" again in the moment but nah, fuck that disrespectful shit.

We stopped being friends bc he flipped out on me for "ditching him for some dude in the subway" (I wanted to hang out with my friend, he didn't, so we went separate ways for the night n agreed to meet up in the am). I woke up to hella name calling, jealous texts from him n told him to fuck off. We're not friends anymore and I'm not "yours". And told him to not talk to me at jambo.

Fast-forward to jambo, he tries to talk to me, I say hi and turn away, obviously not wanting to engage n just exist separately in the communal space.

The last night of jambo I'm busking and a group of stp ppl are hangin right nearby. I get cold and go to put leggings on under my pants. So I go behind an electrical box so I'm out of view of the street. It was still in view of the stp ppl if they were to look over to the side at me. And guess who watched me fucking get changed that I'd made it very clear I don't fuck w?
Jay.

Here's screenshots of him admitting fuckin w a 19 year old and blowing off my "that's not okay" and further examples of his whole ~mentor~ of young ppl thing.
Last edited by a moderator: