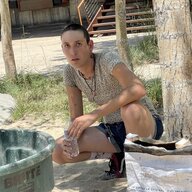 Joined

Nov 4, 2018
Messages

132
Age

24
Location
Website
Copy/pasted.

Re-post [CW: violence, death, queerphobia]

"What's going on in Portland:

Portland Police have been exchanging chatty and collusive texts with extremist right wing activist Joey Gibson, whose Patriot Prayer rallies attract white supremacists and function as an excuse for his gang of Proud Boys to incite violence against protesters.

There's an "investigation" but the police chief says lieutenant Proud Boy is doing a good job and gets a gold star when he comes back to work.

Proud Boys have declared "open season" on Antifa on social media.

A trans woman was assaulted from behind, but Portland Police have invented their own story where she was drunk and fell, and offered that up as the more plausible reality.

Three more attacks. And a black trans person is missing.

"DIE FUCKING DYKE" as a full can of beer is thrown at a queer person on 7th, knocking her down, cutting her face and breaking her glasses. It gets reported as "bruised" by the Mercury, and the top comments on the viral Facebook post are right wingers declaring it a hoax.

QTPOC community suffers the devastating loss of a precious life after a massive community organized search party finds the missing person.

We are hurting everywhere.

We are on high alert.

If you're queer in Portland, if you're vocal online, shut your shit down right now and protect your friends.


If you know queers in Portland, send them money so they can take lyfts instead of walking alone at night right now."

I've got a lot of friends in Portland that I've been talking to and the situation out there does seem to be as serious as this text makes it out to be. I figure the folks here should also be aware if they aren't already. We all know that travelers already have somewhat of a target on our backs for stuff like this, and if you're queer or present as anything not straight/cis this is compounded.

Please be careful out there, y'all.