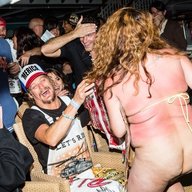 Joined

Oct 23, 2006
Messages

802
Location
Website
Not something I usually post on, but I just finished reading this
https://carrotquinn.com/2018/01/17/...unting-in-the-long-distance-hiking-community/
(Long-ass page but worth reading. At the end are testimonials from the subject's former partners, and then some writing about the person's defenders/enablers. Edit: the subject was at one point a STP member)
A lot of the behavior mentioned isn't stuff remotely close to what I've done (I love cats, dislike guns, haven't hit someone since puberty etc), but I have emotionally and sexually abused partners in the past.
The two specific people I think of, I'm no longer in touch with. One broke ties with me and the other I broke ties with.
Wondering how people-specifically men, but I'm interested in hearing from women also- deal with realizing that they have been an abuser.
One thing that got to me from Carrot's article was that the subject posted a fake-ass apology, and Carrot's reckoning on it that it was not only self-righteous but failed to specifically mention harmful actions made. It made me think.
Thoughts?
Last edited: