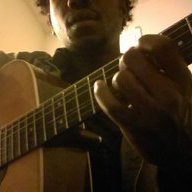 Joined

Dec 1, 2016
Messages

5
Reaction score

5
Age

32
Homebase
Hi!
I'm chris
I am sort of new to travelling..I signed up on here not too long ago while I was housed up in san diego. I abandoned my profile because I ended up getting homesick and tried to set roots here in my native detro so i could be close to family. Things didnt go so well here, so i am leaving this place for good. Currently, i am jobless and broke and been screwed over by family. Ive decided there is nothing here for me anymore. Im glad detroit is on the rise and all, but this town never really felt mine. Especially after finding out i dont have to stay here forever.
I am going to hit the road again to lose my self, find myself, and to find a place that I can truly call home. A place where I can work on my craft in peace, gain knowledge, meet kindred spirits and, I dunno, maybe find love? Become a writer...act in plays.
Im probably hitching or finding a ride out east and if nothing feels right, then ill start heading out west and southwards for winter. Last time I took busses straight shot out. This time I am hitching (my black ass and a guitar and
backpack
) and catching rides.
A bit about me:
-I am a very shitty guitarist, but i am getting better, more so since now i busk for cash to get by. I like indie rock, some alternative, some folk.
-I am friendly and nice, but a bit dark from growing up in the hood and having a very topsy turvy life.
Depression never helps. Around the right people, I can be very silly though, and i still like to have a good time.
-I am socially aware, and I like to think about interactions between people...almost to the point of philosophy. I have strong opinions and questions about life sometimes, not concrete though. I try to keep them to myself.
-I like herb.
-I really want to drown myself in creativity.
Thank you for reading my post, and i wish you all good times on your travels! If you have any tips....PLEASE FEEL FREE TO HIT ME UP!
sorry about the long post..