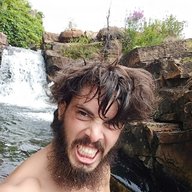 Joined

Oct 3, 2018
Messages

116
Location
This thread will use me to gather information to what hopefully will become the first ever adventures winter
hitchhiking
to the Arctic Ocean.
Im not sure I will be able to pull it off, but right now I did all the necessary preparation. Warm clothing to be added when needed.
I'm taking with me 3 small bags with warm clothing and some essentials: tooth brush/paste, toilet paper, a book and my harmonica.
I should start as soon as I get my u.s visa, in about a week.
I usually don't write or document any technical details of my travells, but I have a feeling that no one ever done this before (the section from Inuvik to Tuktoyuktuk was opened Nov 2017) and possibly this journey will finally get me the push I need in order to get some support from outdoor brands. I managed to reduce my weekly expenses to 15$ thanks to good dumpster diving spots, but it's really not that healthy. I eat almost nothing but pasta and bread.
Hopefully I make it to the Arctic and back, and of course stay alive (not dying is my first priority).
Stay warm.
*Someone in Vancouver and maybe wants to help me with a bigger backpack or heavy coat?