George, thank you for the kind words, and please feel free to post whatever pictures or stories here that might come to mind. A big reason why i started out on this bike tour was because of inspiration from other StP posters, so i am always happy to read shared experiences.
Now... when i left y'all, i was just about to head into Louisiana. I wasn't sure what to expect, but i was just hoping to hell i wouldn't get more aggressive dogs.
I didn't expect this.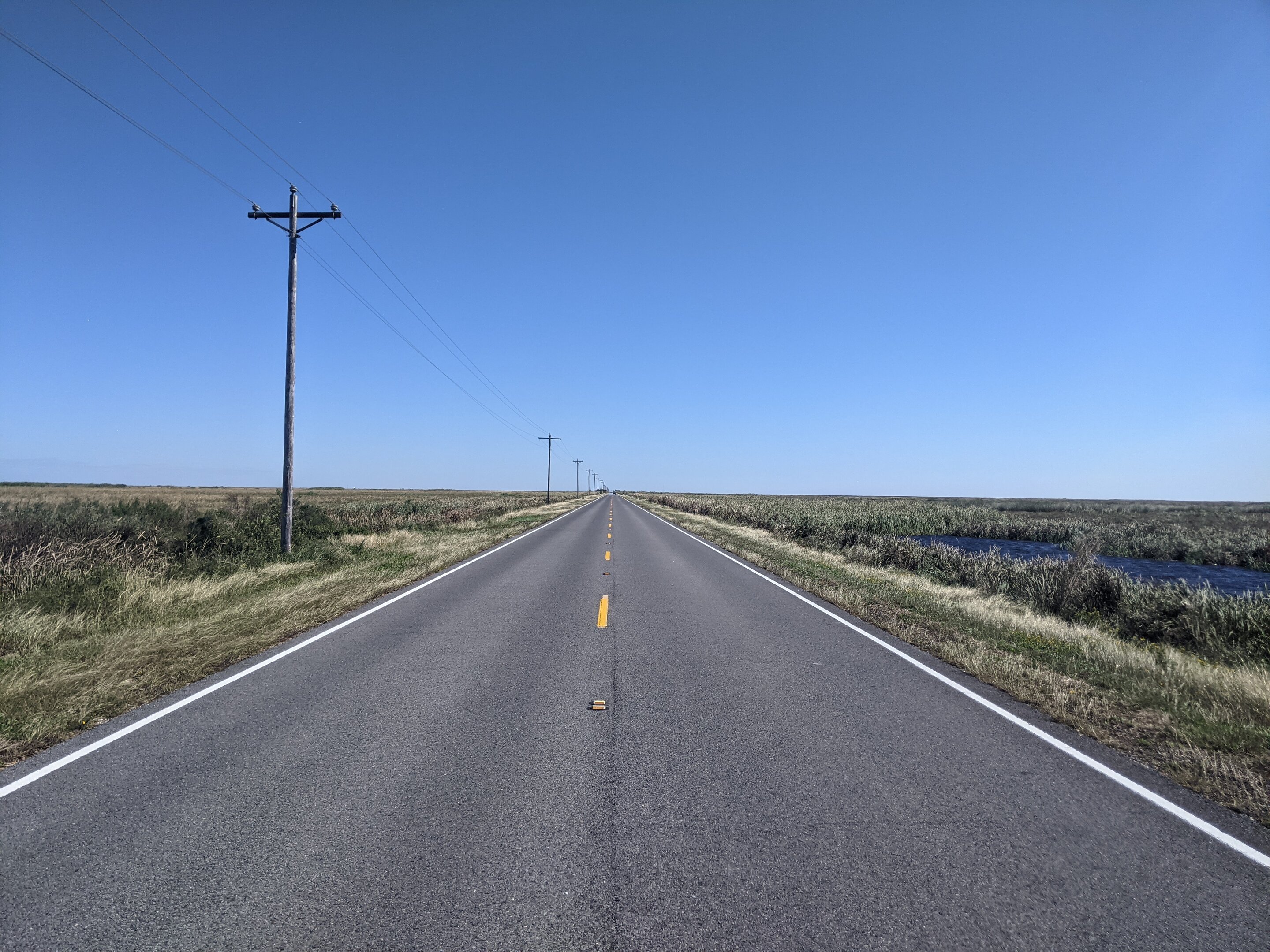 Once you get over the Sabine River (Texas/Louisiana border) on highway 82, it just stretches out into a massive, long, straight road through the middle of a wetlands. It goes on for ages like this. Occasionally there is a house on stilts, but mostly it's just marsh. The wildlife is awesome. If you love birdwatching, you should definitely put this route on your bucket list. If you hang around long enough, you might even see some gators. I saw one dead one (roadkill) and two live ones. One was only about 10 feet away from me and scared me shitless.
Eventually the sea shore comes up to the edge of the road.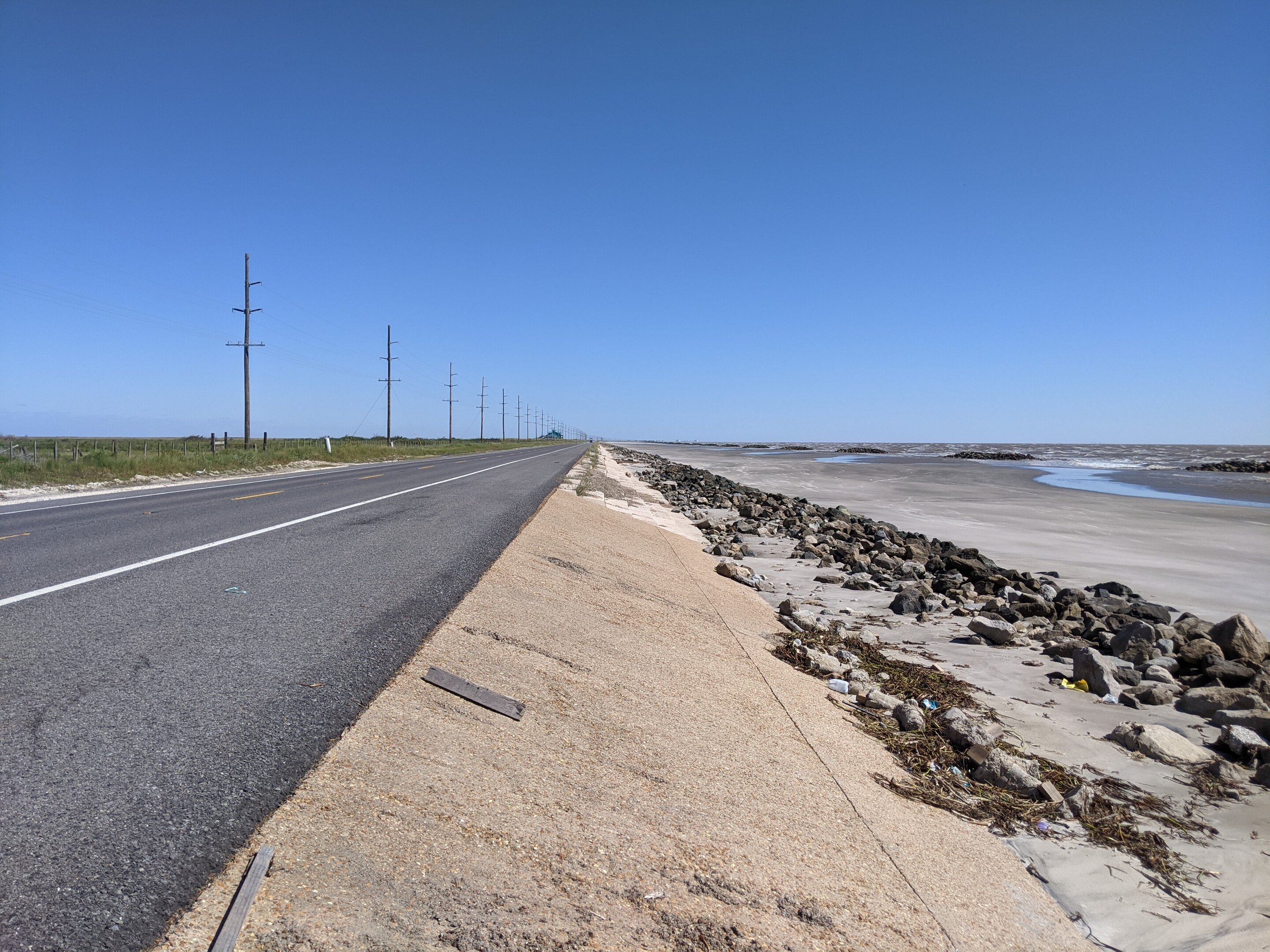 Around here there are some waterfront settlements that have been utterly destroyed by hurricane after hurricane. Still, people are rebuilding. There are a few stilt houses, some freshly painted, others looking pretty banged up. Lots of people just live in RVs out there now, and some people just gave up i think. There are a lot of signs up for people renting out their property as an RV parking spot, but other properties are just abandoned completely. There are no shops, just a few enterprising folks selling ice, tackle and bait out the back of a truck. It really feels like a string of shantytowns. I don't mean that in a negative sense - the people are all clearly resilient and mostly friendly - but everything looks real DIY and grassroots. Might be a good place to post up for a while if you have some useful skills or something to sell. If i wasn't cycling i would've loved to stay down there a bit longer and get to know the people, but i think you'd really need a van or RV to make the most of it. The distances between services are pretty long, and you probably want fishing gear and a stove and other bits and bobs so you don't need to just eat gas station food every day.
You can go even deeper down 82 and pop out near Abbeville, but i chickened out because i wasn't sure if i'd be able to tent camp deep in the marsh, so i headed north up 27 instead. Which was a weird journey too. You're riding along with water on both sides, then suddenly a bridge pops out to cross... more water.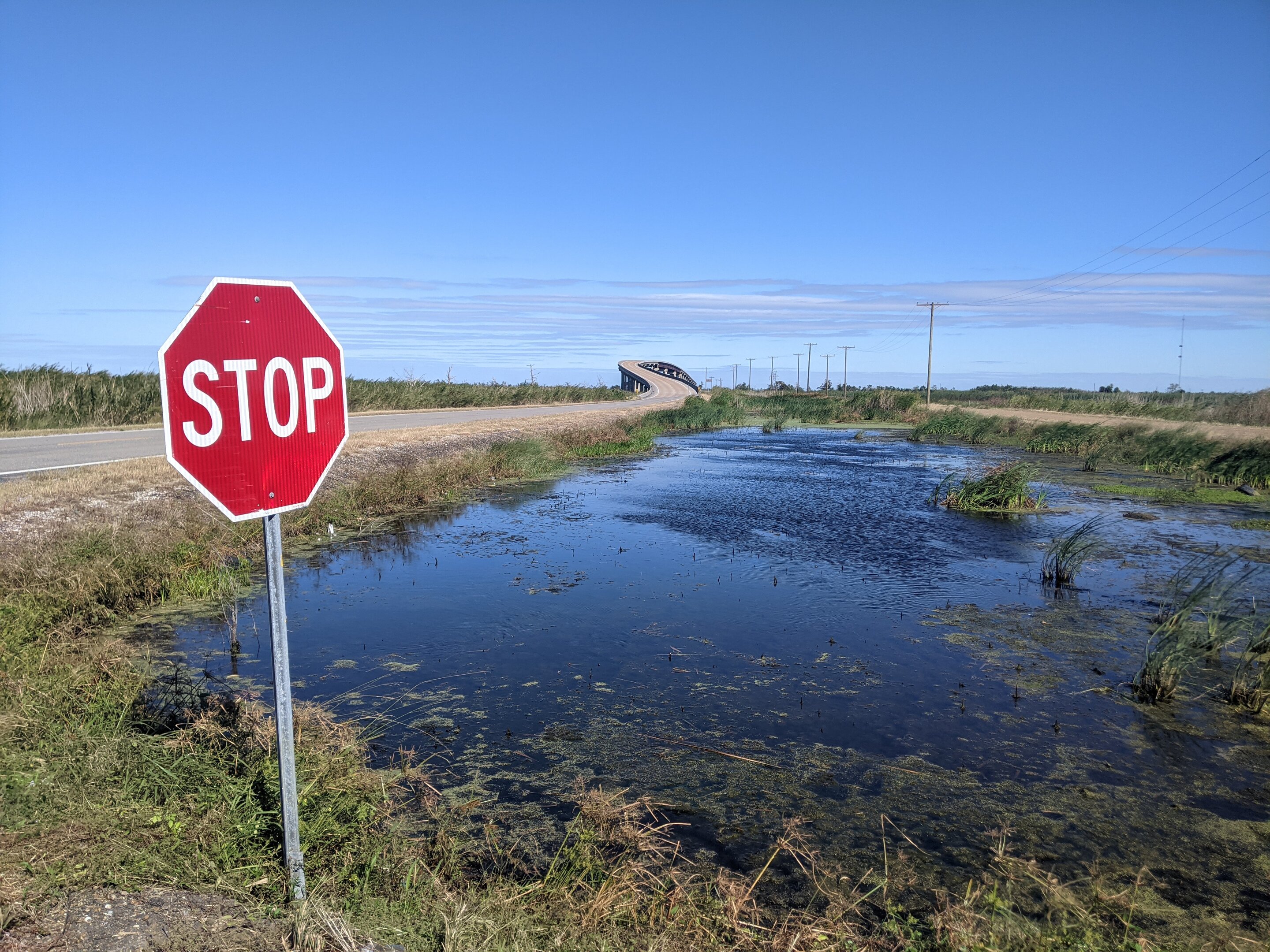 I gotta tell you, guys, that Cameron parish stretch along 80 and 27 was one of the weirdest places i've ever traveled in my life. I highly recommend it if - like me - you didn't grow up in a marshy landscape and want to see something that just seems totally alien.
The rest of Louisiana was much less interesting. Outside of Cameron parish, the roads got way busier, and there were a lot of causeways with no shoulder and concrete barriers on either side. Causeways look pretty cool when you're taking photos of them from underneath, but cycling on them you need to be on top of your game because they are so narrow and the Louisiana drivers do not give a fuck about cyclists, they will rocket past you with hardly an inch to spare. And there is no choice but to ride these roads, because there are several swamps and rivers/bayous where there are only about three crossings in the whole state, so all the traffic funnels down the same roads. It really sucks.
Outside of the swamps, which are stressful cycling and not very picturesque (it's just a whole lot of trees growing out of the water, with massive piles of trash in all the ditches next to the road)... the roads are fucking atrocious. Like, in the rural/farmland areas, the surfaces are ripped up and potholed like something else. Plus, aggressive dogs. Also not a fun ride.
At one point i pulled over by a gas station, because i could see a big bridge coming up and wanted to make sure i was hydrated. Then a guy walks up and says he's an off-duty firefighter and offered to give me a ride across the bridge. He said the bridge itself isn't so bad, but the causeway afterwards was several miles of no shoulder, and people die there all the time. He said the locals call it Dead Man's Bridge. I accepted his offer. He said he's taken a few cyclists across in the past, and he'd rather go 20 minutes out of his way than get called in with the first responders and shut down the bridge for several hours.
Eventually i got to Lake Pontchartrain, which made for a pretty sunset shot.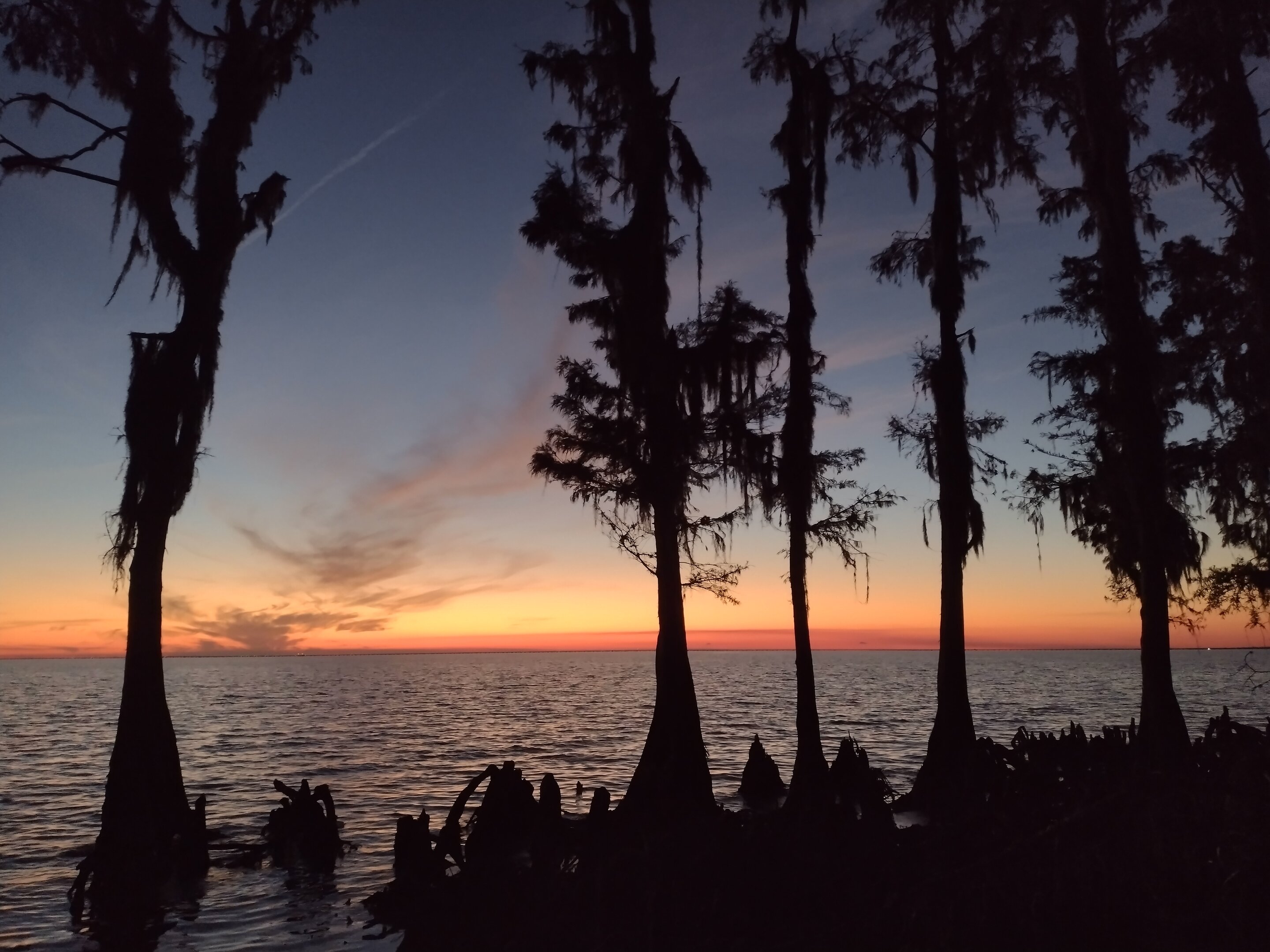 My phone actually died along the way here, so i didn't get to take any photos of crossing the Mississippi at Baton Rouge. The screen was already busted when i started this cycle tour, but finally - about 3 months in - it finally gave up. Fortunately i was close to Baton Rouge and was able to make it to a Best Buy to pick up a new cheap phone. It's amazing how much you rely on that thing... Like, without a phone, i had no maps, no way to tell what the weather would be, no ability to get in touch with anyone to let them know where i was.
Anyway, after Baton Rouge, around Lake Pontchartrain, and heading east, it was just more swamps and a few piney woods similar to East Texas. It was okay, but nothing like the incredible serenity and beauty of Cameron parish. I was glad to get out to Mississippi, because that's when i finally hit the proper Gulf Coast. White sand beaches for days. But i'll save that for another post.
One thing i do want to mention is that i met another bike tourer at a city park in Mississippi. I talked to him for a while and it turned out that he is cycling from Portland to Orlando with his wife and two young daughters. He said they only go about 50km a day, and they take plenty of rest days so the kids can recover. This really drives home that cycle touring is for everyone. You don't need to be super-fit. You don't need to have all the latest and greatest gear. You can just head out and go. No need to try break records for distance traveled or anything. Pedal until you get tired, then stop. Then do it again the next day. It is such a wonderfully accessible way to travel.
We did both lament the lack of legal tent camping in the south, though. Louisiana was at least as hard as Texas to find campsites, and the troubles have continued in Mississippi and Alabama. Pretty much all the private campsites in the south ban tents, they're RV only. Sometimes they even ban vans and teardrop/pop-up trailers too. City parks have started to ban tents (i managed to plead my case with one friendly ranger, and they let me stay for free, but only for one night). And the state parks are pretty much mostly set up for RVs. Even if there are "primitive" sites, they cost a fucking fortune, relative to the resources you're consuming. Like $20 minimum, closer to $30 when you include tax and booking fee. And that's American dollars, not Canadian dollars. It's like we're subsidizing the RVers! It is so much more expensive to try to camp legally round here than it was up in Canada, at least on the west coast and in the prairies.
I know most folks reading this site prefer to stealth camp or use homestays and that's fine, but personally i find the stress or hassle to not be worth the monetary savings. Well, before i got to the south anyway. I'm taking a real whack to my wallet since getting south of Kansas. It's outrageous how they make us pay through the nose for something that should be free - and often is free out west! It costs at least twice as much per day to travel here. I think that's something that will probably stop me from returning to a lot of these places.
But i will try to return to Cameron parish someday, i think.