Even though theoretically i am still on my first
bike tour
, the fact i had about 5 days break and flew across the border makes this feel like a new chapter. In my previous thread (
First tour, heading out of Kamloops
) you will find my story of starting out with this form of travel and cycling from Kamloops, BC to Winnipeg, Manitoba. I flew into the US and spent a day or two getting my bearings in Minneapolis/St Paul area before heading back into the rural touring that i have been enjoying so much.
One major difference that i immediately noticed - once i got out of the city - is that there are way, way more towns and communities in the US than in
Canada
. Whereas in Canada you could cycle for 100km (60 miles) and maybe only pass one or two towns, some of which had no services at all... in the US (at least here in the midwest) it seems there is another town every 10-15 miles, and it usually has at least a gas station. Also, a lot of the "small" towns have over a thousand people, so they're a far sight from these prairie communities of maybe a couple hundred if you're lucky. I've never once felt worried that i would end up in the middle of nowhere with nobody around to help. On the other hand, i also feel more like i need to lock up my bike everywhere, mostly because there are kids/teenagers around.
It also means the roads are bigger and busier. What counted as a "highway" in the west of Canada - one lane each way, lots of trucks and RVs blasting through - here that would barely even be a county road. There are lots of dual lane roads, and a bunch of them even become dual carriageways (divided highways) on a whim. Obviously it's also like that near the big cities in Canada (Vancouver, Toronto etc) but it's been a bit of a shock to be cycling here in "rural" areas and still hit them.
My new and most hated thing on the road is "right turn only" lanes. That is, it's actually the shoulder, but then you're cycling along happily and suddenly the entire shoulder disappears and turns into a "right turn only" lane. Then you have two choices - go into the main lane that is continuing forward, or go to the very edge of the road and ignore the "right turn only" rule and then keep going straight. Both of these options apparently piss off American drivers who don't understand how to share the road. In China, or in Canadian cities where drivers feel confident sharing the road, i normally get onto the line between the lanes, which easily leaves enough room for drivers of regular-sized cars to pass on both the right (to turn) and the left (to go straight). But here that seems to confuse drivers who are turning right, who seem to think it'd be an illegal "pass" and then blast their horns or do a massive, angry pass on the left, then immediately swerve back right again, and cut you off because now they aren't over far enough to turn properly. It's really infuriating to deal with.
Fortunately this is really only a problem in the suburbs. Then you get out in the country and it's no problem, because people know how to deal with slow-moving vehicles in the country.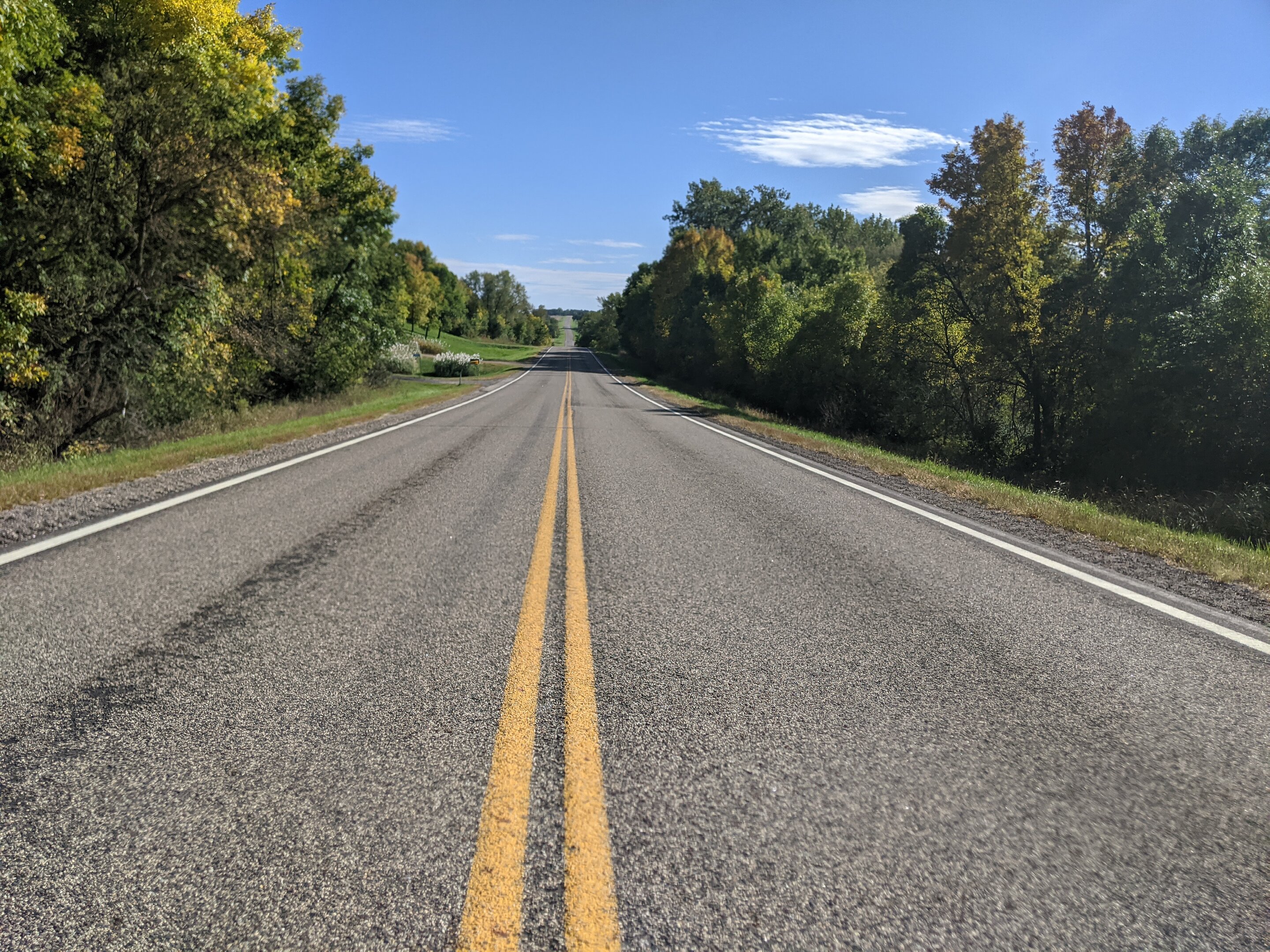 Of course there is still plenty of gravel to enjoy...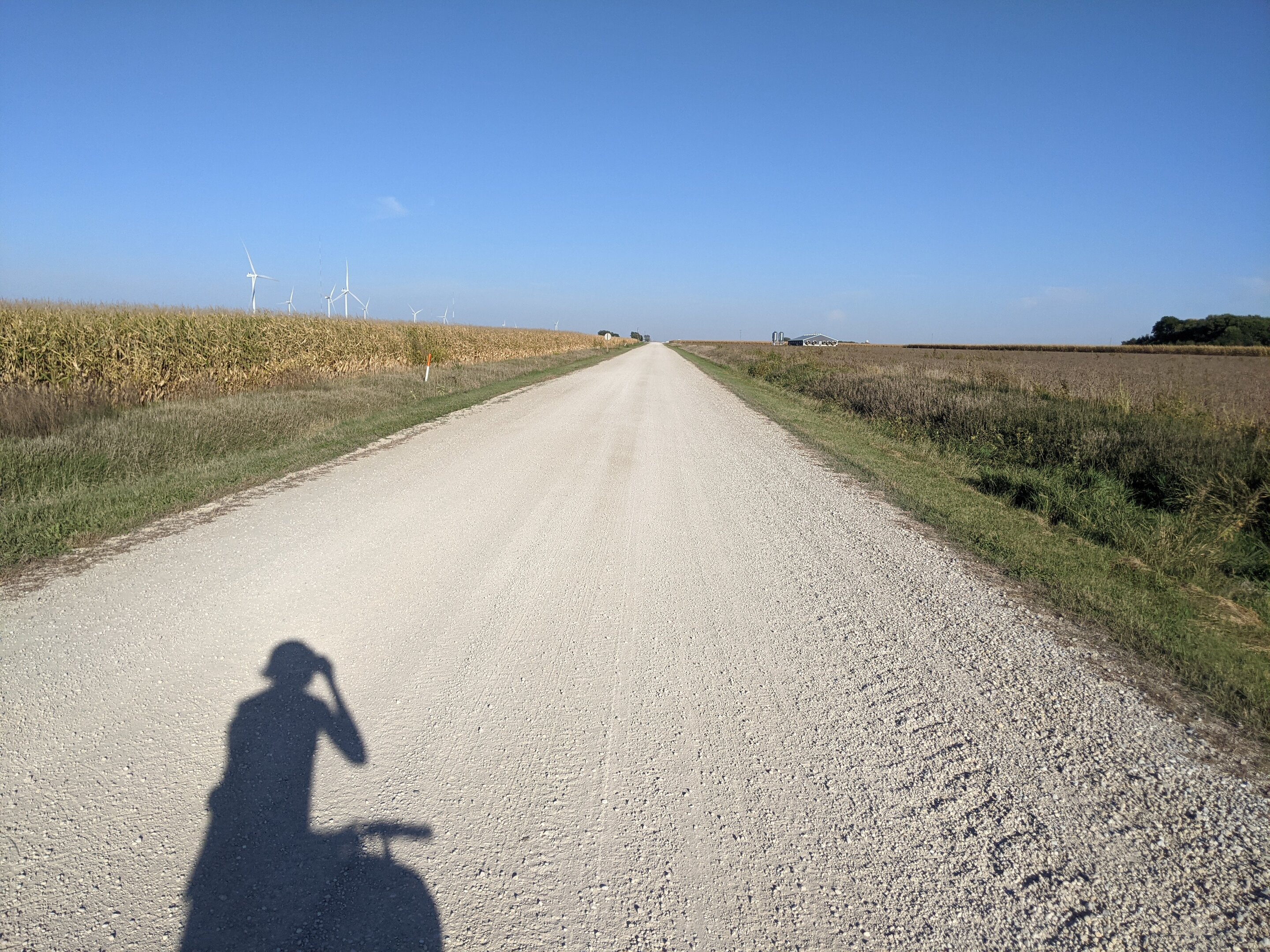 But what really tickled me was finding some greenways, even in real small towns. This was around a wildlife management area along a river in Iowa. Looks like most people use the trail for horseback riding, but (unlike most of the trails i found in Minnesota) bicycles seemed welcome too.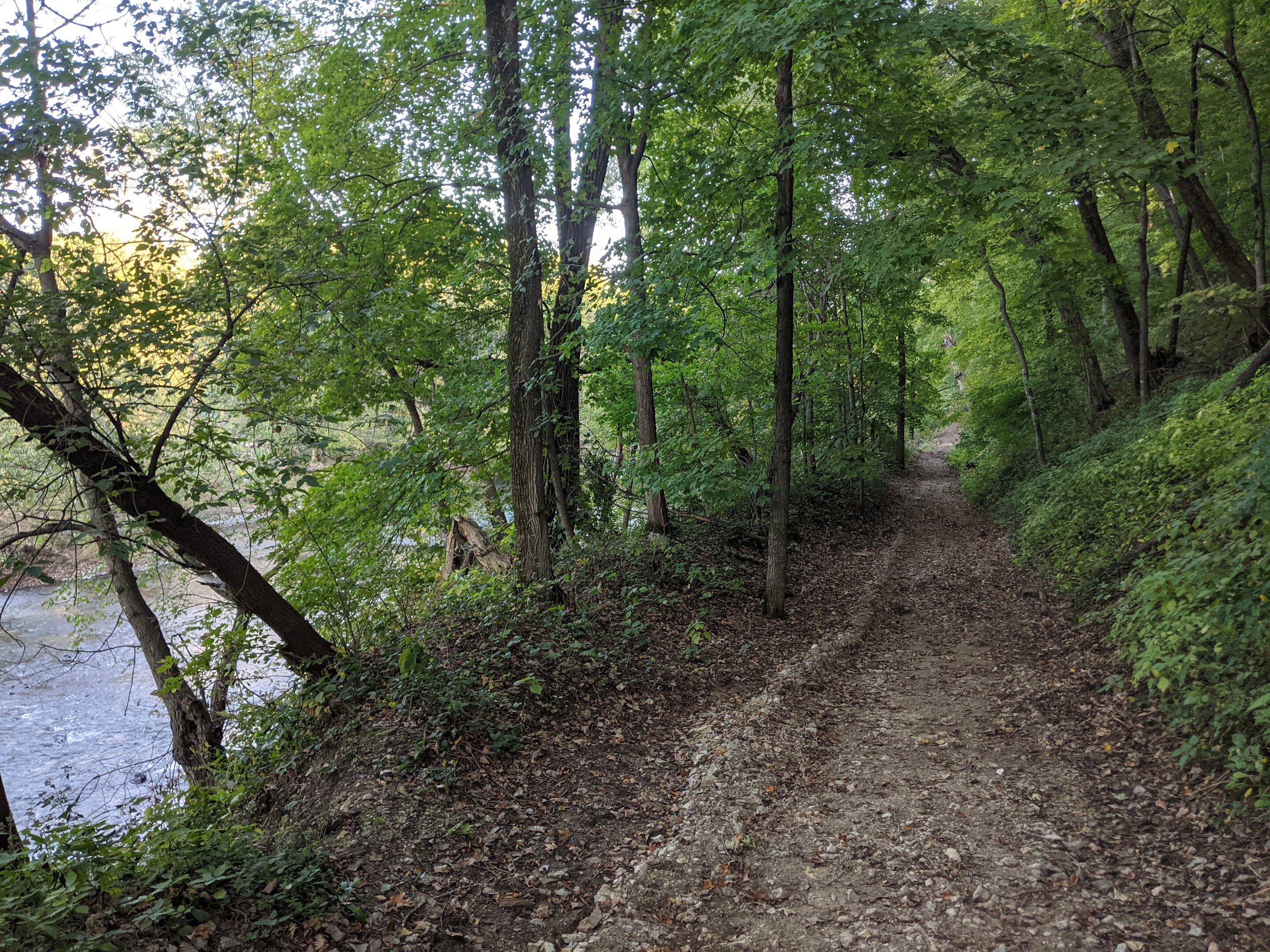 The trail was a bit rough in places, and i had to get off and push because the boulders and rocks were too big to comfortably cycle over, but there was a fair bit of packed dirt.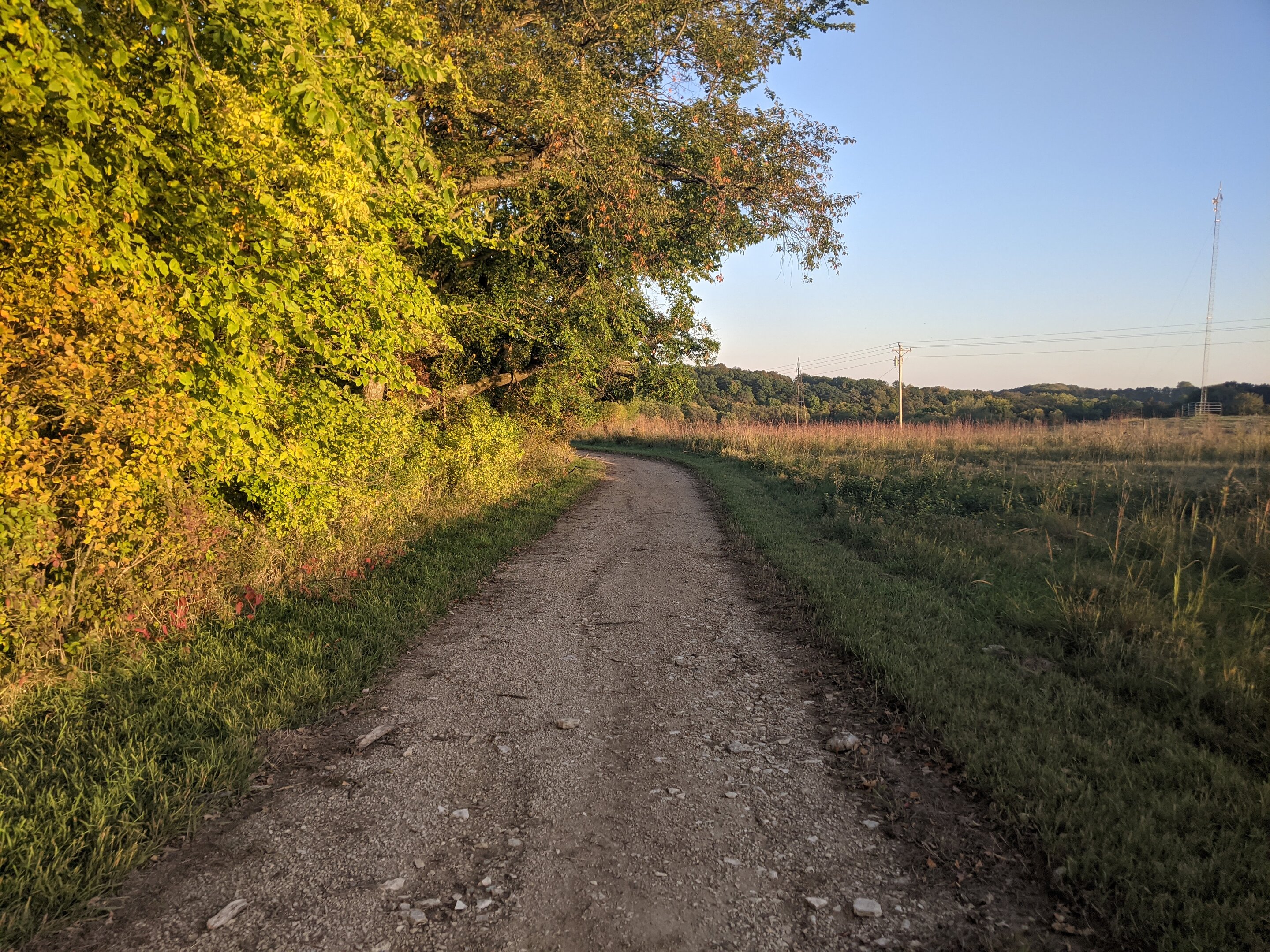 Iowa is pretty neat to explore. A massive chunk of the state is crops, but if you go the back roads then you will find lots of little hidden creeks and oak groves and even some native prairie. I met a farmer along the way who told me there that there is a government incentive to rewild parts of your farm to native prairie, so some farmers have been taking it up, and sometimes that land backs up against wildlife management areas where i understand it's legal to camp overnight.
The hunters are out in force on the weekends, though, guns going off like crazy from just before sunrise. Might want keep your hi-vis on at all times.
One of the most annoying things i have found in the US is that not all of the mobile carriers service all of the towns. In Canada, if you reach a town with about a thousand people, then probably all of the mobile carriers are going to have 4G/LTE signal there. But it seems that's not the case in the US. Maybe in a town of ten thousand people, okay. But there are smaller towns that have a high school football stadium and several restaurants and a whole bunch of services, yet you still don't even get a single bar of reception. Doesn't seem there is any rhyme or reason behind it either. One town only UScellular and Verizon is there. Next town only T-Mobile is there. Next town AT&T and Verizon. It makes it a real pain in the ass if you want to look something up after you get into the town, and it's even more annoying when you get to a place to camp only to find you haven't had signal for hours, so now you don't have a local weather (and wind) report for the next day. As i mentioned on
Smartphones & Plans in 2021
, i am using an Airalo eSIM, which connects to both AT&T and T-Mobile... but it seems even having access to two networks doesn't cut it in rural America. Be prepared, and make sure to download all the weather reports any time you get a bar of signal.
Oh, one last little story... The interstates are a pain in the ass. I don't think you are allowed to cycle on them, and in several places where there is an interstate, the non-interstate route is really circuitous. Like, you have to do a massive S-bend detour just to get to the same place you wanted to go in the first place, and where the interstate goes direct. Occasionally you'll find a fantastic shortcut, like this brand new rail trail...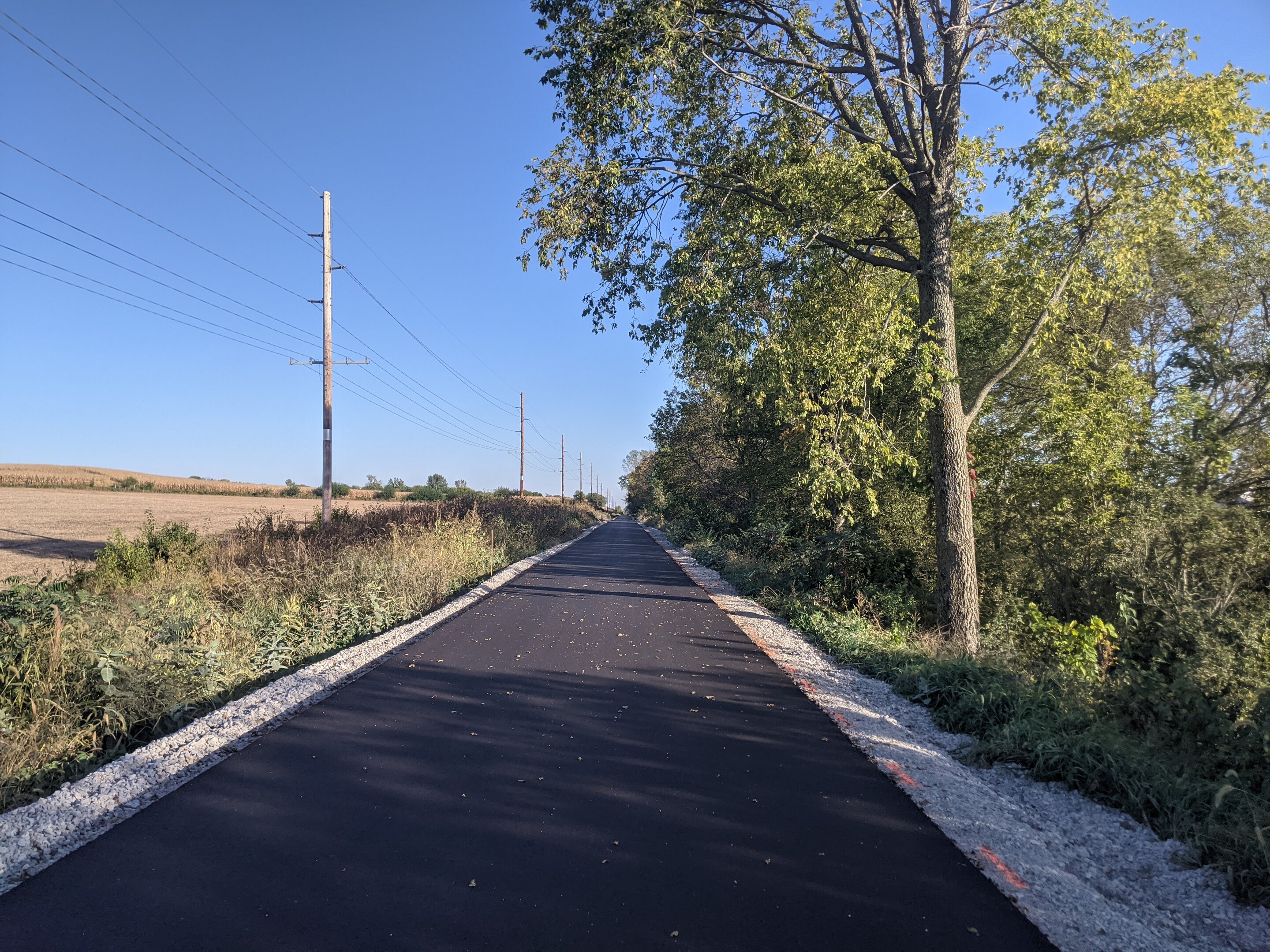 The sign at the start said "trail closed", but i could see footprints on there, so i asked some locals who were passing by, and they said "yeah, it's paved all the way up, we run along there all the time". So i ignored the sign and cycled along, and it was super nice rail trail grade, heading straight along the interstate route... Next thing there's a bunch of construction guys, not even working, just on the side of the trail, i call out to ask if the next section is cool to get through, and i get this deeply cranky "TRAIL IS CLOSED, CAN'T YOU READ!!!!" response. Like, okay dude, fuck you too. This is a sharp contrast to the construction guys in Canada who always had a smile and a wave, and sometimes even suggested a safe route through their site.
Come to think of it, i haven't had the best luck here in the US getting through construction. The other day along a one-way section of the highway where there was a stop light and people had to follow a pilot car... Fucking pilot car starts leading the traffic from the other direction back while i am still on the lane! I had to BMX my ass along a slippery unfinished gravel shoulder while everyone zoomed past. Like, i get they have a job to do and everything, but it kinda bums me out when it's obvious i am hot, sunburnt, tired, and working my fucking ass off to try get through their construction site quickly and safely, then they're just like, nah, fuck ya.
Oh well, what you gonna do?
Anyway, so far traveling in the US is going pretty smooth. I really feel like i am working against the clock now because the days are getting shorter, and even though there is a warm spell across the midwest right now, i know the snow will be coming. I've heard from some locals that Tennessee and Kentucky are nice, and that going along the Mississippi is way more picturesque than taking the farm roads through the middle of the state... but i kinda wanted to get to KCMO (or thereabouts) to say hello to the Missouri River before heading east proper. Also, i'm not sure about going up in the hills with all the humidity here. Everything is super-condensated already in the mornings, and with the days getting shorter i can less afford a couple hours waiting around for my tent and groundsheet to dry. Ugh. Traveler problems. Life's hard, eh?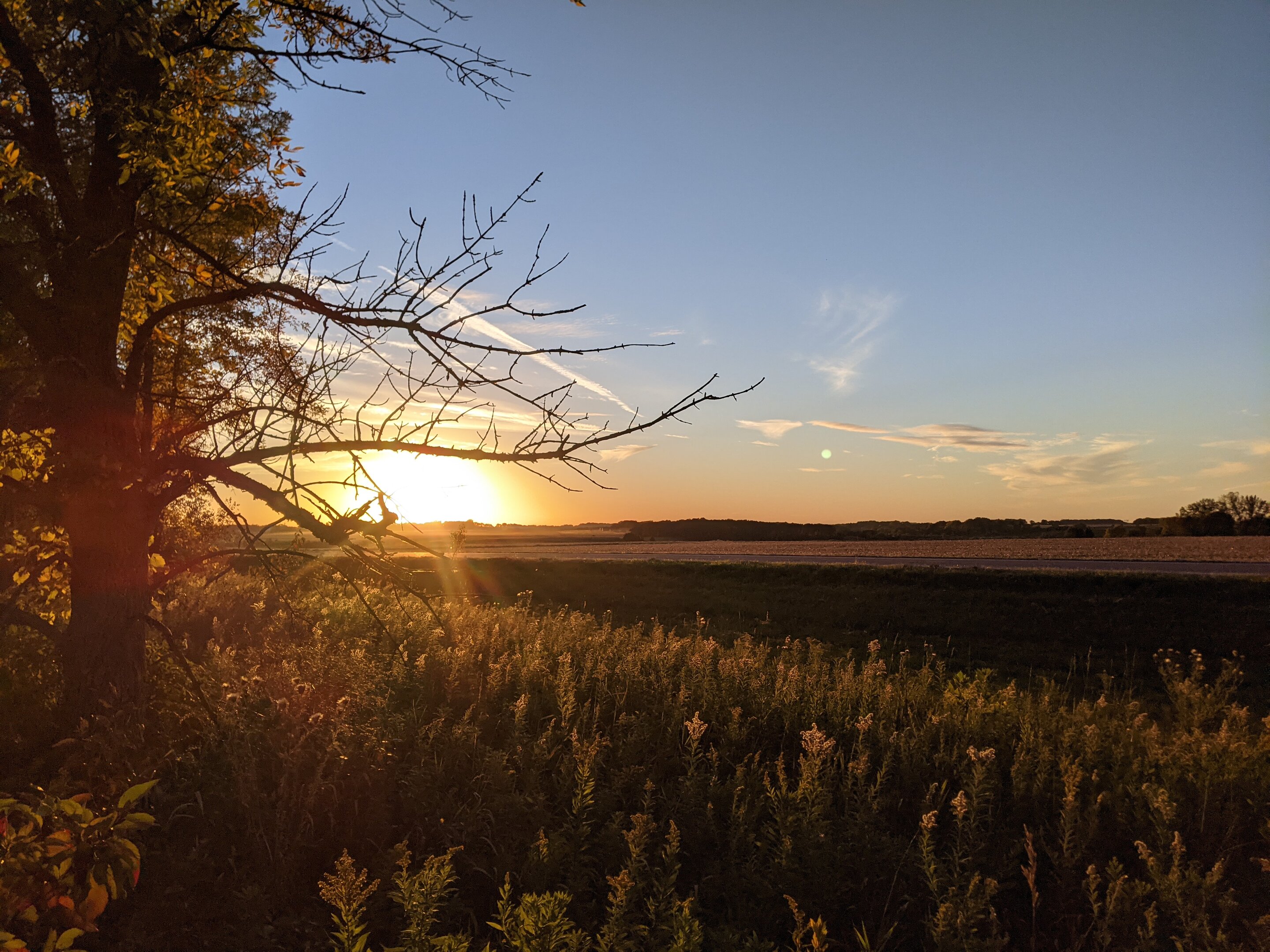 Last edited: