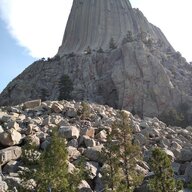 Joined

Dec 25, 2008
Messages

1,163
Current Location
ok. like many of you i have spent many hours around the rr tracks. i recently looked up, and made myself a sling. you know like david and goliath. the first one was made of paracord, and was about the length from my fingertips to my elbow (1 cubit). i could toss things almost 3 times as far as with my hand. at first, i had to throw underhand. but after a while i could "throw overhand" and come close to my target.
then i made one out of heavier cord. it is the length of my arm. i can toss things well over 150 yards with it. still not accurate yet, but it is fun to mess around with.
i made mine simply by tying a loop in a rope, and fastening the other rope to it. a sling can be made from any cordage, can be taken apart, to be used for a tent or tarp cord, TRY IT, YOU'LL LIKE IT.
anyone else try this?