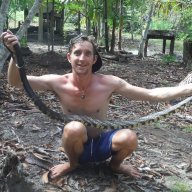 Joined

Sep 23, 2014
Messages

133
Age

30
Hometown
Website
I've seen a couple people say "I've never met anyone who had the silver spoon" and I'd like to point out that most people who come from money don't bring it up or will even sometimes straight up try to deny that shit. What pisses me off is people flying signs with "broke and hungry" or some shit when they could just as easily hit up their family for money. It's one thing if your family disowned you or some shit but if they're willing to help support you but you'd rather spange and take money from people who literally can't do anything else, that's some oogle shit. If you're 22 and in good health, find a hustle or get a job for a couple weeks, it's not that fucking hard.
OK, I disagree with you here. Just because someone's family has money doesn't mean that they feel comfortable hitting them up for it. Maybe they're not disowned but it's one thing to live off Mommy and Daddy's cash, another to be spanging and if someone wants to give than they give, if not than OK. And come on, taking money from those that can literally do nothing else? Are there cats flying signs outside every Wal-Mart in America? And just because you're 32 and in good health dosen't mean YOU can't find a hustle or get a job for a few weeks -- after all it's not that fucking hard is it :/ Or are you just referring to homebums in a wheelchair who can't even remember breakfast? Are they the only ones allowed to spange or fly a sign?
I come from a middle class family and if they really wanted to they could give me some money now and then. But they don't. Why? Because a) I don't ask b) I don't need it and c) they understand that. I'm not a big spanger in fact I almost never do it. I sell keychains I make and other things out of wire, and I busk. With that I make more than enough to live. But this classist bullshit of "you can't spange because your parents are rich" is not cool man. Maybe we want nothing to do with our parent's money -- and I think that in itself has some merit. There's plenty of corners to spange and plenty of places to fly a sign. Nobody's "taking money" from anybody. I've seen plenty of spots where someone could be spanging, but instead those kids that have "no other option" are wasted on the sidewalk. OK then, my turn...
Last edited: