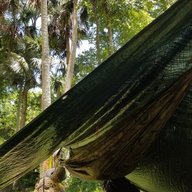 I ain't getting any younger.
Lifetime Supporter
Joined

Feb 13, 2011
Messages

463
Current Location
the keffiyeh scarf (as in arafat) is strongly linked with Palistenian resistance movements as far back as the 1930s so its kind of weird to me to see people wearing them for fashion, like a kid sporting an indian war bonnet or che guavara tshirts or whatever cultural appropriation . they do look nice
Yeah it is weird to see the hipsters wearing them now. Those fuckers destroy everything they touch. Back in my activist days I used to wear a black & white keffiyeh. I had got it from a fellow activist who had brought it back from Palestine. When I used
to wear it back then it would get me some nasty looks from right wingers and zionists. Now they've been drained of almost all they're symbolism my those cultural vampires. I just feel weird wearing one now
They are a practical item though, and because of their larger size and thickness they have some advantages over a bandanna.
For one they can be used either as a sling for an arm or a wrap for a swollen knee or ankle. Have used them for both.
Plus they work better than a bandanna for a towel.
I think I may pick up a light colored one and then bleach all the color out and then redye it a dull solid color, it would be
a good thing for my pack.