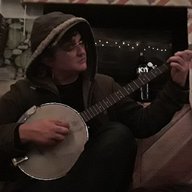 Joined

May 8, 2018
Messages

9
Location
Hey there!
My names Roscoe (they/them) , I been housed up in Palm Beach County FL the past couple of months. Been taking a break from the road while I'm fixing up my brain/ this godawful van I impulsively bought (classic). Joined this site to meet new folks and give myself something to do now that Im a housie with too much energy. Holler if you wanna be friends or end up around Fort Lauderdale/ Lake Worth/ Miami!
I love trains, my gross perfect dog, community organizing, glitter, the swamps, and not being straight. Be my friend or something. Up to you!
Attached is a picture of my pooch. Hes a 45 pounds, smelly, aggro, and the best thing thats ever happened to me.