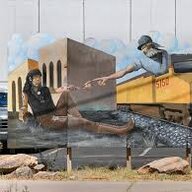 Make America Freight Again
Staff member
Moderator
Joined

Dec 12, 2014
Messages

2,333
Reaction score

4,511
Location
Website
finally ran into coywolf recently. had been seeing his tags around for some years. initially kinda antagonistic towards the dude for impersonal reasons but hes actually a legit, trustworthy, level headed regular human being and i really enjoyed his company. lots in common, that was a surprise. hes out here for the same reasons i have been. just goes to show you cant judge somebody until youve met them in person.. that was humbling.

kind of an unspoken consensus that freight is getting a bit ridiculous lately. it isnt what it used to be. some lines are still cool, others are just a royal pain in the ass and hardly worth the time anymore.

regards
Thanks man, it was great meeting ya, and I'm sure we'll see each other out there again!
I needed that trip so bad, even though I bitched constantly about UP lines turning to absolute shit, I was having the time of my life!
Rebuilt some jungles, got stalked by a rabid fox, and had a creepy dude proposition me for sexual favors. All the makings of a great trip!