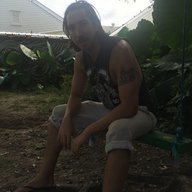 Joined

Apr 10, 2007
Messages

608
Hometown
Website
This wouldn't happen for a few months, but I just want to gauge interest......long story short,, I bought a house in New Orleans and I'm trying to start a cheap DIY hostel in the lot next door. I got a trailer that sleeps 6-8 people and have now commenced the absolute shitload of work I will need to do to get this of the ground. I want it to be a totally green space with big trees, grass, giant plants, shade, basically the opposite of 90% of New Orleans. I want to put a tiny house on stilts to make a treehouse, and build an earthbag house out back to sleep 2-4 more people.

I think there's a lot of opportunity for fun and experimentation with alternative housing and planting here, and I'm really psyched by what I've been doing already (planting 100 year old heirloom banana trees and a weird breed of elephant ear plants with leaves that grow to be 5 feet long....it's really cool.)

So just out of curiosity, do you think anyone would be interested in like, one week volunteer opportunities where you have a place to crash in exchange for doing some work on the project with me? I've got water and I'm getting electricity turned on soon. It's about 6 blocks from St. Roch Tavern, if anyone is familiar. I just wanted to post here in advance to see if anyone thinks it sounds cool or if I'm just totally out of my mind.