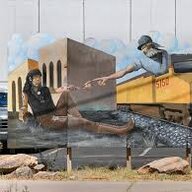 Make America Freight Again
Staff member
Moderator
Joined

Dec 12, 2014
Messages

2,391
Age

33
Location
Website
I cant believe I am interrupting my incredibly peaceful space, sitting in Interbay, researching train movements, to respond to this....but here we go:
panicing over it and shutting down the country is not gonna stop it. and it has not stopped it. wearing masks has not stopped the spread of the disease., social distancing has not stopped the spread. nothing will.
@Eng JR Lupo RV323
hit the nail on the head. The reason these tactics arent working is because Kyles, like you, arent abiding by them. Go get a doctorate in Virology and I might listen to what you have to say.
i understand your emotional reaction if your mom died
Naw. I'm an EMT. And my Brother is a doctor.
i never said anything about a conspiracy, just mass panic over an uncontrollable relatively minor new disease.
240,000 dead. IN THE USA. And it's a strain of the Flu, different strain of a disease that killed millions in the early 1900's. That's how viruses work. They mutate.
i worked at a place were 4 or 5 people tested positive
Congratulations, you're lucky. Another incredibly selfish bullshit comment.
if you are in a finacial position where you can just not work for 6 months then you are lucky.
Blame that one on Micth McConnel. The COVID relief could have kept going, if not for the republican senate denying it, while at the same time giving massive tax breaks to the companies that were making millions...BILLIONS..off the pandemic. Dont give me that conservative BS.
i disagree with you, and you getting mad about it is not gonna change my mind. and it is probably not gonna change annyone elses mind either.
Good. I hope it doesnt, and that is reflected in this election....ya know, or...people die.
bullshit, if your policy recomondaions are recomended by sciience then show me the study. i believe in the scientific method. show me the study. i have no problem with admiting that i am wrong and that i fucked up prove me wrong

Print this article and hand it to frightened mask wearers who have believed the alarmist media, politicians and Technocrats in white coats. Masks are proven ineffective against coronavirus and potentially harmful to healthy people and those with pre-existing conditions.

www.technocracy.news

in the end we can all post links supporting our views, but show me hard science that supports present policies. this is a new event there is very little hard science about it.

do not think that stopping economic activity does not have problems. crime & violence are a direct result of having no other options. people will do what they have to do to survivie.

Many countries recommend face masks in public to curb the COVID-19 pandemic. We look at common reasons why some people do not wear them.

www.medicalnewstoday.com

my point has not changed the value of presoent policy is still being scientifically debated. there is no hard science one way or the other.

panic helps no one. and shuting down the economy has consequences and cost to workers and the poor. who do you think are most hurt by an economic downturn. who do you think is most hurt by shuting everything down. it is not the rich, or people in the government, those people get paid no matter what happens. the rest of us are left to fend for ourselves.

i respect your right to disagree with me. but if you believe in consent, and not force. then you have to convice me that i am wrong, and find a way that we can work togenther. or you can just be authoritarian and try to use force to make me comply.
Man, if you are completely blind to everything
@ali
Pointed out earlier...or what EVERY SINGLE HEALTH AUTHORITY ON EARTH has come out with over the past 8 months...there is nothing...Nothing, we can do to help you understand the severity of this situation.
Same thing I say to people on social media.
*I wont do your fact checking for you*
Jump onboard the Trump Derailment Train, bro, cause that's where we are headed, face first into ballast.
Ya. I know. My post sounds angry, it sounds condescending....that is most likely due, in part, to my personal experience with this virus that people of your midset choose not to comprehend.
We (most sane people) have tried to put forth solid, scientific arguements. Yet somehow (Satan save 2020), they have fell upon deaf ears. So this is what you end up with.
Last edited: