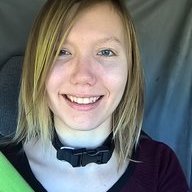 Joined

May 28, 2015
Messages

262
Location
Middle school is when I started to come to terms with it. I tried and tried, but somehow I could never be "normal". I spent decent chunks of my childhood without any friends.

I finally started to embrace the weird as I went through high school, and started making more friends (who were also misifts).

I still tried to do the whole college/job/drone in the hive thing when I hit adulthood. I really didn't know that there was much of another option. I did know that I was inherently dissatisfied, though. Something was missing. Something always had been.

I started befriending more folks on a similar rhythm as I was, and found out about all kinds of possibilities I never considered before.

I dipped my toes in the water by working on a few communes and hanging out with some crusty kids. Then the river sucked me in and I've been doing exactly what my heart wants for well over a year now, I estimate.

I could never go back. That something isn't missing anymore.

I think a lot of people are oddballs trapped in yuppie costumes. I think a lot of people are needlessly sad with their lives. Maybe they don't realize there are other options, or maybe they are afraid to take the leap (I remember being terrified when I went in to give my two weeks), or perhaps they are tied down by obligations.

Who knows? All I know is that I'm not one of them anymore.