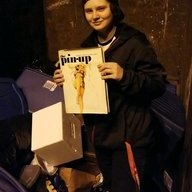 Joined

Jul 27, 2017
Messages

58
Location
So my original plan was to just hop trains and hitch rides, which is good and all, but I started thinking about maybe taking a van instead.
So I have a few questions..
Van reccomendations? (I was thinking like either a service van or an old VW bus. I want to rip the seats out and put in a bed and storage things)
Vegetable oil? (I heard it is cheaper to run your van on vegetable oil. Has anyone tried it? does it work better?)
I worry a lot about some things that go a long with a van, though. Like, with
train hopping
and all, you don't necessarily need to be responsible for a car. I just hope if I get out there, I will be able to park it and all and no one will fuck with it.
But, I've been thinking about a van because there's more pros than cons. You have shelter if it's super cold or storming you at least have some sort of roof over your head. More storage- I can bring my rifles with me and a tent and store food. Also, with a van, I can get places a bit quicker and know more or less where I am going lol