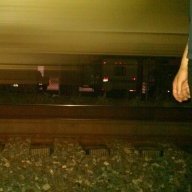 Joined

Jan 8, 2014
Messages

1
Age

29
Location
so a friend and i are riding north on KCS from nola. been a long shitty ride, rides keep breaking up and all that noise. so anyways we break up in a yard i think in lafayette(?) or something, night time. friends kind of a veteran at this point, this is my first trip. he hops off to find our ride nbd.

im sitting in a grainer with our dogs and all our stuff for quite some time, gettin humped and pushed around. he finally comes back, super stoked to find out theres an open boxcar down the ways on our string. so, we move on over there and hop in.

this is the shitty part. we both laugh and mock the stories about "spikin the car door" and how ludicrous it is, cause cmon those doors are heavy af, and cmon have you ever heard of one closing? so he spikes the door anyways.

ONE SPIKE DOES NOT A BOXCAR DOOR JAM.

we sleep on the way up to kc and awake in the yard to find out the door had closed to about six inches. juuuust big enough to wave an arm out. so for about 14 hours, thats what we do. play guitar and yell as loud as possible, wave to the units that pass, give up on life when finally a worker passes and my friend here says, very calmly: "excuse me good sir, we seem to have gotten ourselves in to a bit of a pickle."

the workers are nice as hell, laugh at us and finally crank the door open. they also give us a fuck ton of water bottles so thats cool.

anyways, next time, i'll be sure to jam about 15 god damned spikes in that shit.
just a heads up: THE MYTH IS NOT A MYTH. THE DOOR WILL SHUT.