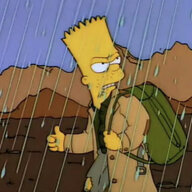 Joined

Apr 19, 2019
Messages

224
Reaction score

608
Location
While my back is currently fucked up and I can't move around too much, I thought I would take the time to talk about my little bike trip through New England from two years ago.
After biking around the Greater New York City area a lot, I decided it was time to expand my horizons and see some new things that were also still close to home. I started by taking Metro-North to the end of the line in New Haven, CT and made my way over to Portland, ME. I didn't necessarily need to cross through NH but I love adding states to my list of where I've been so I made a detour for it.
By the way, I should mention that this was before I had my touring bike, so I rode my city-slicking, sticker-bombed, single-speed bike (one gear) the whole way through. No panniers or racks - I carried everything in a backpack, and yes, the hills were brutal.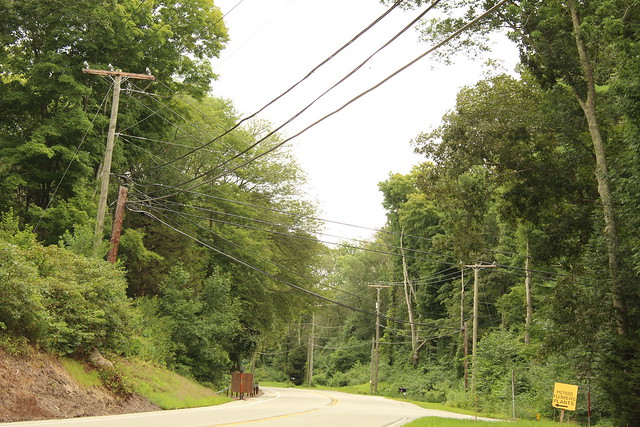 IMG_0532 by
S S
, on Flickr
Somewhere in Connecticut.
CT isn't an overwhelmingly interesting state so there wasn't much to report the first day. I had a subpar tuna sandwich and some mediocre clam chowder at some spot I passed along the way. Night rolled around and I was still a bit far from my host's place in New London. I had started the day a bit too late. When I got to his home, he was in awe at the "piece of shit" that I rode all the way to him. His home was a great place to stay - right by a lighthouse near the water. He had built the house himself and transported it by car to that spot. Unfortunately, he had to leave early for work, even though I was a bit too tired, so I had to leave early too.
He told me that the pedestrian bridge was closed and that I had to wait for the bus to cross the bridge. "Fuck that," I thought, not wanting to figure out the logistics of getting my bike and pack on the bus. I biked over the bridge on I-95 bridge as drivers constantly honked at me. Pretty dangerous but overall, I enjoyed not having to worry about the bus.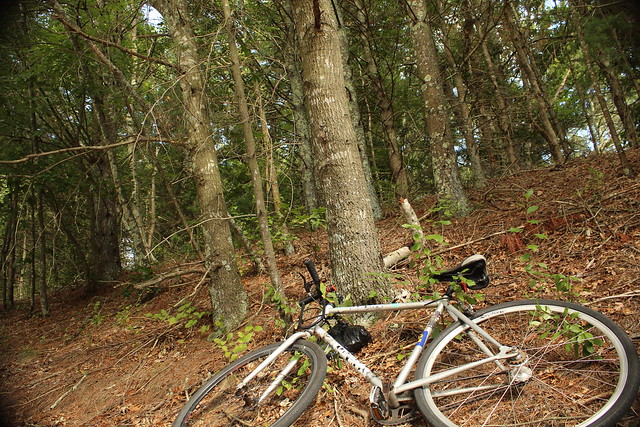 IMG_0542 by
S S
, on Flickr
My bike taking a rest from supporting my ass.
By the end of the day, I ended up going through Rhode Island, a place that I would never have thought to describe as "redneck" until actually biking through it. There are many rural parts of the state that often get discounted. I made a diagonal through the state and ended up in Providence, RI. The guy I stayed with was working on creating a map of Rhode Island based purely on the data of the lines his bike drew through the state. He was so dedicated that he even took ferries to the outer island and looped around their outer edges on his bike. He had every kind of music playing, from Megadeth to Keb Mo', and we got along fine.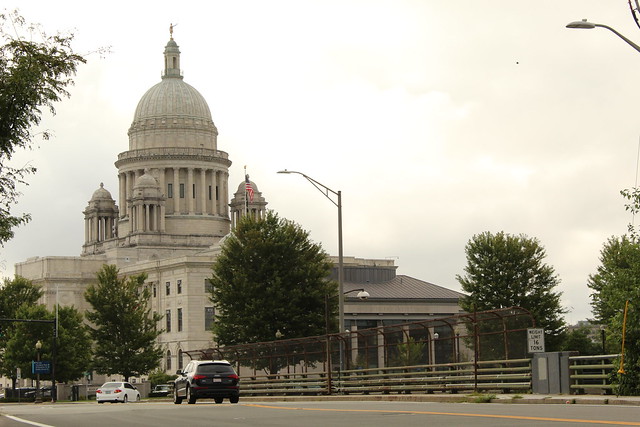 IMG_0558 by
S S
, on Flickr
Once again, I had to wake up early to reach Boston, where my friend had recently moved to for work. But before that, I made a quick detour to explore something I knew was in the area...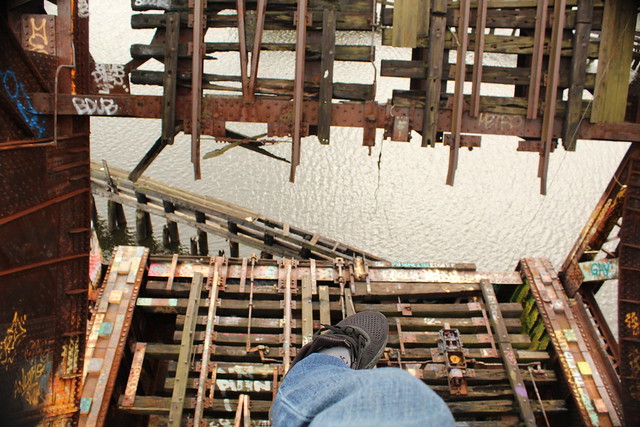 IMG_0570 by
S S
, on Flickr
I biked through Massachusetts, and at one of the Dunkin' stops (and there were many, because this is New England), some old veteran was telling me how he felt disrespected by Colin Kapernick kneeling. I wonder what he would have said to me these days.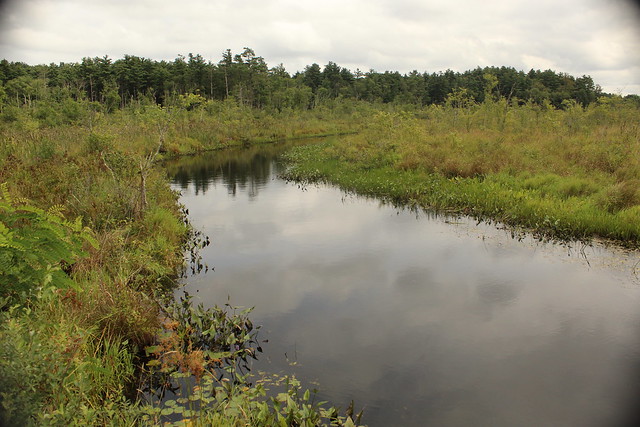 IMG_0589 by
S S
, on Flickr
This trip was the first time dogs chased me. One tiny dog in Rhode Island chased me and I was worried he would get caught under my wheels. Then, as I passed through Mass, two huge German-shepherd sized dogs saw me and gave chase from their yard.
"Oh nah," I yelled as I bombed down the hill, not waiting to see if there was a fence at the other end of the yard.
Then, eventually, I reached my friend in Boston and I believe we went to Cambridge to grab a drink and play pool, a game that was an obsession of mine at the time. Gotta say, there's nothing quite like cycling all day to make one drink feel as potent as two or three.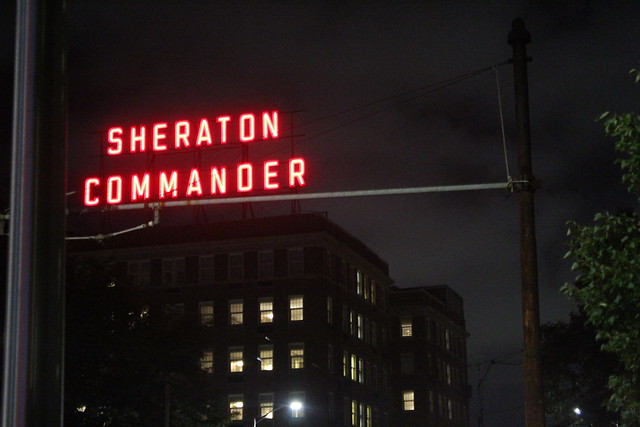 IMG_0626 by
S S
, on Flickr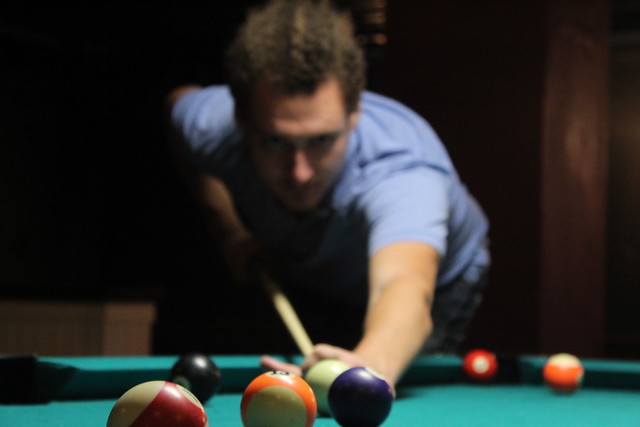 IMG_0633 by
S S
, on Flickr
The next day was a rest day since I was trying not to overstretch myself. My friend went to work and I went around the Boston area while waiting for him.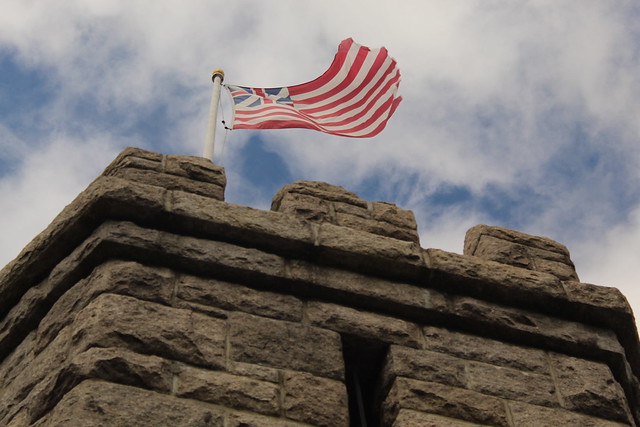 IMG_0690 by
S S
, on Flickr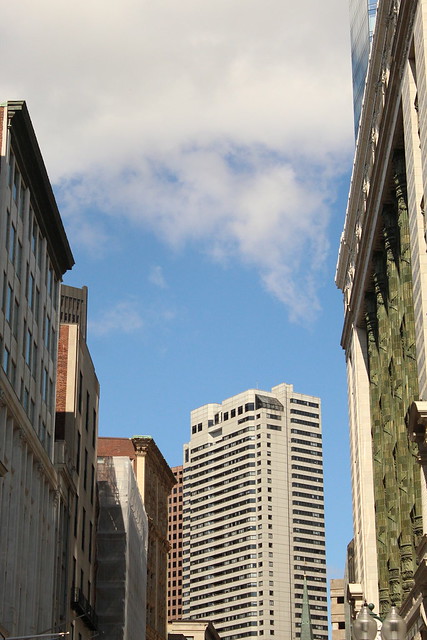 IMG_0702 by
S S
, on Flickr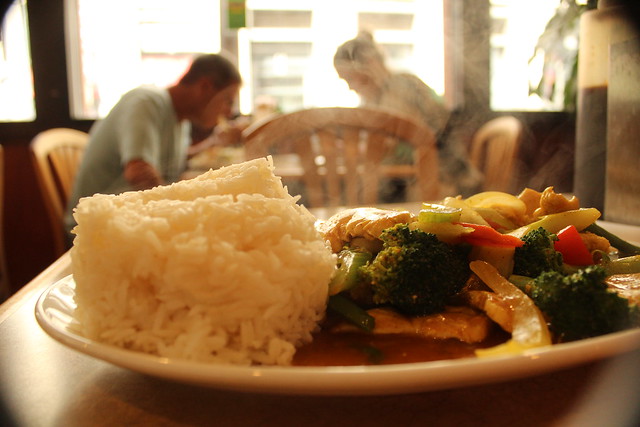 IMG_0707 by
S S
, on Flickr
I love Thai food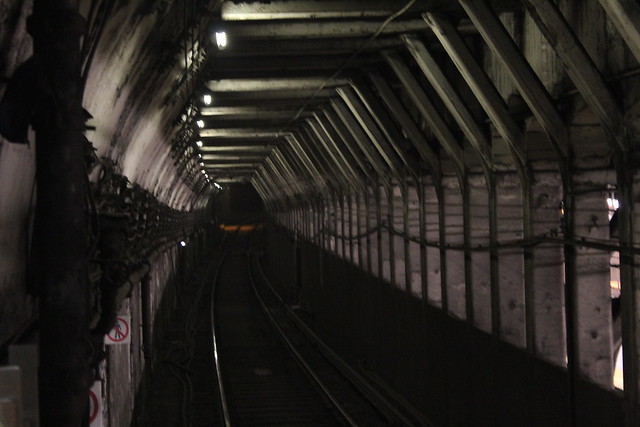 IMG_0711 by
S S
, on Flickr
Boston underground T line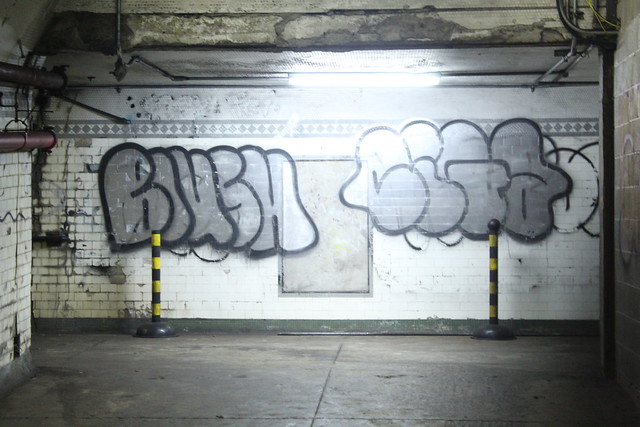 IMG_0713 by
S S
, on Flickr
Peering into an abandoned station
I got my friend to ditch his car the next day and bike to work. He was definitely speeding ahead as he tried to make it on time, and my lack of adequate sleep and the cool, New England morning air made me sniffly.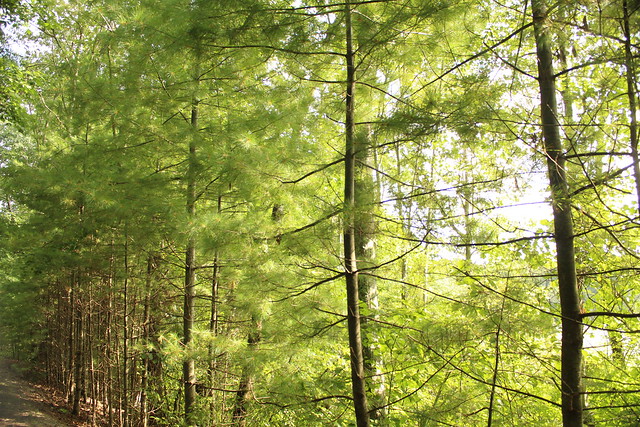 IMG_0729 by
S S
, on Flickr
For me, the next stop was Manchester, NH to stay with a girl I very briefly dated. I actually ended up in the city a bit too early and needed to wait a bit for her to come home from work. She introduced me to the video game Life is Strange, which I later played and believe is the best proof that video games can be art.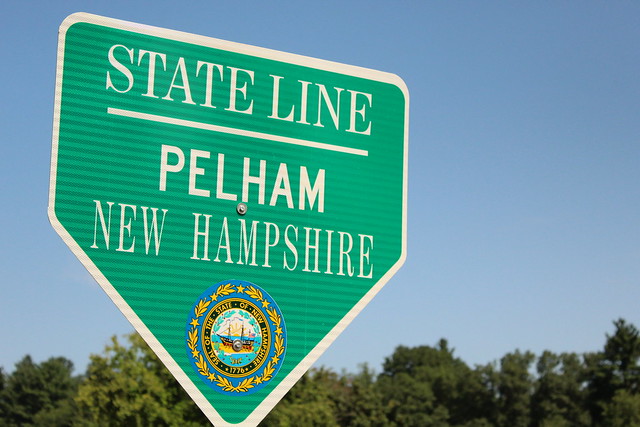 IMG_0736 by
S S
, on Flickr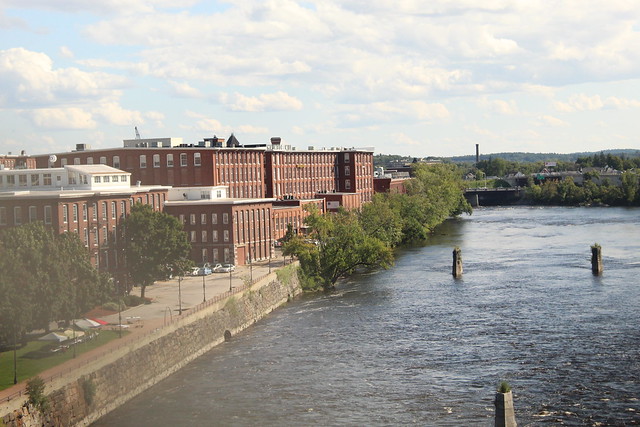 IMG_0751 by
S S
, on Flickr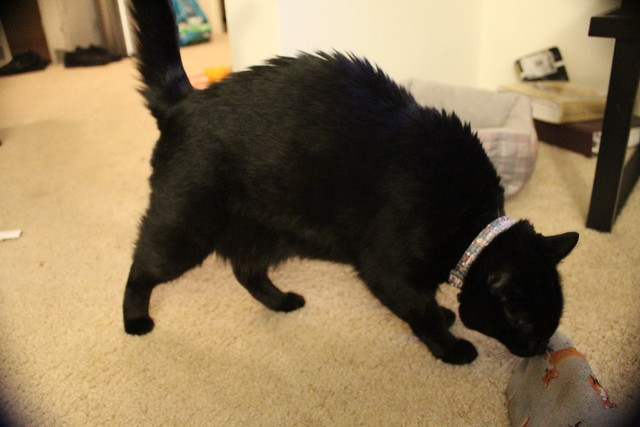 IMG_0758 by
S S
, on Flickr
One of her cats taking an interest in my fox socks.
Then, it was time to leave New Hampshire and make my way to Maine, the final stretch! I went along some dirt paths and at one point, went down a hill incredibly fast (maybe 35-40 mph) while the drawstring of my hoodie got caught in the chain. Luckily, I managed to stop and get it out without dying.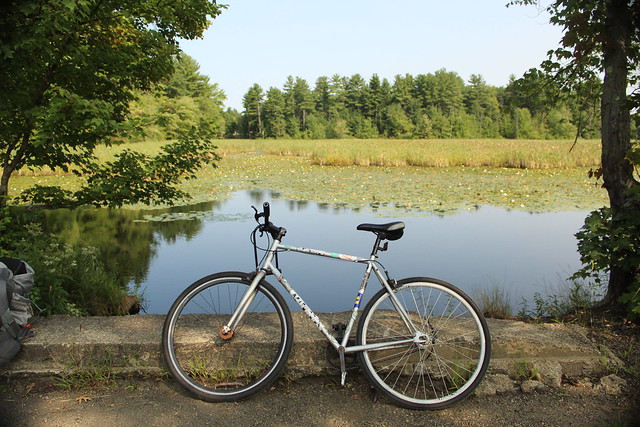 IMG_0785 by
S S
, on Flickr
Reaching Maine was the first time that I ended up somewhere that I had no cell phone signal, along the rural dirt roads, many of which had no signposts. Even though it was August, a few of the leaves in were already starting to change color.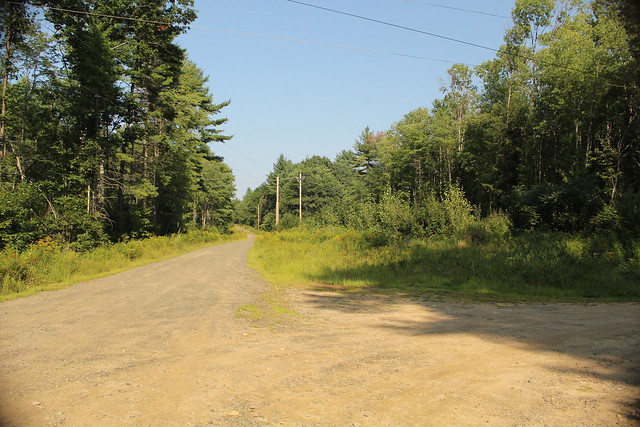 IMG_0791 by
S S
, on Flickr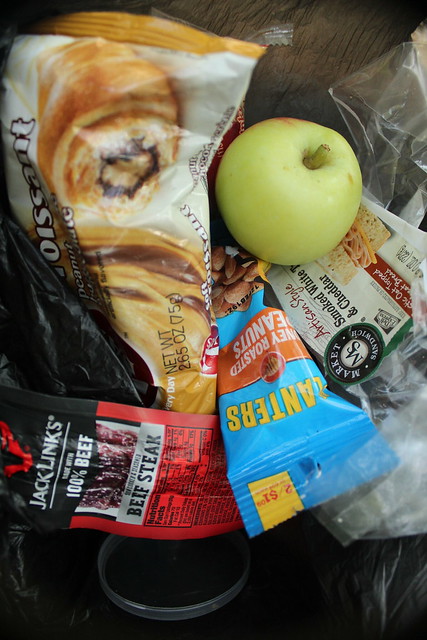 IMG_0796 by
S S
, on Flickr
Food in my bag
My original plan was to cycle about 50-ish miles to touch Maine, rest, and then cycle the rest of the way to Portland the next day. But by the time I was halfway, I felt like I still had so much energy, and the paths were so smooth, and the wind was pushing me forward, and I was so close, that I decided to say fuck it and roll two days into one.
That meant I was biking through the darkness again, and I didn't have any lights except my phone flashlight, but at least most of it was on a long bike path. I did feel delirious and anxious by the time I stopped for dinner, but I chalked that up to not having enough calories.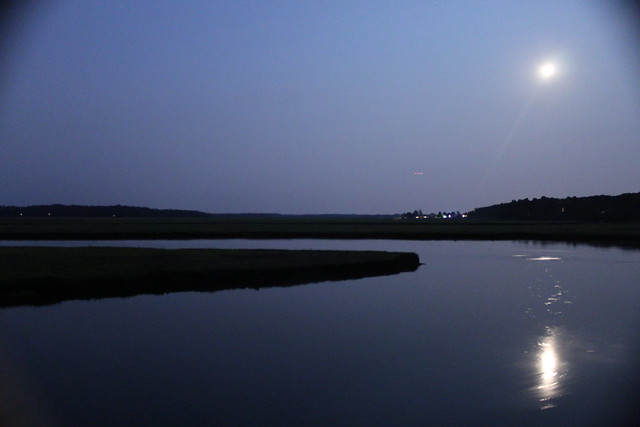 IMG_0810 by
S S
, on Flickr
Moonlit Maine night
Then, I reached the bridge leading up to the city. "Portland!!!!" I yelled as I saw my goal and felt my heart elevate.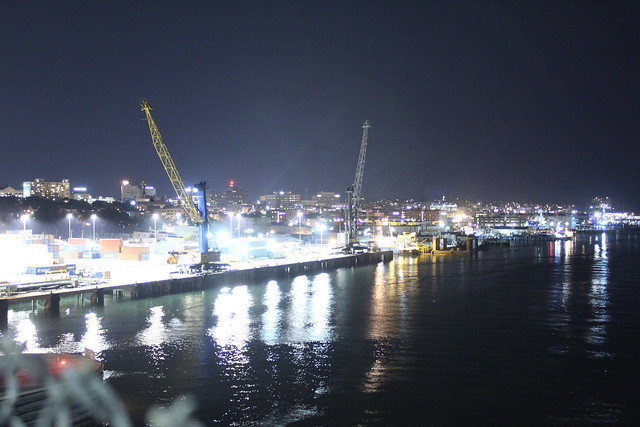 IMG_0820 by
S S
, on Flickr
But even after biking close to 100 miles, I wasn't done yet. It was a weekend night, so I decided to see what was happening around town. One spot had crazy lights changing color alongside the whole building while playing an electronic remix of some Britney Spears song. I had to check it out.
Once I got there, the music wasn't nearly as interesting - just some basic electronic stuff - but I still had a good time dancing heavily and talking to all the Maine folks. Some people drove out all the way from other cities in Maine because Portland was apparently the spot where things were happening.
But as I was making some friends, last call was announced at 1 a.m., way too early for a Brooklyn kid who was used to bars not closing until 4. Some asshole kids told me "The Mission is that way," as I imagine they must have heard my story, but I wasn't dealing with any of that. Instead, I biked over to a fence that had a hole in it and led to a wooded area where I made camp. Even though I had my hoodie on, it was still uncomfortably cold, so I had a fitful on-off sleep while hearing weird railroad noises all night despite the fatigue of biking a marathon and dancing all night after.
When I woke up, I learned that I had camped by a narrow gauge railroad, a pretty cool find!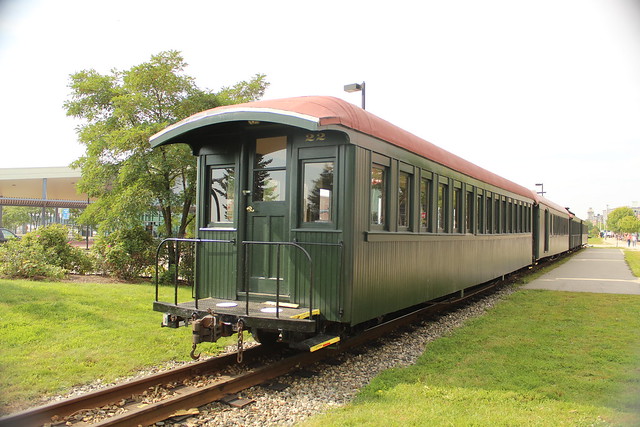 IMG_0825 by
S S
, on Flickr
Now how would I get home from here? My friend in Boston agreed that he would drive me down back to New York, where he was spending the weekend, even installing a bike rack on the back of his car for the occasion. But for now, he would drive up to Portland, where we would feast on popcorn lobster and delicious blueberry soda.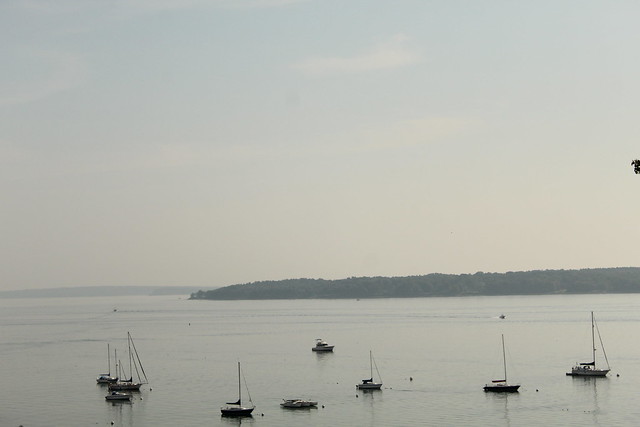 IMG_0821 by
S S
, on Flickr