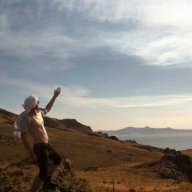 Joined

Mar 7, 2015
Messages

38
Reaction score

42
Location
Finally made it out of Carmel to find myself in a little town called King City on the 101. It was night time and the street lights only covered the empty parking lots and my flash light batteries were running too low to be of any use. Using my cat vision that I adapted through my time spent in Vietnam, I located a nice cozy location in the middle of the forest, about a quarter of a mile from behind the KFC. Alas i stumbled upon fresh cardboard that was neatly placed side by side, indicating someone had already reserved that spot.

Parched from lack of water, not defeat, I headed back to AMPM to fill up my water jug, and as I was coming up the hill I heard a voice call out "Don't step there, that's poison ivy!" I listened to what the voice had spoke and luckily avoided certain doom;however, I was perplexed as to where the voice was coming from. Turns out it was a couple of travelers who were staying in that exact spot that I just discovered. They had been stuck there for 3 weeks and had been flying signs in order to make enough money to head up to Chico. Luckily they were friendly, even bought me a warm meal and bestowed one of the finest liquors King city had to offer. Which came in a 40 oz bottle and was named Hurricane.

We drank one, then another, then another, and before you know it, we were all fucked up. After which, we decided to head back to that one spot and go to sleep. I tried to lay upon the fresh card board but that wish was quickly declined seeing how that was him and his girls spot and instead I should go just a few feet "over there" (his words), so i went "over there", pulled out my sleeping bag, climbed inside, and fell into a deep slumber.

Later the next morning, I awoke to a peculiar aroma surrounding me. This was no blessing odor, but one that would make anyone not want to be your friend. Little did I know that the spot this gentlemen told to go was the exact location of their personal outdoor bathroom, that's right! 3 week build up of shit and piss, and this guy was an alcoholic so we're talking shitty 40 oz beer shits. I was dumbfounded to say the least. Horrified, irate even. It was ALL over the bottom of my sleeping bag, my boots, my fucking HANDS! EVERYWHERE! The guys alarm clock was me yelling, "WHAT THE FUCK?!" He shot up and once he noticed just what had happened, his eyes grew wide and his mouth dropped to the floor. All he could do was apologize profusely.

My thinking was to end this man's life and bury the body deep in the woods, but it just so happened that he had a brand new 0 degree sleeping bag and so he let me have that, plus he showed me the near by camping ground showers and even personally cleaned my boots for me. So I couldn't clock the guy for sincerely making a mistake. Plus I got a huge upgrade on the sleep bag situation so in the end it all worked out but STILL, it sucked! Talk about a shitty day.

TL;DR - Drinking before responsibility leads to shitty outcomes.