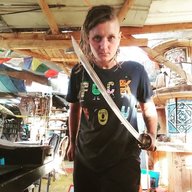 Joined

Sep 25, 2015
Messages

328
Location
Hey, folks. I'm sure many of you are already acquainted with my current long-term project which is Slab City Library. The popular winter season is coming to an end, and the temperatures will begin to rise until they top out at as high as 130F. I have spent the better part of the last four years of my life (an eternity for nomads) building this space up into what it is now, with no intention of abandoning it any time soon.

I'm seeking people who wish to assist with this project. I am not looking to take care of anyone or provide living space to anyone who can't provide for their own basic needs as well as help out with daily tasks and chores. There is little comfort to be had here during the summer, but the comforts that exist are better than what many others survive with in this harsh climate.

Obviously, there is much to be considered and I won't take just anybody. I've been here long enough to know what I'm looking for, but if you ever thought you might be able to hack it in Slabs, this may be what you've been waiting for. I am willing to teach my techniques for off-grid desert survival.

If this is something you would seriously consider, I'd advise contacting me sooner than later as the season is changing and acclimatization is key! Again, I'm not looking for just anybody, so don't expect to just show up at my door with a pack.