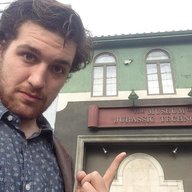 Joined

Oct 26, 2018
Messages

9
Reaction score

78
Homebase
Hey folks, Taming the Tiger here. I grew up in a boring suburb of LA where my bright yet scattershot, weird, autistic self stood out like Jehri Curl on a tuxedo. I lived in other places for six years after high school, came back after giving up on what I thought was my dream, got my driving privileges taken away for being an idiot, and ended up staying with family in Palm Desert while I figured out what to do with my life. Well, I'm still in the process of figuring but along the way I stopped by Slab City, was awed by the wondrous library and had a chat with the honorable
@Cornelius Vango
who recommended this site. Curiosity enlightened the cat I discovered a world I had only heard glimpses of: it's as if Alexander the Great built his library online for hobos. I decided some off the beaten path experience would be good for me and the motley crew of these pages inspired me to plan my first
hitchhiking
trip.
I'm certainly a little nervous and I will undoubtedly make mistakes multiple times but whatever happens I will learn from it. Sometimes you just gotta saw the branch off while you're on it. I'll be heading up to Santa Barbara, Big Sur, the Bay for a few days, Chico, Portland, and my last stop in Seattle; leaving room for little diversions and surprises of course. So feel free to hit me up if you want to explore, have fun, act stupid or just talk. I won't be a permanent roadie but I definitely want most getaways and trips in my future to be off the beaten path, thanks to ya'll and your knowledge.
My current interests include cinema, anything from Robert Bresson to Ed Wood, Hung Gar Kung Fu (lol I have a long way to go), karaoke, alt comedy, a good ol hike, and attempting to bring some focus and routine to my easily distracted brain.
Shine on you crazy diamonds.
Last edited: