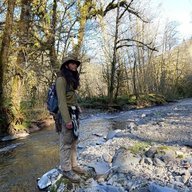 Joined

Dec 21, 2018
Messages

55
Location
After attempting to walk to the furthest east edge of Bakersfield from downtown, about a ten mile walk, I awoke the next morning in an undeveloped lot. The previous night was cold but I was certainly warm between my fluffy dog and heavy, zero degree sleeping bag. The morning sun woke me, an occurrence I do not enjoy, but I did not let it sour the start of my day. Signs pointed me to a bus stop where I used the last 2 dollars I had to go back to downtown. Although I was feeling slightly defeated I was hopeful. Something good was going to happen today, I had a feeling..
When I arrived back at the downtown Bako bus terminal I really didn't know where I was going to go after that. As I walked back toward the busy spang-able areas I involuntarily spun around at the same time another kid about my age, my build and sharing similarly good looks, spun around toward me. We had walked right by each other. This kid had a pack and a dog and was dirty and wearing dark, old, ripped clothes just like me.. Up until this point and time I had traveled alone. Basically I had assumed I was the only hitchhiker left on earth. My youth deceived me of course. Until then I hadn't spent a whole lot of time in Southern California, mostly Nor Cal and places north of that. Southern Cal was going to show me more than I could've ever asked for.
"What's up dude??" Exclaimed the exuberant traveler.
"Just passin through, not sure where I'm headed, what about you?" I said with a grin.
Squirt, as he later introduced himself, then told me he was either going to go to LA and get strung out, go to Las Vegas and get strung out, or stay right here and get strung out. Just then it occurred to me just who I was looking at, this kid was a train rider. The tattoos, the care-free shameless attitude. At the time I didn't even know what a dirty kid or crust punk or scum fuck were. But this resonated with me.
"How about this," I started "you teach me how to ride trains, and I'll help you quit using.. What do you think?"
Squirt let out a hardy, long laugh and replied, "I don't know about the quitting dope thing but sure dude, let's ride a train. Where do you wanna go?"
In Las Vegas I had a lady friend I wanted to see, so I said Vegas.
And we were off.
Part 2
https://squattheplanet.com/threads/my-first-hop-where-my-real-travels-began-part-2.37395/
Part 3
https://squattheplanet.com/threads/my-first-hop-where-my-real-travels-began-part-3.37402/
Part 4
https://squattheplanet.com/threads/my-first-hop-where-my-real-travels-began-part-4.37418/
Last edited: