sleeps 22 hours a day, eats chutes and leaves
Joined

Nov 3, 2015
Messages

608
Reaction score

3,088
Age

25
Homebase
Website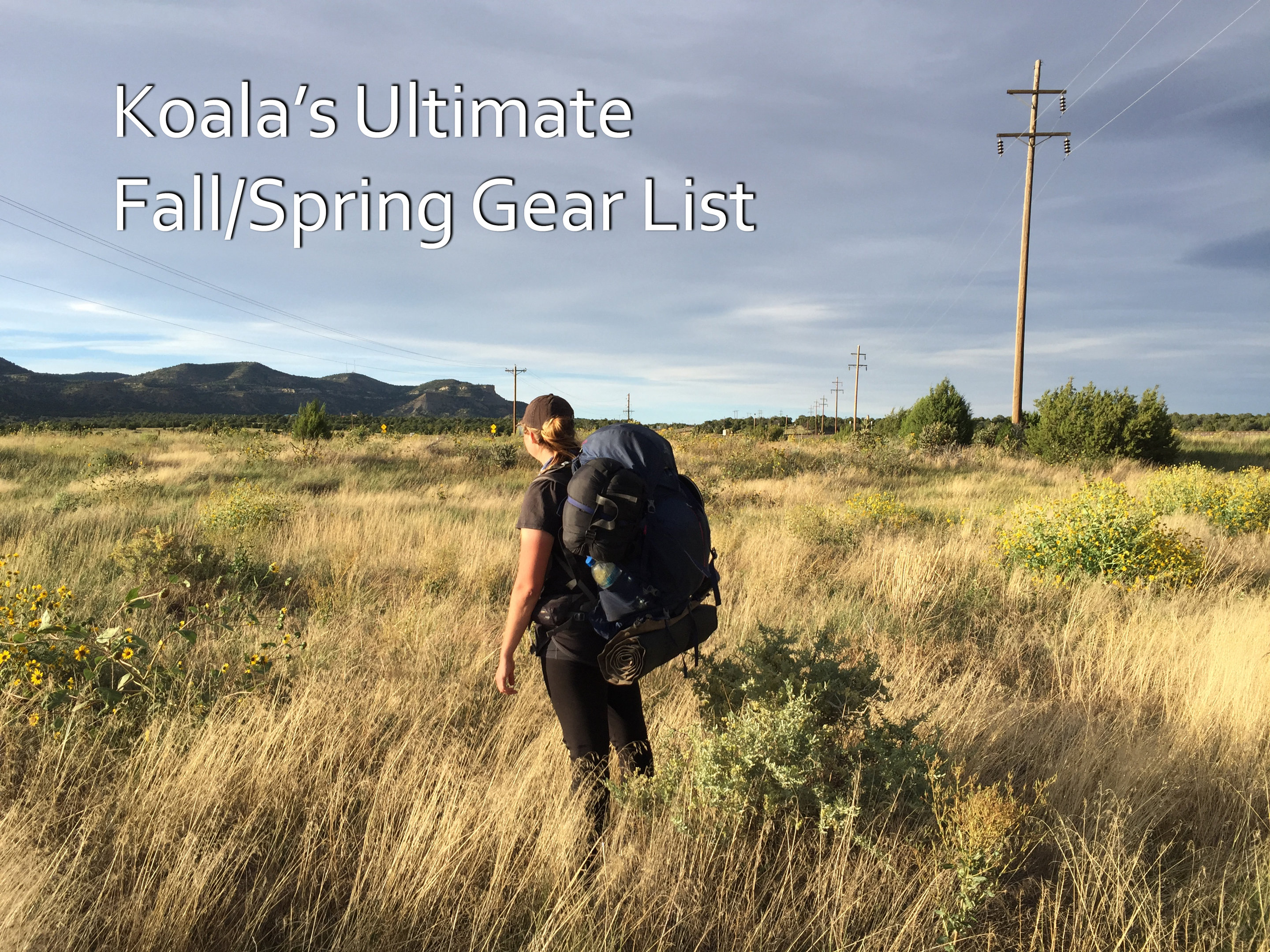 Hey there folks, here's what I figured out works best for me when traveling in daytime temps of 40F-70F and nighttime temps of 20F-40F. I travel mostly by train and
hitchhiking
.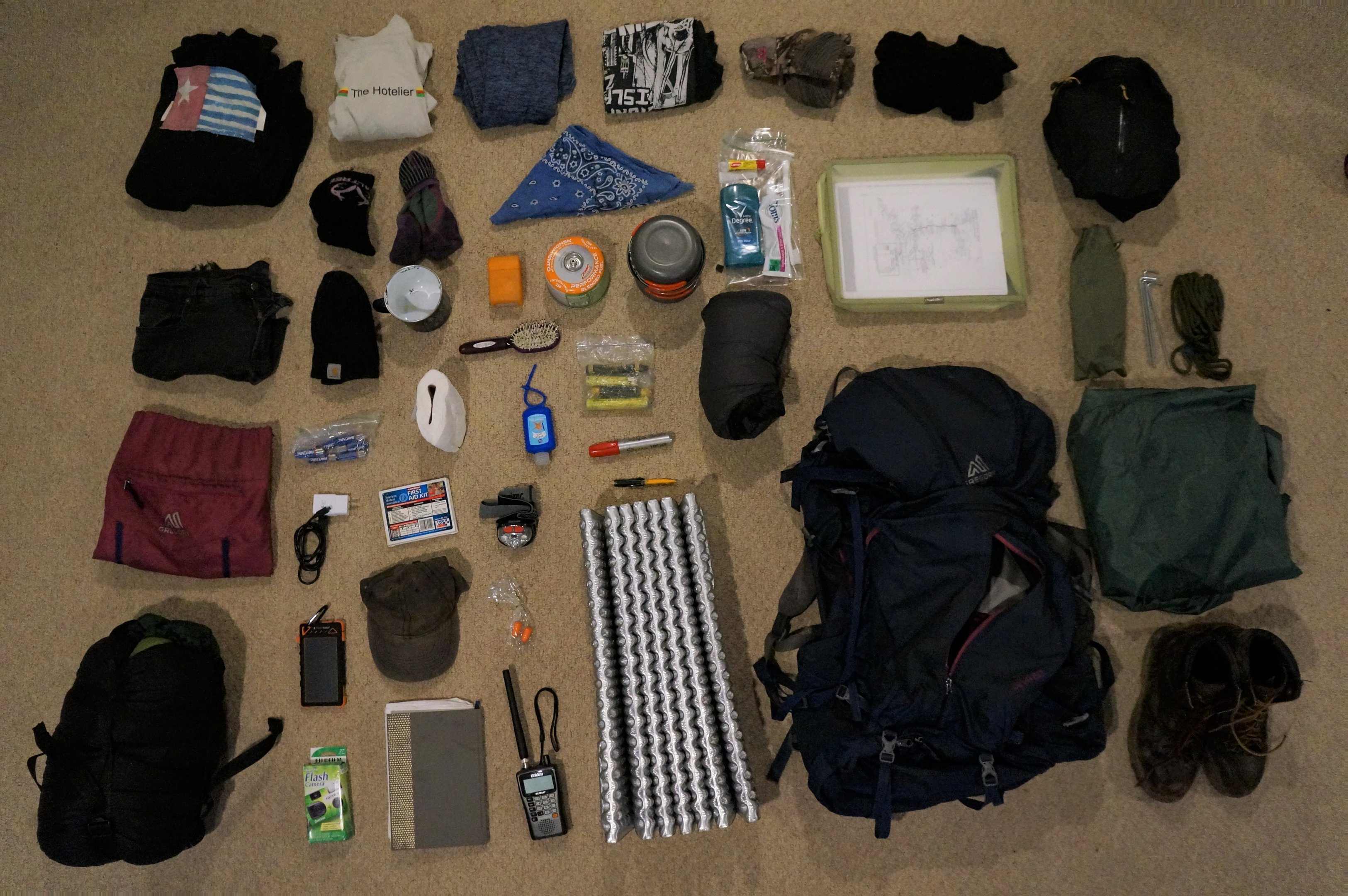 ~
backpack
-mine's a Gregory 60L internal frame - it was expensive, but I've had it for years and it holds up to all the throwing around/snagging on stuff/sitting on/tugging on the straps I do to it on the road. I actually got the pack before I started any kind of bum traveling. I was just doing some multi-day hiking trips at the time.
~
sleeping bag
(I use 2 bags stuffed inside each other, a Kathmandu synthetic ~45F bag and a super light & cheap synthetic 60F sleeping bag inside that)
~
sleeping pad
(I used an Alps Mountaineering comfort series pad for a while and loved it. I just upgraded to a 14oz Thermarest, pictured here)
~
tarp & paracord
(or tent or bivy) (pictured ~7ft by ~8ft lightweight tarp)
~
camera
~
thermals
(its really essential to have a good base layer! Some kind of mid-tier quick-dry thermal legging and long sleeve shirt has worked for me)
~
sweatshirt
~
down puffer jacke
t (packs down super small and is super light. I swear by this thing)
~
pants
~
hat
~
baseball cap
~
gloves
(I have fleece-lined swede fingerless gloves from Walmart)
~
socks x 3 pairs
(merino wool or merino wool blend are warm and long-lasting)
~
tee-shirt x 2
~
boots
~
headlamp
~
batteries
~
charging cables
~
phone
~
battery pack
~
headphones
~
ear plugs
(protect your ears, people! You only get one pair!)
~
book
~
notebook & ccg
~
pens x a lot
~
plastic document holder
(I like to keep my papers/notebook/pens organized and semi-waterproof in this thing I got from Staples - pictured, it's above my backpack)
~
rain jacket
~
cooking stove & cooking pot
(this is essential to me in cooler weather. Worth it just for making hot coffee/tea in the morning without having to leave my spot. Endless possibilities making curry, beans n rice n veggies, chorizo, oatmeal, etc.)
~
utensils
~
mug
~hairbrush
~
lip balm
~
lighter & matches
(not pictured)
~
day pack
(small backpack, can help keep shit organized within ur pack too)
~
toilet paper
~
soap
(not pictured)
~
bandana
~
hand sanitizer
~
period products of choice, first aid kit, & medications
~
deodorant
~
water bottle
~
sunscreen
(not pictured)
~
plastic shopping bags
(not pictured, but necessary!!! Pack out your trash. You can also shit in these on trains.)
~
toothbrush / toothpaste / floss
(take care of your chompers, folks!!!)
~
ID, money, etc.
~
knife
(not pictured)
~
smiley
(not pictured)
~
scanner
~
markals & markers
~
duct tape
(wrapped around a pencil)
Further Notes and Suggestions:
Battery Packs & Solar Power Systems
As of now, I only travel with a "solar power battery pack".
Solar power chargers
are usually 3 or 4 flap foldable cells and allow you to charge your devices when it is exposed to sunlight.
Solar power battery packs
hold charge for charging your devices and have a solar cell on them, but are supposed to be charged primarily by plugging them into a wall outlet, and charged by the sun in emergencies and are advised to not be left in direct sunlight.
A system of both can allow you to charge your
battery pack
using your
solar power charger
to have charge when you need it!
Tools
Many people also travel with a multi-tool or other tools they find useful. These are all personal preference. I find an easily-replaceable 3in. blade assisted opening knife to be suitable for my needs, cooking and cutting fabric/thread/etc.
Sleep Systems
Sleeping gear is probably the most debated but most important. It is very strongly all about personal preference and what works best for you. I've traveled with a
tent
and with just a
tarp and paracord
and both have their benefits and drawbacks. This fall, I'm going to be traveling with a lightweight tarp and waterproof
bivy
.
Tents
offer protection from rain and bugs, and when its cold do a great job of holding heat in, but are heavy and require set up & breakdown and aren't very stealthy. Tarps are easy up and easy down and stealthier, but never offer complete cover from the elements and leave you to be a target for mosquitoes and other critters. Bivys are essentially waterproof body bags that also protect from wind and offer a bit of extra warmth and respite from creepy crawlys. I'll get back to you guys on how things go with my bivy!
Last edited: