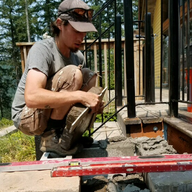 Joined

Dec 17, 2017
Messages

42
Current Location
I just got back from a few day trip out in the Elliott State Forest and while I was out there I had an idea on how to improve my troll pole. I should start by explaining that a troll pole is a device used for stoking fires. Usually metal and a few feet long, pinched off at one end; the pole allows you to force air over the coals without putting your face in the fire. The pinched off end also creates resistance, which condenses and thereby increases the flow of air.

The idea that I had was to fit a cork over the end you put your mouth on and bore a small hole in the center of the cork. This would increase resistance (which also allows you to blow for longer periods before using up all of your lung capacity) and you would no longer have to put your lips to the cold metal pole. The specific pole I used was originally part of an acoustic guitar stand that I picked out of the trash. It has a 90 degree bend in the end of it, which is great for hooking a piece of wood and rearranging things. A few months ago I bought a 22 of Pranqster from North Coast Brewery and saved the cork in hopes I would someday make use of it.

After using a knife to make a hole in one end of the cork, I fit it around the pole and used a deck screw to ream out a small hole going through the cork. Once I was satisfied with how everything fit, I used some gorilla glue to secure the cork. Here's some pictures.