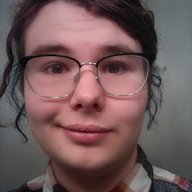 Joined

Jan 26, 2019
Messages

5
Location
Well, seems long delayed introductions are in order. If you've been on the chat for any number of minutes you'll probably have seen me. More than likely you already know more about me than you ever wanted to know (Howdy dandy).
I'm Maxie/Boofie Snow. I'm a twenty year old intrepid adventurer. While I'm not unfamiliar to a lot of this forum and life, due to the possible bad influence off ya'll, I'm still green as can be. Green as the grass in spring.
I'm a very poor Canadian college student and Entertainment Technician. I'd suppose I'd also like to calm myself an a novice writer and musician as the chat has seen on more than one occasion.
I'm planning on fleeing and heading south to slab city in the winter.
I don't really know what to say past this point but if you're not from the chat, howdy, and nice to meet ya.